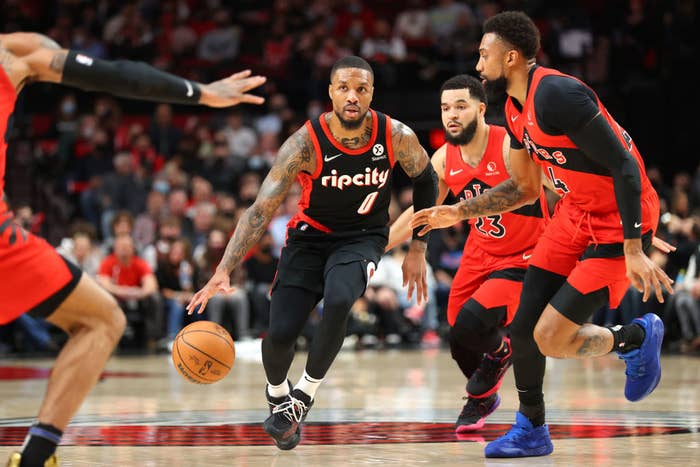 The Toronto Raptors' quest to acquire Damian Lillard is as unclear as ever.
According to Matt Moore, an NBA writer for Action Network HQ, the Raptors were well into talks with the Portland Trail Blazers to acquire the star point guard.
Moore appeared on the Five on the Floor podcast to discuss the seemingly neverending saga of Lillard's insistence on getting traded to the Miami Heat.
"The Toronto stuff is just leveraging... I heard things were red hot on Thursday and again Masai walked away and then came back... I wouldn't worry about the Raptors," Moore said.
While the Heat remains Lillard's preferred destination, other teams, including the Raptors, have inquired about the Trail Blazers' asking price.
In the same podcast, host Ethan Skolnick claimed Lillard "would make it ugly" for the Raptors should they decide to pursue him.
A separate article from Sportsnet's Michael Grange notes that the Raptors remain "at least reasonably confident they can maneuver their way to the front of the line, past the Miami Heat [...] and ahead of a team such as the Brooklyn Nets, who have the draft picks to get something done if Portland is open to taking on the last two years of Ben Simmons' contract."
He adds that Toronto would probably need to lift the protection off the 2024 first-round pick the team owes to San Antonio in order for it to offer its 2026, 2028, and 2030 first-round picks in a potential deal for Lillard.
In addition to Grange's article, Marc J. Spears reports that two "really high-ranking" team executives think the Raptors are the favourites to land Lillard.
It's worth noting that when the San Antonio Spurs traded Kawhi Leonard to the Raptors, reports surfaced that he would not play for the team. That wound up being categorically untrue as Leonard led the Raptors to their first NBA championship that year.
Lillard may be keen on leaving the Blazers in search of a contending team, but he insists he would rather lose "every year" before joining the Golden State Warriors.