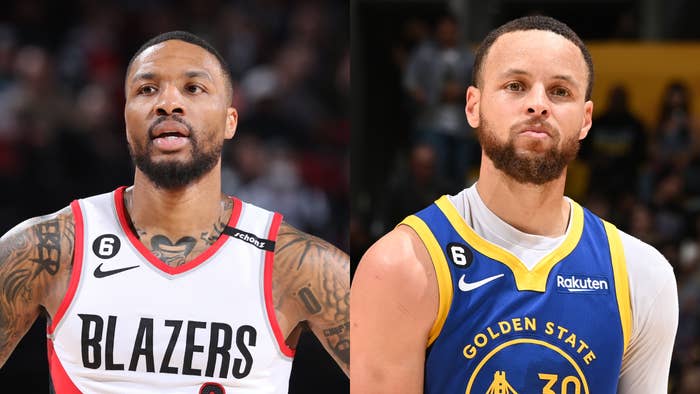 Damian Lillard has revealed he would rather lose every year than join forces with Steph Curry and the Golden State Warriors.
During his visit to Cam'ron and Mase's It Is What It Is sports talk show, the seven-time NBA All-Star reflected on joining his hometown team. The Warriors have a winning formula as they've added four championships in eight years to their collection, but Lillard can't see himself joining that dynasty.
"As far as like Golden State, I respect what they've been doing over the last eight, nine years or whatever, and I'm from there obviously. That's home. But I can't be a part of that," Lillard said. "They've won four championships… Like what I look like going to try to do that and say oh I'm joining my home team. Like no."
He added, "Somebody who played my position behind LeBron, the best player of this era. It don't even make sense. I never do nothing like that. I lose every year before I go."
The last time someone jumped ship to the Golden State Warriors was Kevin Durant, who received immense criticism for joining Curry and company in 2016. Durant won two titles in 2017 and 2018, along with a pair of Finals MVP trophies with the team.
Damian Lillard wouldn't be a fit with the team, given Steph Curry already fills his position as the point guard. The Warriors also have Klay Thompson and Chris Paul in a loaded backcourt.
The Oakland native is looking to land with the Miami Heat before the 2023-24 NBA season starts. But if the Warriors are arguably the most successful team of this NBA era, the Heat are right behind them.
Miami is the only other team to win several championships since LeBron James took his talents to South Beach in 2011. They made the Finals six times in that time frame, including two trips that happened in the last four years courtesy of Jimmy Butler and Bam Adebayo.
Lillard also stated in 2016 and 2021 that being a part of a super team doesn't align with what he wants. But joining the Heat would give him exactly that, as he'll be suiting up with Butler and Adebayo, two NBA All-Star and All-NBA players.