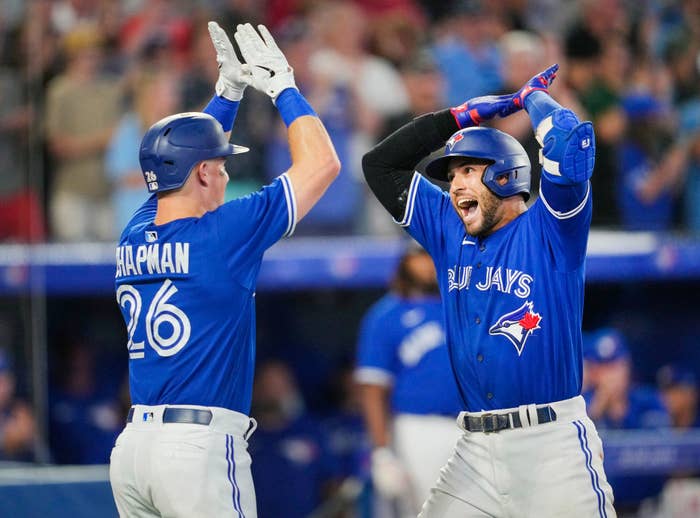 The Toronto Blue Jays played their first game of the American League Wild Card Series against the Minnesota Twins yesterday, and the latter's scoreboard operator seemed to have some fun whenever the Jays came up to bat.
Spotted by Eric Treuden, a writer for the Jays Journal, the Twins' scoreboard operator added some funny one-liners to Jays batters whenever it was their turn at the plate.
The first one teased Cavan Biggio about getting hit by a pitch enough times to match the record his father, Craig Biggio, set during his time in Major League Baseball.
"Only needs to be HBP 272 more times to catch his dad's modern day record," the scoreboard wrote.
When catcher Alejandro Kirk went up to bat, the scoreboard pondered whether he'd use Lady Gaga's "Alejandro" as his walk-up song in Toronto.
"Wonder if he uses Lady Gaga's banger 'Alejandro' as his walk-up song in Toronto," it read.
Matt Chapman might have received the most hilariously scathing remark, however.
"Singer Drake had no clue who Matt was when they met inside a local restaurant #InMyFeelings," it wrote.
Treuden caught wind of the remarks while the Jays were down 2-0 but the team couldn't muster up a comeback, losing 3-1.
Given the Wild Card Series is a best-of-three, the Jays will have to win today to extend their season and force a final game before potentially taking on the Houston Astros.
Jose Berrios is set to take the mound today and a victory could lead to Yusei Kikuchi pitching in the finale. Should that happen, the Jays better hope Kikuchi gets over 11 hours of sleep.