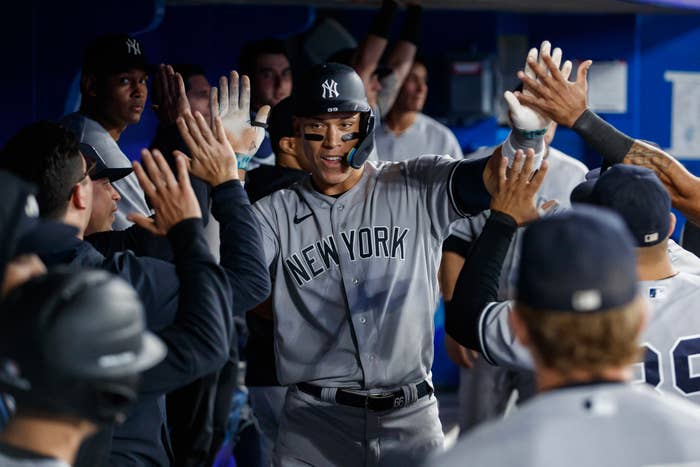 All eyes are on Aaron Judge after his eyes wandered towards his team's dugout during an at-bat during last night's game against the Toronto Blue Jays.
In the eighth inning of last night's ballgame, Judge went up for his fifth plate appearance of the game. In between pitches, the Sportsnet announcers saw that Judge's eyes turned to the New York Yankees bench and questioned what he was looking at.
While the pair didn't actually accuse Judge of anything, their suspicions were raised even more when Judge hit a home run just a few pitches later.
The game ended in a 7-4 win for the Yankees and reporters asked Judge what had caught his eye during his final at-bat in the eighth inning.
"A lot of chirping from our dugout which I really didn't like in the situation where it's a 6-0 game and I know [Boone] got tossed [...]" Judge explained. "I was trying to see who was chirping in the dugout."
"I said a couple things to some guys in the dugout and especially after the game. Hopefully, it won't happen again,"
The Jays' loss to the Yankees kept them in third place, but they still own a game lead over the Bronx Bombers. The two teams are set to play again tonight at Rogers Centre.