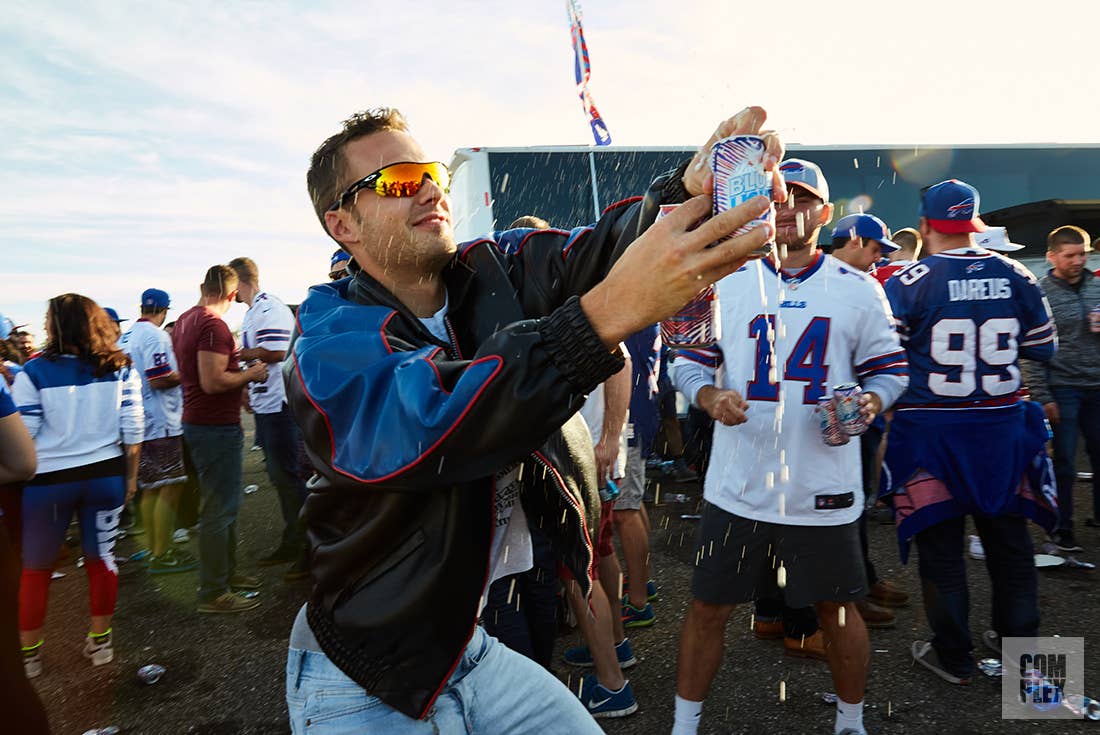 Buffalo is a bitter city. A city that makes its way through at least nine months of winter; one that constantly feels as though it has something to prove to the rest of New York state; one that's always trying. You know the joke about it—it's a drinking town with a sports problem. But at least we have pride; our '80s slogan was literally "We're Talkin' Proud." It's an against-all-odds kind of place, which is what makes the beginning of September a time where, for a change, we are are blissfully optimistic. We might finally win something. Things might just work out.
The night before the nationally televised Bills home opener against the Jets, one of my best friends texted me: "Something about the Bills always sucking makes Buffalonians overall the best people." It was in response to me telling him that I quite possibly had one of the most fun afternoons of the summer watching the Bills lose to the Ravens during the season opener three days earlier. At the Pinebox Bar in Bushwick, Brooklyn, I watched men emblazoned with team logos pound beers and ignore their girlfriends for hours while our boys suffered a humiliating defeat. It felt like home.
If there's one thing I miss about Buffalo, it's that the city lives and dies by the single saddest sports team in North American sports—every single week, from pre-season to the playoffs that we never make. To our town, the Bills make working 9-to-5, Monday through Friday, worth it. It's something to look forward to as you spend two hours shoveling your car out in October. It gives us life, and is arguably the thing most closely associated with the city. Thanks to the Internet, Bills Mafia—a collection of crazy fans who take tailgating to the extreme eight Sundays every season—could be a close second. And on the day of the Bills' 2016 home opener, where else would any self-respecting Bills fan rather be than among the rowdiest parking lot party animals in the NFL?  
Famously, the Bills went to the Super Bowl each year from 1991 to 1994, becoming the first team to ever compete in the big game in four straight seasons. And just as famously, they lost each time. Growing up in Buffalo you know two things: The sports suck, but the drinking is great. The last time there was an ounce of hope for one of Buffalo's professional teams was when the NHL's Sabres made the Eastern Conference Finals. That was May 2007; they lost to Ottawa.
When I moved out of Buffalo in 2011, I swore I'd come back often, and I've made good on my word. But this time felt different. Maybe it was my grandmother getting sick, maybe it was my parents' divorce—whatever it was, I really needed to go home, and nothing says home like seeing a Bills game. I booked a one-way ticket for the day before they faced off with the Jets. I knew there'd be something therapeutic in witnessing the debauchery of Bills Mafia.
The morning of the game, Buffalo was buzzing already. It seemed like everyone was wearing jerseys; the real fans wore their Zubaz form-fitting leggings. Kickoff was 8:20 p.m., so naturally I left my mom's apartment six hours early. Six hours of drinking might sound horrible, but if there's one place that you can go to feel OK, to remember that you can always move back, and to commiserate with your fellow Buffalonians, it's One Bills Drive.
The ride to Ralph Wilson Stadium—or "New Era Stadium" as it has recently been renamed—provides a nice view of the city; past downtown, past the General Mills factory, and over the Skyway. You can smell the Cheerios—the one thing that people from Buffalo brag about that's always bothered me. And then you pass the Ford plant and you're driving through Trump's America; I'd never seen so many "Make America Great Again" bumper stickers or lawn signs.
It's been 16 years since the Bills last reached the playoffs—the longest current drought in North American sports. But the start of a new year breeds optimism. Every Bills fan thinks "This is our year!" If Cleveland finally won a title this past summer, why can't Buffalo? We parked in an unofficial tailgate lot and waited until the official lots opened by chugging Blue Lights and listening to the competing sounds of Kiss 98.5 and the Bills' Isley Brothers-inspired "Shout" fight song over and over again.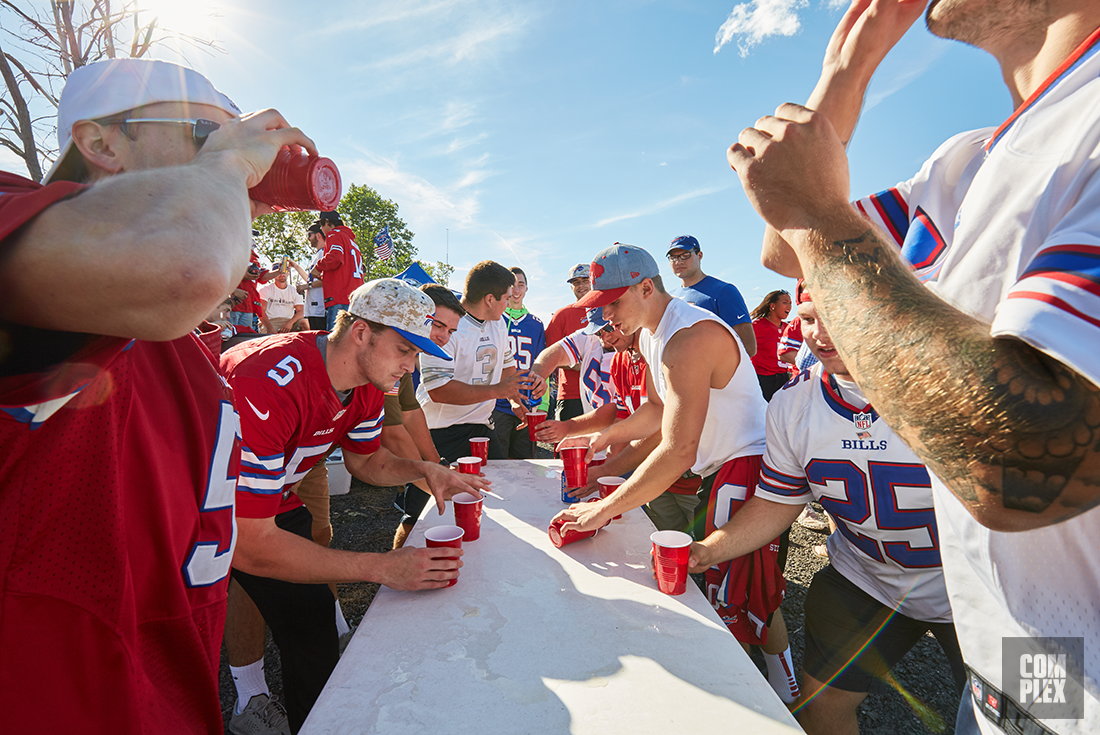 Bills Mafia allegedly started in November 2010 as a hashtag. It happened in the wake of wide receiver Stevie Johnson's infamous dropped ball in thh end zone that would have led to an upset overtime victory against the Steelers. After the game, Johnson pulled out his iPad and tweeted: "I PRAISE YOU 24/7!!!!!! AND THIS HOW YOU DO ME!!!!! YOU EXPECT ME TO LEARN FROM THIS??? HOW???!!! ILL NEVER FORGET THIS!! EVER!!! THX THO."
Yup, it was God's fault. The tweet stroked the fires of the religious public, but nonetheless a bunch of Bills fans took to Twitter to defend Johnson, who at the time was a hometown hero of sorts.
Since then, Bills Mafia has morphed into an offline entity as well. Working-class, all-world tailgaters that string together highlight-worthy exhibitions of revelry in the parking lot, while inside the stadium the millionaires play like a bunch of chumps. Bills Mafia is the bro shotgunning beers and crushing the cans on his forehead. It's the guy lighting himself on fire. Or the lady doing Dizzy Bat, a game that includes funneling a beer through a Wiffle ball bat, and then face-planting into an RV. It's the dudes suplexing each other for fun, or the guy performing a perfect moonsault off the back of a pickup truck. At the end of the day, the only thing rivaling the piles of killed cans of beer are the number of crumpled plastic tables.
But Bills management is trying to crack down. There were signs in the parking lot outlawing funnels, table slamming, and other raucous feats of sport. It appears that the message was received, because the Mafia scene was much less memorable, even after six hours of drinking. People were blasting music and laughing. There were beer pong games and elaborate BBQ setups. It felt like someone's wedding if you threw a flaming heap of white trash in Zubaz into one big lot.
"PEOPLE WERE BLASTING MUSIC AND LAUGHING. THERE WAS BEER PONG AND ELABORATE BBQ SET UPS. IT FELT LIKE SOMEONE'S WEDDING IF YOU THREW A FLAMING HEAP OF WHITE TRASH IN ZUBAZ into one big lot."
We were posted in the bus lot. We danced for hours—between Blue Lights, Jell-O shots, and cigarettes, all you really do is dance. And talk. And laugh at all the people from various stages of your life that you run into: the kid you swam with in elementary school, that weird neighborhood kid who got hot, your high school ex-boyfriend you still think you'll marry, your mom's drunk friend who…is still always drunk.
As with most things Buffalo and the Bills, a lot of conversation revolves around nostalgia:
"My first jersey was a Thurman Thomas one. My dad gave it to me as a kid."
"Well, my mom was a Jill in the early '80s. She even has O.J. Simpson's autograph."
"Do you remember when we did shots with Marshawn Lynch on Chippewa that one time? Did that actually happen?"
"Didn't her mom fuck Jim Kelly's brother back in the '90s?"
"Didn't you fuck J.P. Losman?"
You spend your afternoon drinking beers and running back and forth to the Porta-Potty. You relish the memories, embrace hope, and, in that moment, feel genuine happiness—one that will convince you it'll totally be fine to jump off a truck and onto your best friend laying on a table. When it's actually time for the game, I debate whether or not I even really want to watch it. Because I've already been drinking and celebrating something for the last six hours. The actual game could only be a let-down.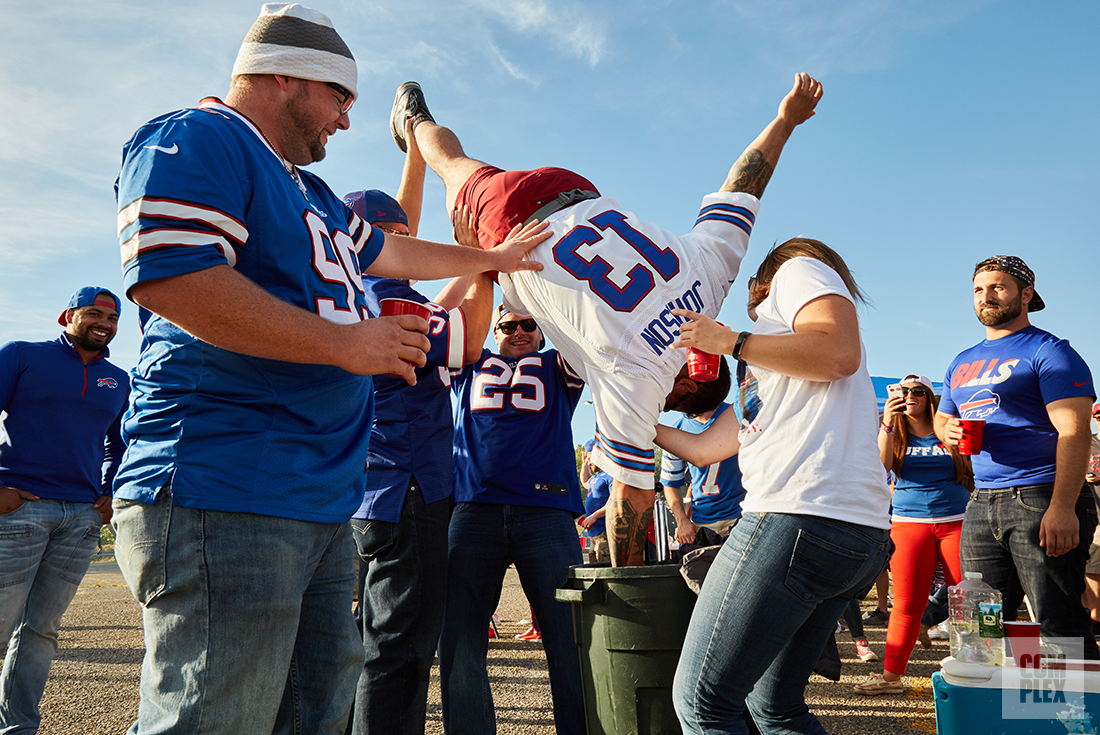 Things start on the wrong foot with Darius Rucker, of Hootie & The Blowfish fame, singing the national anthem, although we got lost on the way to our suite and missed it anyway. After all the alcohol, the game's an absolute blur, but here's what I can remember. It was the type of game Bills fans have seen a hundred times during the drought. At certain points, they gave us hope, but every fan knew the writing was on the wall. It's only Week 2, but it looks like the Bills could be in for yet another year out of the playoffs. The Bills defense was horrible, despite head coach Rex Ryan saying he had so much faith in it. Jets signal caller Ryan Fitzpatrick—the former Bills QB—carved the secondary to shreds. Ryan was completely outsmarted and shifted the blame to his offensive coordinator Greg Roman, whom he fired the next day. The whole game was completely depressing except for when the Bills flipped a 10-point deficit into a four-point lead early in the third quarter. The celebration was short-lived: The Jets regained the lead and won 37-31, ending a five-game losing streak against the Bills.
There's always a "but" in Buffalo. And in this case, it's that even with all the overwhelming disappointment that surrounds the team, Bills Mafia will still be out there screaming their hearts out next home game.
Ten days later, I was back in Brooklyn at the Pinebox—and it was empty. That's because we lost the first two games of the season. The hope was dead. And because it was against the Arizona Cardinals, so who really gives a fuck? But in miraculous fashion, we won 33-18 thanks to a dominant rushing attack and five Arizona turnovers. At halftime, my friend turned to me and said: "We're up 17 by the second quarter. Now I'm confident—we're making the playoffs!"