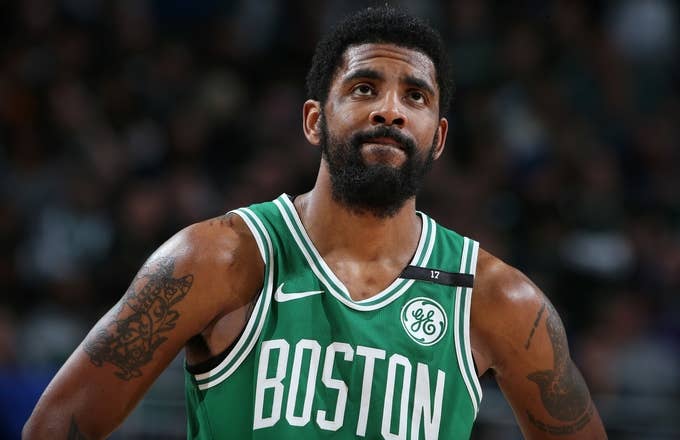 UPDATED 8:31 p.m. ET: Kyrie Irving is going to partner with Roc Nation Sports, ESPN's Adrian Wojnarowski reports.
Boston's Kyrie Irving is expected to partner with ROC Nation Sports for representation, league sources tell ESPN.

https://t.co/2ZQnKvDaLV
Some on social media have taken the news of the move as a sign that Irving will eventually sign with the Brooklyn Nets.
See original story below.
Kyrie Irving's latest move indicates that his saga with the Boston Celtics may be coming to an end.
Earlier today, it was reported that the point guard chose to abstain from re-signing with the Celtics for next season, as he skipped out on their $21.3 million offer. Though he still has the option to take the team's offer, it appears Irving may try his luck in free agency.
Hours after the news broke, Irving posted a video, channeling Mother Theresa as the source for his caption. "People are often unreasonable, irrational, and self-centered. Forgive them anyway," the caption reads. "If you are kind, people may accuse you of selfish, ulterior motives. Be kind anyway. If you are successful, you will win some unfaithful friends and some genuine enemies. Succeed anyway. If you are honest and sincere people may deceive you. Be honest and sincere anyway. What you spend years creating, others could destroy overnight. Create anyway. If you find serenity and happiness, some may be jealous. Be happy anyway. The good you do today, will often be forgotten. Do good anyway. Give the best you have, and it will never be enough. Give your best anyway. In the final analysis, it is between you and God. It was never between you and them anyway. -Mother Teresa."
Should he ultimately decide to depart from Boston, the 27-year-old has a number of places where he could land, though many conjectured his next destination to be either the New York Knicks or the Brooklyn Nets. Veteran columnist Adrian Wojnarowski is leaning towards the same belief, saying, "If Kyrie Irving is going to leave Boston, that his focus is on being closer to his northern New Jersey home with either the Knicks or the Nets."
Additionally, Woj points out that Kyrie may not consider the Los Angeles Lakers to be a viable option, which is contrary to recent reports suggesting the point guard had taken it into consideration. "I think Los Angeles' best, and maybe only chance to dramatically improve their team is in a trade for Anthony Davis. I don't sense any scenarios in free agency where any of the A-list players, the elite, no brainer, max [contract] guys are serious about the Lakers."