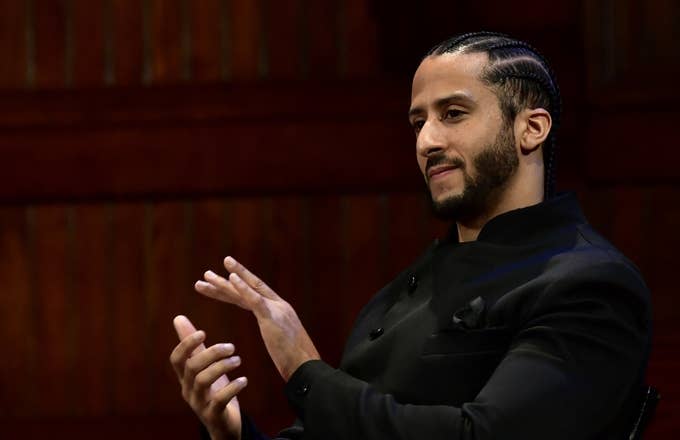 It's been two seasons since Colin Kaepernick has suited up to play on the field, and he is still currently out of a job. In fact, it's even been reported that no team has even contacted the former San Francisco 49ers quarterback.
Despite this, there are many individuals who believe that Kaep still deserves a spot on an NFL franchise. The Bleacher Report states an anonymous survey was conducted by The Athletic, asking 85 defensive NFL players from 25 different teams if he should be playing for a club. A whopping 95 percent of participants (a total of 81 players) answered "yes." Only two players said that he should not be on the field, while the remaining two simply replied with "no comment."
In addition, the players were prompted to name any quarterback that Kaepernick should replace. Blake Bortles of the Jacksonville Jaguars and Nathan Peterman of the Oakland Raiders held the number one and two spots, respectively. In addition, one player believed that he should be on "any team that carries three quarterbacks for sure," while another boldly stated that he should replace 25 percent of the league.
While there have been reports of at least one team considering the 31-year-old quarterback, he has yet to sign with anyone. He attributes his absence from the NFL to his act of kneeling during the National Anthem, which was his way of protesting police brutality. In the face of adversity, he filed a collusion lawsuit against the NFL, alleging that there league officials were in involved in a conspiracy to keep him from playing.
There have been players who have been vocal about the treatment of Kaepernick, while some players have even shown solidarity by using his same kneeling method (Eric Reid is a player who has even joined the collusion lawsuit against the NFL).