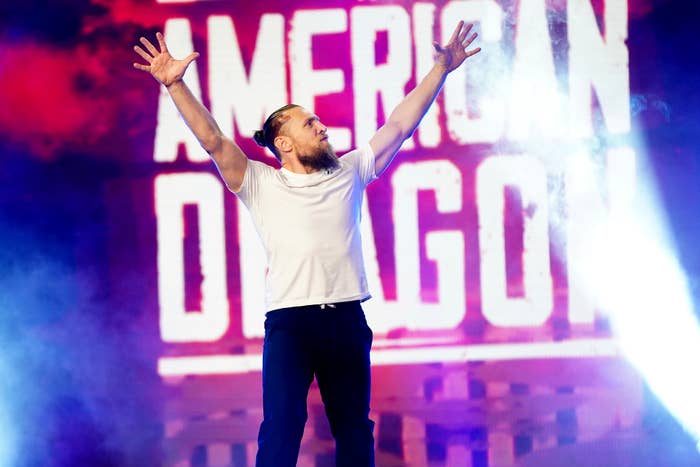 If 2021 has taught us anything about pro wrestling, it's that competition is almost vital in bringing out the best in any organization. Many are calling what's going on between the WWE and All Elite Wrestling a "war," and they wouldn't be wrong; the amount of ratings-watching and performers making moves to the opposition feels very similar to the Monday Night Wars of the 1990s, where Vince McMahon's WWF faced their stiffed competition in Ted Turner's World Championship Wrestling, during an era where legends like "Stone Cold" Steve Austin, Dwayne "The Rock" Johnson, and factions like the nWo reigned supreme.
Out of the ashes of the demise of WCW sprung a vibrant independent wrestling scene, with Ring Of Honor being one of the more groundbreaking federations to rise in the early 2000s, helped by "Founding Fathers" like Bryan Danielson. Known to many as "The American Dragon," Danielson spent seven years at the top of the independent scene, holding ROH's World and Pure championships as well as Pro Wrestling Guerilla's World Championship on two separate occasions, while also making his mark in Japan and many federations in between. This was all before he landed in the WWE in 2009, embarking on a tenure that would give him a new(ish) name (Daniel Bryan), millions of new supporters, and a 12-year timeframe where he's main evented WrestleMania twice, and is their twenty-sixth Triple Crown Winner, including being a four-time WWE Champion. To many, Danielson is one of the greatest professional wrestlers walking the plant, but he's also had a history of brain injuries that kept him out of the ring for some time, but it was evident that Danielson was still able to go based on the series of matches he's put on since his in-ring return in 2018.
All of this changed when his WWE contract expired this past May. As the dirtsheets do, the talk of where Danielson was going to land—and the back-and-forth about his old allegiances and his desire to push his limits—ended with Danielson making a surprise appearance at the end of AEW All Out 2021 earlier this month. Since then, he's lined up a non-title match with current AEW World Heavyweight Champion Kenny Omega, another individual many see as the best in the world in the squared circle. Danielson and Omega's match (their first match since 2009) is a part of All Elite Wrestling's two-night Grand Slam event, which will be the first-ever pro wrestling event held at the Arthur Ashe Stadium in New York, an event that AEW President Tony Khan hopes to run annually in New York. Bryan vs. Omega takes place on AEW Dynamite tonight; the second night of Grand Slam features CM Punk taking on Powerhouse Hobbs on Friday night's AEW Rampage.
Ahead of his AEW in-ring debut, Complex caught up with Danielson, who opens up about facing off against Kenny Omega and wanting to match his physicality, as well as wanting this to be an important moment for the company as a whole. Danielson also speaks on what AEW talent he may be eyeing for potential match-ups, a number of decisions that led him to sign with AEW, how he wants to be remembered, and why there's no reason to be killing cows to make championships. But first, we had to discuss his name.
I just want to say, I've been having to make sure I'm saying "Bryan Danielson." I was introduced to you as "Daniel Bryan," and your Wikipedia still says "Daniel Bryan" on it. I don't want to say it's this big leap, I just don't want to call you Daniel, because that is not who you are.

I really understand the mix-up. [Laughs] Sometimes I give people a hard time if they call me Daniel, Bryan, but it's completely understandable. The names are so close together. That's one of the reasons why my name became Daniel Bryan. Bryan Danielson, my real name, I wrestled for 10 years on the independents as Bryan Danielson and "The American Dragon" and all that stuff. They asked me to come up with a new name that they could own when I signed with WWE. William Regal is actually the smart one who suggested Daniel Brian. I came up with names like Buddy Peacock. [Laughs]