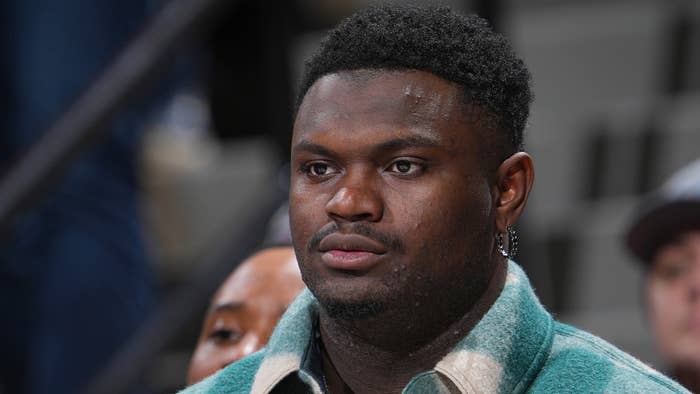 Zion Williamson has received some much-needed support amid his cheating scandal.
As pointed out by TMZ, the New Orleans Pelicans star attended a charity event on Friday to celebrate his foundation's partnership with the Jefferson Parish school system. The occasion marked Williamson's first public appearance since he was accused of cheating on multiple women, including his pregnant girlfriend, Ahkeema. Although the embattled athlete did not speak during the event, his stepdad, Anderson Lee, shared a few encouraging words for his son and offered a bit of advice for the young people in attendance.
"I wanna say this and I want to be politically correct when I say it. That's my son and I love him," Lee began. "You know, when I was a child, I walked like a child. I talked like a child, did childish things. But when I became a man, what I understood, then God blessed me. So all I'm gonna say this morning [is] believe half of what you see and nothing you hear. That's all I'm gonna say. I stand by my son 100 percent."
Lee then walked away from the podium and gave Williamson a hug as the crowd broke out in applause.
The comments came just days after Williamson and Ahkeema announced they were expecting a baby girl. Shortly after the news broke, adult film star Moriah Mills took to Twitter to claim she was also involved with the NBA athlete and was unaware he had another girlfriend.
I was with you last week in New Orleans and you couldn't tell me you had a random thot pregnant after all I've done for you," Mills tweeted. "Better pray I'm not pregnant too because I'm definitely late."
Ahkeema seemingly responded to the allegations in a June 7 tweet, writing: "Happy hoes ain't hating and hating hoes ain't happy."
Mills responded to the post with, "You not on my level mah believe that."
But Williamson's troubles didn't end there. Another woman named Yamile Taylor took to social media to put the 22-year-old on blast. The Daily Mail reports Taylor shared a series of Instagram Stories in which she referred to Williamson as a "sex addict."
"This ain't nothing to do with clout," she began. "I get my own money in real life and have never been a prostitute or sold my body."
Taylor, who is described as a "digital creator," went on to accuse Williamson of buying another woman a Rolls Royce and questioned why she didn't receive such an extravagant gift.
"You're outside buying Cullinan to hoes who didn't have $100K to their name when you met them," she wrote, before claiming she refused to fulfill Williamson's sexual fantasies. "Why didn't I get my Bentayga and my Richard Mille last summer? @zionwilliamson because I don't let you record me? I never gave you a threesome or never had an OnlyFans or was on PornHub, so I guess I was all play. I probably never had a chance you nasty ass sex addict."