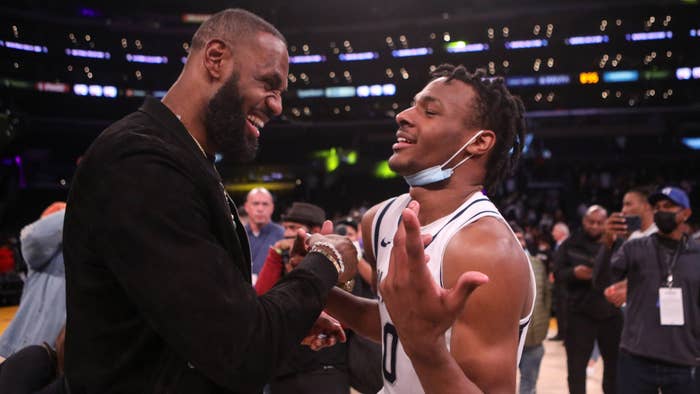 Bronny James celebrated his 18th birthday over the weekend with a live performance by Travis Scott. 
Footage from the night shows Bronny, his father LeBron James, and more turning up as Travis performs "Goosebumps," "Butterfly Effect," "Sicko Mode," and "No Bystanders." 
LeBron posted a touching birthday message on Instagram, expressing disbelief over his son turning 18 years old. "How is this kid 18 years old today y'all!!??!! I can't deal with it," he wrote. "I'm so proud of the young man you've become kid! Continue to be YOU throughout your journey because it's simply better that way! And I'll be right beside you whenever/however needed! Love you Young 🤴🏾 @bronny!!! Happy Bday." 
In an August interview with Sports Illustrated, LeBron was cautiously optimistic about the prospect of playing in the NBA with Bronny when he's eligible for the draft in 2024, indicating his mind will ultimately determine if he's able to meet that goal.   
"I feel like I could play for quite a while. So it's all up to my body, but more importantly, my mind," he said. "If my mind can stay sharp and fresh and motivated, then the sky's not even a limit for me. I can go beyond that. But we shall see."