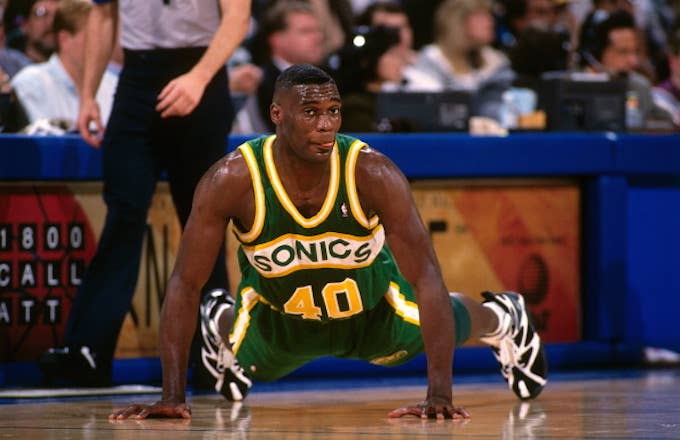 Remember that time when Scottie Pippen was nearly dealt to Seattle SuperSonics in exchange for Shawn Kemp? It was the deal that then-SuperSonics head coach George Karl claims to have spoken about with Michael Jordan, who said that Seattle would "be getting the best of" the trade. Apparently, Kemp could care less who ended up better off in the end because, believe it or not, The Reignman didn't want to team up with MJ. 
In an interview on The Jake Brown Show, Kemp reveals that he preferred to play against Jordan, instead of teaming up with him. "It was just one of those things that, you know, you get to the NBA and have success and you just wanna play against the best, you don't wanna play with the best," Kemp said. "I always found it a great challenge playing against Michael Jordan, to play against Magic Johnson, to play against Larry Bird, to play against all those good players because it's something that you can take away from it." 
The Reignman admits that he doesn't subscribe to the idea of joining forces with other NBA superstars, adding that, in the 1990s, forming a super team was simply the "wrong thing to do." Kemp says that when the deal fell apart, he was proud to stay with the franchise, especially after SuperSonics fans were threatening to "burn down the arena" and turn in their season tickets if he was traded. 
To listen to the interview in its entirety, click here. 
Send all complaints, compliments, and tips to sportstips@complex.com.