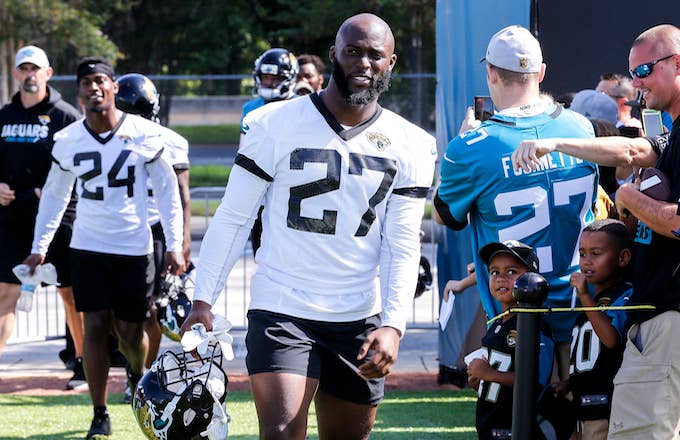 As his second NFL season draws near, Jacksonville Jaguars running back Leonard Fournette has set a goal for himself—100 yards per game. Fournette literally carries a reminder of this goal with him everywhere he goes on the football field, thanks to the $100 bill sealed into the back of pads. After spotting the denomination in the purple and yellow lined gear (which is from his days with LSU), Fox 9's Pierre Noujaim asked him about the meaning behind the bill.
After averaging 80 rushing yards per game last year, Fournette's impressive rookie campaign was overshadowed by New Orleans Saints running back Alvin Kamara, who was named AP Offensive Rookie of the Year and Pepsi NEXT Rookie of the Year after averaging 97.1 rushing and receiving yards combined. 
While it's not a $100 bill, Fournette's teammate and talk around the league, Jalen Ramsey, has been spotted with a $20 bill in his pads. 
The Jaguars came close to shocking the league last season when they reached the AFC Championship Game before falling to the New England Patriots. Expectations are higher this season, and with a $100 bill in tow, Fournette is ready to take his team to the next level.