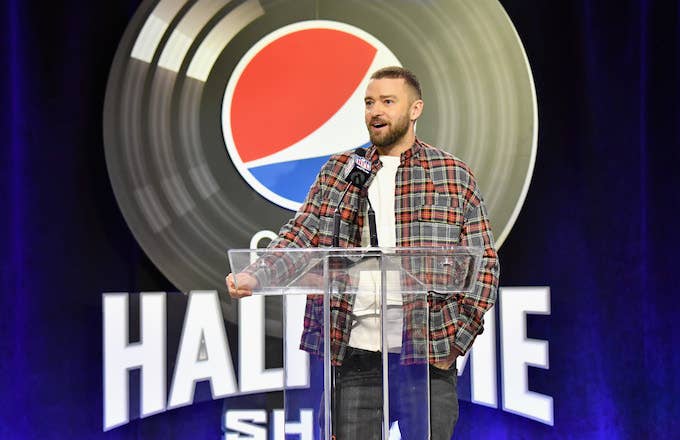 TMZ is reporting that Justin Timberlake could include a Prince hologram in his Super Bowl 52 halftime performance in Minnesota. An intrepid person inside U.S. Bank Stadium captured video from Timberlake's rehearsal, showing a whole lot of fireworks but no sign of a Prince hologram. 
The fact that Timberlake will be performing in Prince's hometown isn't lost on the singer. On Thursday, he held a listening party for his latest album Man of the Woods at Prince's estate Paisley Park, which he called "hallowed, sacred ground" while speaking with reporters at his Super Bowl LII Halftime Show press conference. 
If Timberlake wants to go big for his Super Bowl halftime performance, what better time to do it than on the NFL's dime? NFL spokesperson Joanna Hunter toldForbes for their 2016 piece that the league covers "expenses and production costs," instead of paying the artist. The Wall Street Journalreports that production costs have reached as much as $10 million in the past. 
Back in 2007, Prince delivered one of the greatest Super Bowl halftime performances of all-time. As the rain poured down on the field in Miami, Prince was not only unbothered, but he even embraced the inclement weather in his heels. Click here to relive the iconic moment.