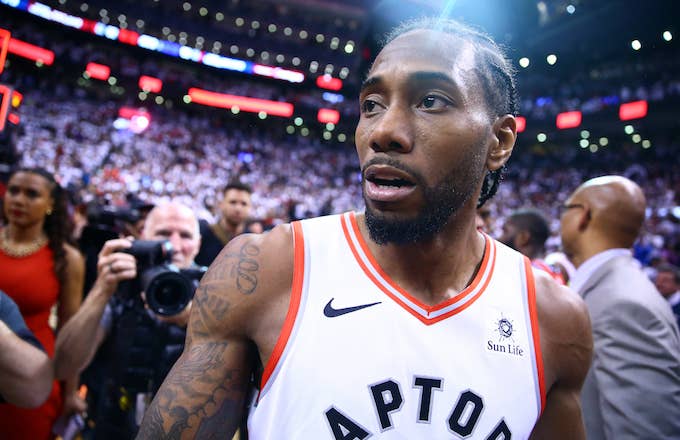 With their appearance in the Eastern Conference Finals, the Toronto Raptors have made a compelling case to Kawhi Leonard as to why he should sign with them this summer. Now, restaurants around the city are doing their part to sweeten the deal.
The Raptors Republic have started the Ka'wine & Dine Initiative, which will allow restaurants to print a badge that can be displayed on their window to indicate that Kawhi can eat free food for life in that establishment, if he chooses to re-sign with Toronto. 
"We want to rally the city to do everything we can to let Kawhi know that we support him, want him here long-term and ultimately make him feel at home in Toronto," Raptors Republic marketing and social media head Adam Robles said, per blogTO. "He may need a warm coat, but he won't need his wallet. Let's wine'm, dine'm, and let's re-sign'm."
Bar Hop Bar, Le Sélect Bistro, Moo Frites, and Rodney's Oyster House are among the restaurants that have joined the KaWine & Dine movement. 
With a once-in-a-generation type of superstar hanging in the balance, everyone in the city of Toronto needs to do everything in their power to ensure a long-term commitment out of Leonard. If it takes promising free food to get him to stay, then so be it.