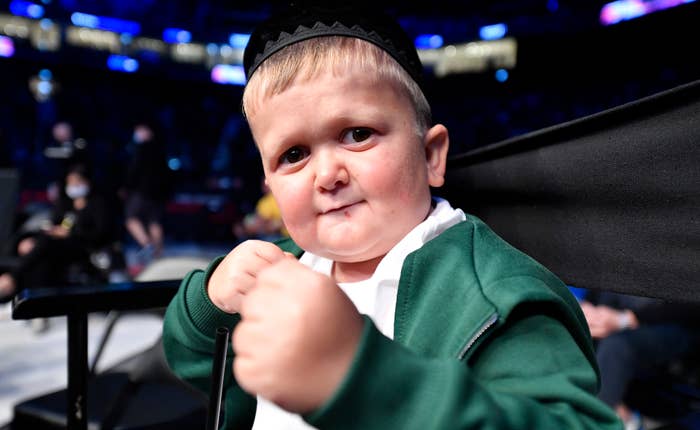 Conor McGregor posted and deleted a series of offensive tweets directed at social media star Hasbulla Magomedov.
Sharing a screenshot of 34-year-old McGregor writing "I'd love to boot that little gimp hasbulla over a goal post," Hasbulla replied, "At least one of us maintained an undefeated record." 
He went on to say he has his own "UFC contract now" and ultimately challenged McGregor to a fight in Abu Dhabi if he's "really a man."
Between those two tweets, Hasbulla fired off a bunch of shots, poking fun at Conor's Irish whiskey brand Proper No. Twelve and his recent struggles in the Octagon, where he has lost three of his last four matches, including back-to-back defeats at the hands of Dustin Poirier. He also implored McGregor to mention him directly next time he wants to say something about him.
Twitter users immediately rounded up the disrespectful and ableist tweets McGregor deleted, included one where he wrote, "I'm gonna make it my mission to score a 3 pointer with him one day, hon the gaa." 
Dr. Karan Raj has speculated Hasbulla has a rare genetic condition known as growth hormone deficiency, or GHD, which is "caused by insufficient amounts of growth hormone in the body" and leads to someone having a short stature, according to a description from Johns Hopkins University. The condition has also been referred to as dwarfism. 
Hasbulla and Abdu Rozik, who also has GHD, were slated to fight in mid-2021, but the Russian Dwarf Athletic Association deemed the bout unethical. The two have since tried to revisit talks of a fight, but both have accused the other of ducking a match. Back in April, Hasbulla spoke with Barstool about the long-awaited bout with Rozik at the 5:30 mark below.
Hasbulla and McGregor have a bit of history, with the former recently sharing a video revealing he has a chicken named after the latter.  
This could be a callback to when Khabib Nurmagomedov, a close friend of Hasbulla, called McGregor a chicken in 2016. While that may seem like a minor insult in the United States, Artem Lobov—a teammate of McGregor at Straight Blast Gym, a mixed martial arts academy in Ireland—explained the graphic meaning of the word in Russia. 
"It might not sound very serious to you guys, but just so you know, 'chicken' is one of the biggest insults you can give a man in Russia," Lobov said in a transcript courtesy of MMA Junkie. "In fact, if you call someone a chicken in Russia, that is a person that gets raped in prison—in male prison. That's what a chicken is in Russia. And Khabib knows that, and everybody knows that. It is a very, very, severe insult."