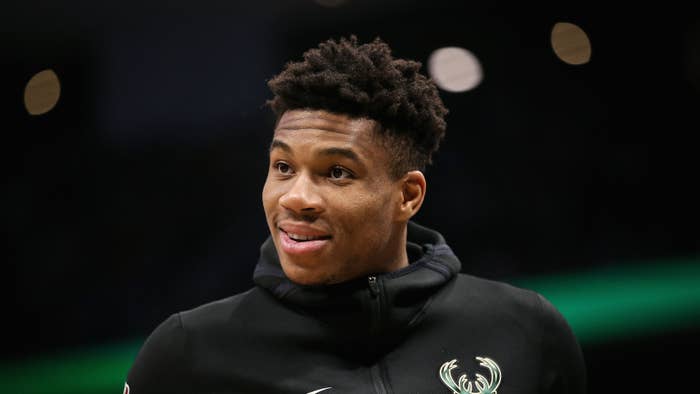 Giannis Antetokounmpo reiterated his desire to weigh all his options before signing a contract extension with the Milwaukee Bucks.
Antetokounmpo appeared on the latest episode of the 48 Minutes podcast, where he discussed what it will take for him to stay with the Bucks.
"As long as we play and we approach the game every single day, the right way, and we all sacrifice for a common goal, I can see myself being with the Milwaukee Bucks for the rest of my career," the 28-year-old said
The two-time NBA MVP went on to say that if the Bucks do not match his level of commitment to win, then he'll feel compelled to find a new place to play.
"I'm a Milwaukee Buck, but most importantly, I'm a winner. I want to win," Antetokounmpo explained. "And I have to do whatever it takes for me to win, and if there's a better situation for me to win the Larry O'Brien [trophy], I have to take that better situation."
Giannis made waves last month when he said in an interview with the New York Times that he had no intention of signing an extension with the Bucks when he's eligible in late September.
"Next summer it would make more sense for both parties. Even then, I don't know," Antetokounmpo said in August. "I would not be the best version of myself if I don't know that everybody's on the same page, everybody's going for a championship, everybody's going to sacrifice time away from their family like I do. And if I don't feel that, I'm not signing."
Since winning the title two years ago, the Bucks have not reached the Eastern Conference Finals and were eliminated in the first round by the eighth-seed Miami Heat last season. Milwaukee fired head coach Mike Budenholzer one week after their season came to an end.
Giannis Antetokounmpo is entering the third year of his five-year, $228 million contract with the Bucks. He has a player option for the 2025-26 season.
Milwaukee can offer a three-year, $173 million extension to Antetokounmpo on Sept. 22.