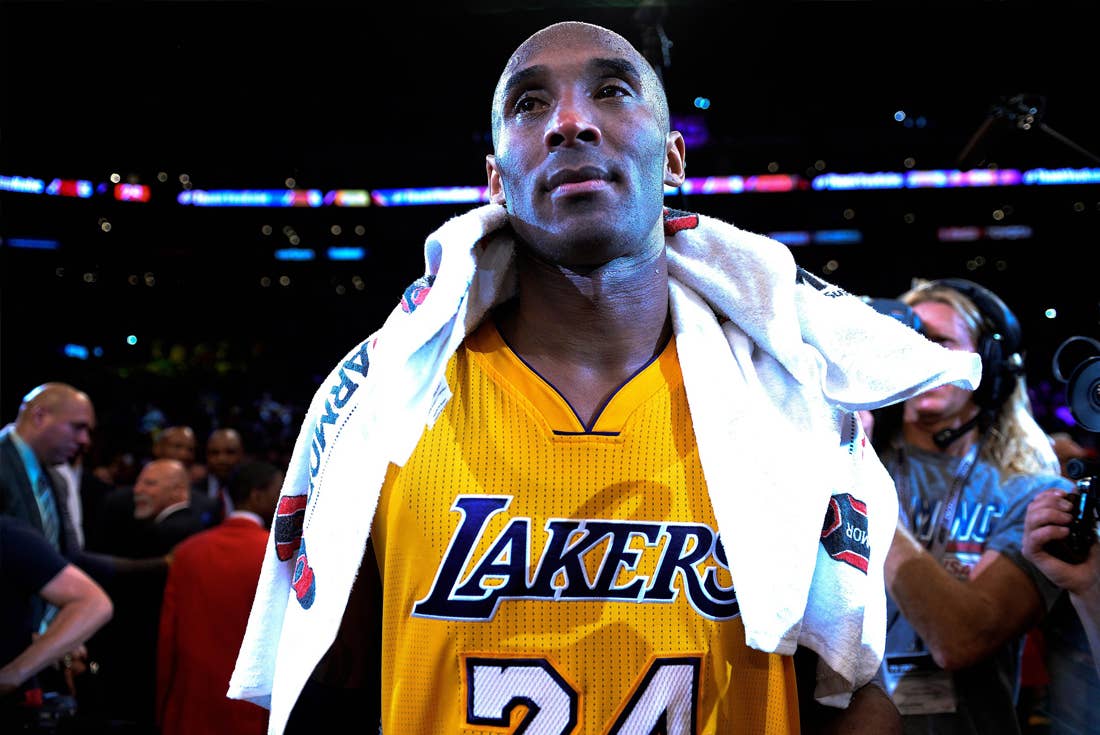 In Los Angeles, helicopters are our accepted symbols for celebration or tragedy. They're whirling tons of police surveillance or they're hanging over the Hollywood premiere of an exhausted franchise sequel. You don't see them on a mundane afternoon in Van Nuys. 
On Wednesday night, an hour and a half before tip-off, six choppers scudded above the scalloped shell of Staples Center. From the concrete, the hulls of painted steel essentially look the same. Unless the searchlight blinds you, it can be difficult to tell the difference between flying pigs and blow-dried news anchors. If you've lived here long enough, both instill a general uneasiness. They bring back the scars of the semi-distant past: countless house-to-house ransackings; the Riots of '92; the earthquake of '94;  the O.J. verdict the following year, when eruption threatened but never materialized; the premiere of Batman & Robin. 

The 2009 Lakers Championship parade offered unalloyed joy in a city that seems permanently content but rarely happy.  It occurred after a seven-year drought during which Kobe faced rape charges, a post-championship South Beach Shaq asking how his ass tasted, and Smush Parker entering Laker lore as the point guard golem tormenting the ring-obsessed captain. That victory coronation at the Coliseum that year was the only other time that I can remember the sky as loud and crowded as Wednesday night. 

The choppers were there for the final basketball game of Kobe Bean Bryant, the Black Mamba, Vino, The Dagger, Kobe Wan Kenobi, Mr. 81. Other than Darryl Dawkins, has anyone ever had that many nicknames? Has anyone had so many bad ones? There may never be another basketball player as inscrutable, maddening, and brilliant as Bryant. He was narcissistic enough to give himself multiple nicknames and so obsessively on-brand that he (and Nike) actually got them to stick.

For a city stratified by race, class, geography, and the allegiances of transplants, the Bryant cult might as well have been the commonly agreed substitute for civic pride. Something capable of bonding bus boys from El Monte to Malibu porn potentates. After all, Jackie Treehorn's house belongs to Jimmy Goldstein, a Lakers season ticketholder since the Fabulous Forum days.

Bryant ruthlessly sliced through those very real divisions as though Jalen Rose guarded them. He inspired Old Testament devotion and occasional hatred, the wrathful anti-hero motherfucker such a conflicted place deserved. So astoundingly self-aware and shockingly insensitive that he practically drove an entire organization to psychotherapy.

Even if you wanted to murder him, you had to begrudgingly respect that pathological desire to be the greatest. In another scenario he could've been Moriarty to Sherlock Holmes (Tim Duncan) or Napoleon invading Russia. If you lived in L.A., he was what FDR once said about the Nicaraguan strongman Anastasio Somoza: "He's a son-of-a-bitch but he's our son-of-a-bitch." Talk shit and you might get challenged to meet in Temecula.
For a city stratified by race, class, geography, and the allegiances of transplants, the Bryant cult might as well have been the commonly agreed substitute for civic pride.
Brentwood lawyers and Burbank hotel managers, Hollywood scions, and Fairfax hypebeasts, Alhambra IT consultants, and Kendrick Lamar. They all came. Outside of the 76 gas station on Blaine St. and West 11th, there's a white-bearded homeless man who begs before and after every game, ragged tent beside him. He wore a Lakers hat and a commemorative "Farewell Mamba" tee.  Kobe might be the most beloved snake of all-time.

The scene was a cross between a New Orleans Jazz funeral, a half-imagined carnival, and a Finals Game 7, the lines outside Staples Center stretching a half-block long before the gates even opened. Parabolas of purple and gold balloons hung over purple and gold moon bounces and purple and gold slides. Disciples dressed in purple and gold wigs, purple and gold polka dot pants and jerseys. No. 8 or No. 24? "Retire both," everyone replies when you ask. With no hope of getting in, parents lined their children for photo-ops before a gargantuan Kobe banner covering the glass façade. Arms outstretched—a conqueror's pose unseen in a brutal half-decade.

Even if he'd never publicly admit it, this is exactly what Kobe wanted. A funeral fit for a Roman emperor, lower the purple and gold sarcophagus at center court, have Magic Johnson declaim staves of Catallus, and maybe sacrifice a sow in the visitor's locker room. You'd never see Duncan go for this shit. He's probably already played his last regular season home game in San Antonio, but you didn't see road ceremonies where teams furnished him with a lifetime supply of Dockers, a free copy of Turbo Tax, and a Teas of the World subscription.

You can make a valid argument for Duncan having the better overall career. He certainly avoided the precipitous drop-off of Kobe's final years. But no one ever wrote a rap song about Tim Duncan. Chief Keef's "Kobe" is an anthem. When Juicy J asks "Who Da Neighbors," the answer is always, "Kobe Bryant—now that's paper." Lil Wayne referenced him back in Tha Block is Hot days and didn't stop for a decade. Drake's divorce court analysis on "Stay Schemin" could be his best bars. What did Duncan get? A few stray Quavo bars about how he'll "slam dunk you like Duncan" on "Quarterback." Can you even recall a memorable Tim Duncan dunk? Can Quavo? 

Duncan governed; Kobe reigned. Duncan appealed to common sense, Kobe inspired, fulfilling lofty prophecies and our primitive desire to slaughter. Where else could he have played but L.A.? Reporters who covered him have told me that he always considered himself the NBA analogue to Jay Z. And a Brian Shaw anecdote in the Players' Tribune this week basically confirmed it:
"I always tell people this story when they ask me about Kobe. We would always freestyle on the back of the bus. Whenever a new Jay Z album came out, it was a big deal. Guys would get it Day One and be rapping their favorite songs. Maybe they knew the first few bars or the hook. Well, Kobe would be on the back of the bus rapping every single line of every single song the day after the album came out. I'm talking every lyric. It was genuinely amazing. Nobody could figure out how it was possible."
Derek Jeter's smooth omerta silence more closely mirrored Brooklyn's finest. He was a Sinatra, a Jay Z. Kobe is a 2Pac, a Kanye, the little brother to Michael Jordan, petulant and inconsistent at his worst, but capable of turning the smallest slight into a heroic quest. A vengeful son of God clear in his goals, yet too creative to ignore, no matter how much you occasionally wanted to.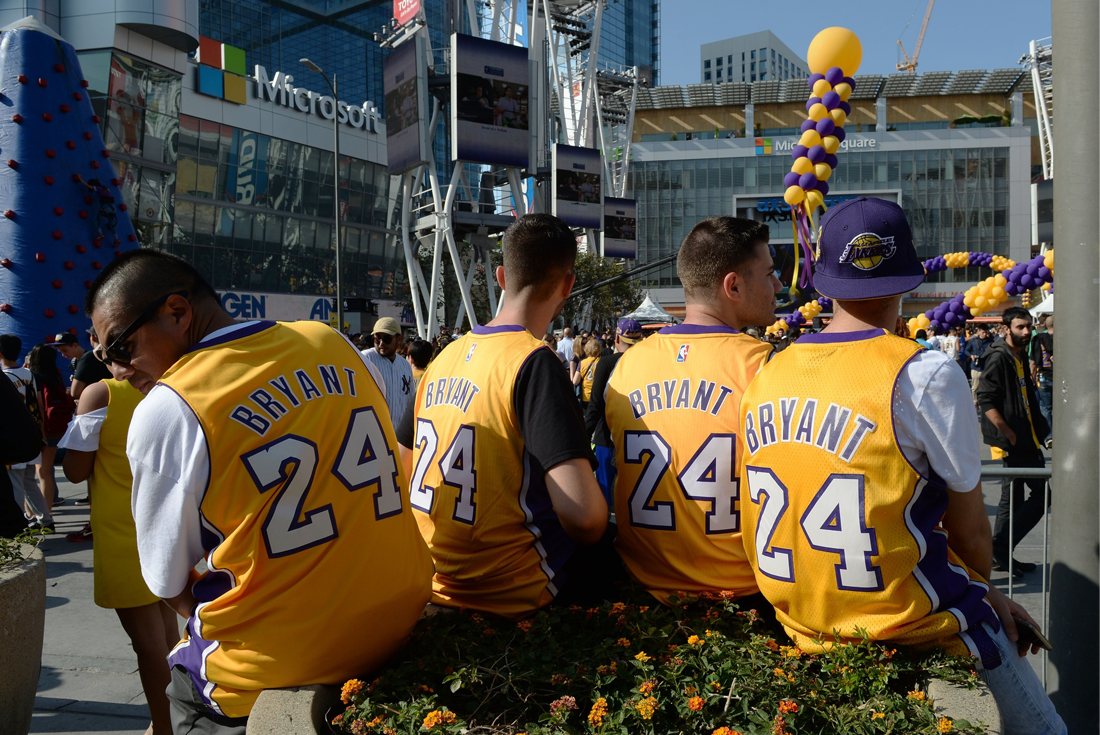 Inside the arena, the spectacle only increased. The merch tables looked like gift shops just outside of the Vatican, but with more rhinestones. I'm surprised they didn't sell a throwback Kobe Bryant Italian youth basketball jersey. (It would be reported later that more than $1.2 million worth of merch sold that night, a record.) The Red Hot Chili Peppers' "California" oozed from the loud speakers. It was preposterous and campy. We were going to watch Kobe Bryant be shot out of a cannon and hopefully land on his feet.

Kanye and Jay sat a row apart, the latter courtside and chatting with Stephen A. Smith, briefly looking lost in an existential hell. Top Dawg paid $35,000 for two tickets to take Kendrick and Schoolboy Q, but at least they all got the commemorative Kobe infrared toy helicopters given to everyone on the floor.  The Weeknd skulked around. G-Eazy missed the Warriors game for this. Of course, Jack Nicholson smirked in the throne, rocking red sunglasses, residual strands of hair looking afraid of his head.
 
You could have been forgiven for forgetting that there was a game to play. The last two Lakers seasons have been the worst in the team's history. D'Angelo Russell turned into Bubbles from The Wire, and Nick Young hasn't played since. They dropped 65 games and hemorrhaged young fans to the Clippers. Eight-year olds don't want to hear about the proud Laker tradition; they want to watch Blake Griffin jump out the gym and punch out the equipment guy.

If you thought that Kobe might submerge his ego and take a backseat to a developing team, you obviously never knew the man. After opening the year with a withering series of losses, the season quickly devolved into the Kobe farewell tour. He announced his retirement in poem form on the day of a game; each fan who showed up that got an embossed copy of the note, and those who flipped them on eBay raked in upwards of $1,000. Opposing fans who would've once slipped strychnine into his cheeseburger flocked to pay their respects. They cheered him in Boston, one of those things that you'd expect alongside pigs flying, hell freezing, and Adam Morrison rising from the dead.

But behind the Lakers bench, Morrison ponytailed to and fro. D.J. Mbenga and Mike Penberthy came, alongside other journeymen only remembered as esoteric trivia questions. His championship core was obviously there: Shaq, Rick Fox, Lamar Odom, Robert Horry, Brian Shaw, Devean George, and Derek Fisher in his scallywag hat. It was the NBA equivalent of the last episode of Seinfeld, except Ruben Patterson failed to appear in his role as Newman.

Eight minutes before tip-off, a jangled, queasy anticipation sets in. The finality of the occasion overruns the surreality that everyone finessed tickets to the world's hottest wake. There's Kobe in his warm-ups, stolidly shooting the same pre-game moves since he was a teenager. Fake spin left, fadeaway right from 18 feet. Swish. Effortless from afar, but tricky even in an empty gym.
Paul Westhead once described Jamaal Wilkes jumper as "snow falling from a bamboo leaf." You could use that for Kobe too, except there's nothing organic about the process. Kobe expended tremendous amount of energy to look this natural. If he were a bamboo leaf, he would've studied game tape of photosynthesis to learn how they did it the right way in the ancient forests of Han Dynasty China.
The lights suddenly dim. A cylindrical white jellyfish-looking sheet drapes down from scoreboard to floor, projecting grainy clips of Bryant. There he is as a rookie talking to Chick Hearn, crowing that he plans to be with the Lakers "Nineteen or 20 years…at least." There's Kobe with the fro, weightless in mid-air, about to crush a rival's self-esteem. Pounding his chest with gladiatorial lust. Flashing his under bite pelican jaw.  The dream shatterer. Evil Basketball Jesus.

Johnson steps out to address the crowd:

"We're here to celebrate greatness for 20 years…he's never cheated the game or us as fans," says Magic, pausing for dramatic effect. "He played through injuries, he played hurt, and we have five championship banners to show for it."

You can roll your eyes at the Kobe mythmaking. It's become a Joseph Campbell farce rivaled only by Jordan. Merely winning five trophies doesn't get you this. You have to capture the imagination, turn the collective unconsciousness into a Nike commercial.

"For the last 20 years, he's been the biggest and greatest celebrity we've had in this town," intones the man who had formerly been its biggest and greatest celebrity. "Kobe's not only a great and unbelievable sports icon but the greatest to wear the Purple and Gold."

There's Shaq on the jumbo screen calling him "the greatest Laker ever." Derek Fisher valorizing Kobe, looking like Common in a preposterous burgundy suit. D-Wade and Dirk, KG and Melo, LeBron and Steph Curry. Even Gregg Popovich, who tells Kobe, "You did it the right way…you did it your way."

The goal is to wring every ounce of emotion out of us. To remember the championships and glory and erase the memories of flailing end-game bricks; the one night in Colorado that will forever tarnish his legacy; the time he chewed out Andrew Bynum to bros in a Newport Beach parking lot. You can't dismiss that side of Kobe, but that wasn't the point. Instead, there's Lamar, Pau, Phil Jackson, and Jack Nicholson thanking Kobe before 20,000. There's something unalterably cheesy, but sweet to it, like a video montage at a bar mitzvah or wedding scored to "Forever Young."

During the national anthem, Lakers super-fan Flea plaintively slaps his bass like he's never slapped it before, channeling Jimi Hendrix and Bernie Worrell on Maggot Brain when George Clinton told him to play like his "mama had just died."

When it's all over Kobe slowly steps towards center court. Statuesque, weary of becoming a crying Jordan meme, pounding his chest twice, putting his fingers to his lips, blowing a kiss to the crowd, and flashing a smile so forced that it becomes transparently clear: he's struggling to keep it together for 48 final minutes.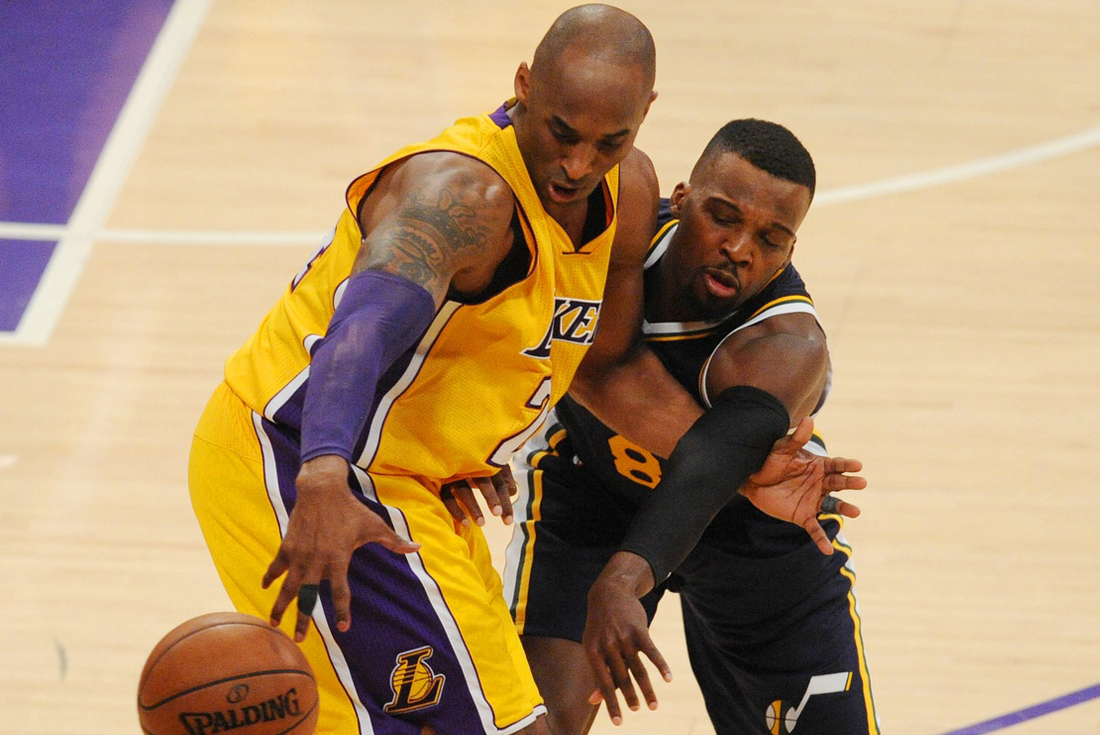 First Quarter
We know that heroes eventually die and horoscopes often lie, but it's inconceivable to think about Kobe Bryant getting outplayed by Rodney Hood. But Kobe Bryant post-Achilles rupture isn't highlight reel Kobe Bryant. This is a 37-year-old husk with over 50,000 career minutes (including playoffs, but not his famous 3 a.m. workouts), grappling with ravaged knees, fingers, shoulders, ankles, tendons, joints, and probably kidneys. His body is in ruins, more suited for an archeologist than a physical therapist. He's the basketball equivalent of Mr. Burns, bleeding dust, his brain repeatedly flushed with vinegar, desperately trying to cheat death another day.
His first shot is a grotesque fadeaway three. His eyes barely glance at the hoop and it lightly grazes the rim, missing badly. The crowd groans. Next possession: a baseline crossover fadeaway that errs long. For his third attempt, he languidly ekes by two defenders and blows a right-handed layup. The Lakers are instantly down 6-0 to a Jazz team that just learned before the game that they've been mathematically eliminated from the playoffs. 
There's no incentive for Utah to try, other than wanting to maliciously deal Kobe the unhappy ending that he's historically inflicted on everyone else. If Gordon Hayward didn't look like the kind of guy who celebrates victories with saltines and skim milk, it would be a safe bet that he'd already be looking forward to turning up at 1 OAK. 
I've stolen a seat from a Sports Illustrated writer who vacated his spot to head up to Oakland to watch the Warriors break the Chicago Bulls' record for most victories in a season. ESPN bumped the Kobe finale to its JV network, a seemingly fitting end for this Lakers team that made the Kwame Brown era look like Kareem's.
During the timeouts, more celebrity tributes to Kobe pour in on the JumboTron. Snoop Dogg and Ice Cube begging Kobe for "five more years." (Mitch Kupchak wincing unseen).  Kanye and Kim get booed. Bieber draws open contempt. Taylor Swift does that Taylor Swift thing where she over-graciously thanks Kobe for being a friend to the point where you wonder how he avoided a cameo in the "Bad Blood" video. 
When play resumes, Kobe takes it to Hayward, who forces Kobe to settle for another failed long three. It's hard not to think about the young Kobe of that first championship run: savage, relentless, and levitating. He would've given Hayward work like a farmer decapitating a cornfield in one smooth sweep, and then told him his haircut was trash. 
Slowly, his brittle hands start to heat up. He slashes right against a towering 7-foot stiff, and pulls up from 20. He dips into the paint and lands a reverse left-handed lay-up. They chant "MVP" like the old days, except now he's surrounded by Marcelo Huertas, the answer to what Chris Kattan would look like as an adroit-passing, defense-agnostic point guard. 
Midway through the first quarter, it's become clear that this is most reminiscent of Magic at the 1992 All-Star Game, a victory lap. No one's exactly going to let him win but no one's willing to be the asshole rolling his shorts up, slapping his palms on the floor, and playing lockdown D either.
If Kobe spent the last two years of his career chucking with an abandon that would've embarrassed even his younger self, this is the pinnacle. Every time he gets the ball, it's going up, and for once, none of his teammates rolls their eyes or cares about stat padding. But the first 12 minutes are mostly hideous 3-pointers, scowling, herky-jerky drives, arms akimbo, the referees bailing him out of pity. He's shooting as proudly and wildly unrepentantly as Scarface in the last scene.  But he's got 15 at the end of the first, and a dapper bro in a Kobe jersey next to me shouts for the rest of the crowd:
 "Keep shooting!"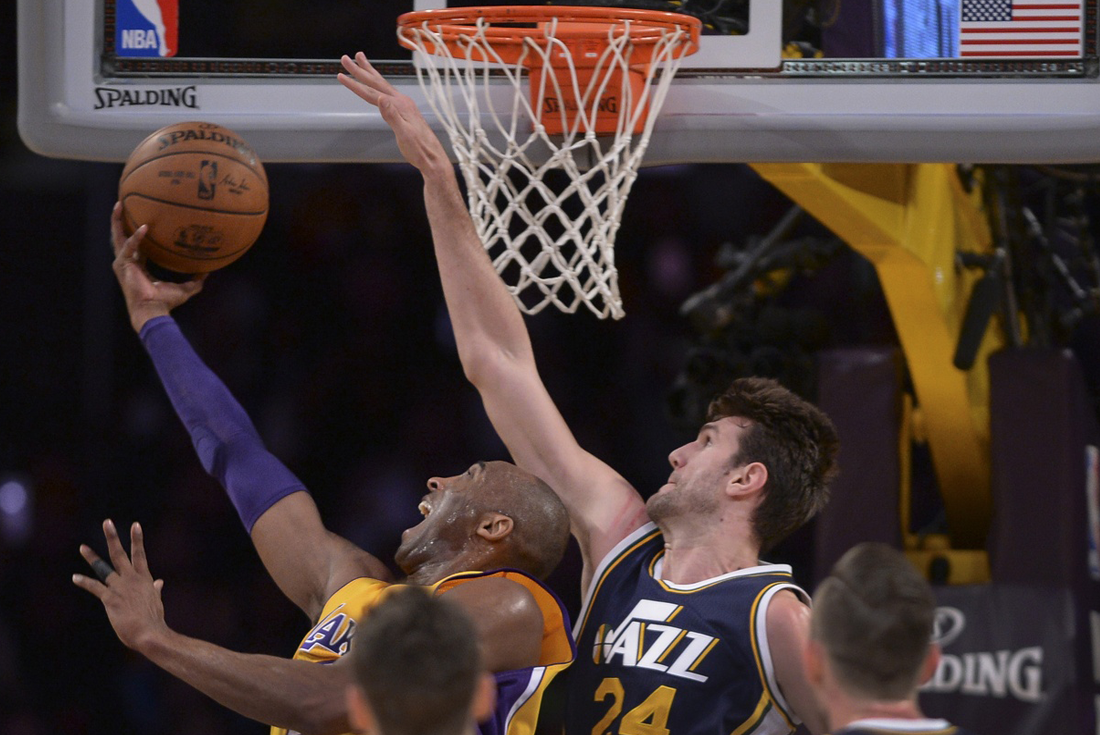 Second Quarter
I'm embarrassed for everyone. I'm embarrassed for this necrophiliac spectacle playing out on the scoreboard. With Kobe recuperating on the bench, a celebrity mourner's procession offers cloying tribute after tribute. Ellen DeGeneres concludes hers with "Smell ya' later." Ryan Seacrest managed to be even more corny and unctuous than usual. To no surprise, Justin Timberlake managed to come as anthropomorphic fedora. Doc Rivers smirks and James Harden refers to himself in third person as "The Beard."
I'm embarrassed for Kobe, whose determination to beat the odds one more time left him broke at the Blackjack table. Phil Jackson once said: "I don't want to coach Kobe Bryant when he's not Kobe Bryant anymore," and this is Kobe Bryant as Walking Dead.  
He comes back into the game at the 6:14 mark and immediately hoists an ice-cold jumper over Hayward. Not even close. The other Lakers force-feed Kobe the ball like they're playing pick-up with the boss and lay-offs are on the horizon. He deploys every last shimmy, pump-fake, head-fake, and spin move but none of them are enough. Unless he exploits a slow defensive rotation, he's forced into prayers. He needs ample space to get off a clean shot now; once upon a time he merely needed oxygen.  
As the final seconds of the half expire, Kobe gets a beautiful 1-on-1 isolation situation at the top of the key—the stuff he once lived for. But his explosiveness left him on an operating table three springs ago, so he settles for a one-legged fall-away 12-footer. No good.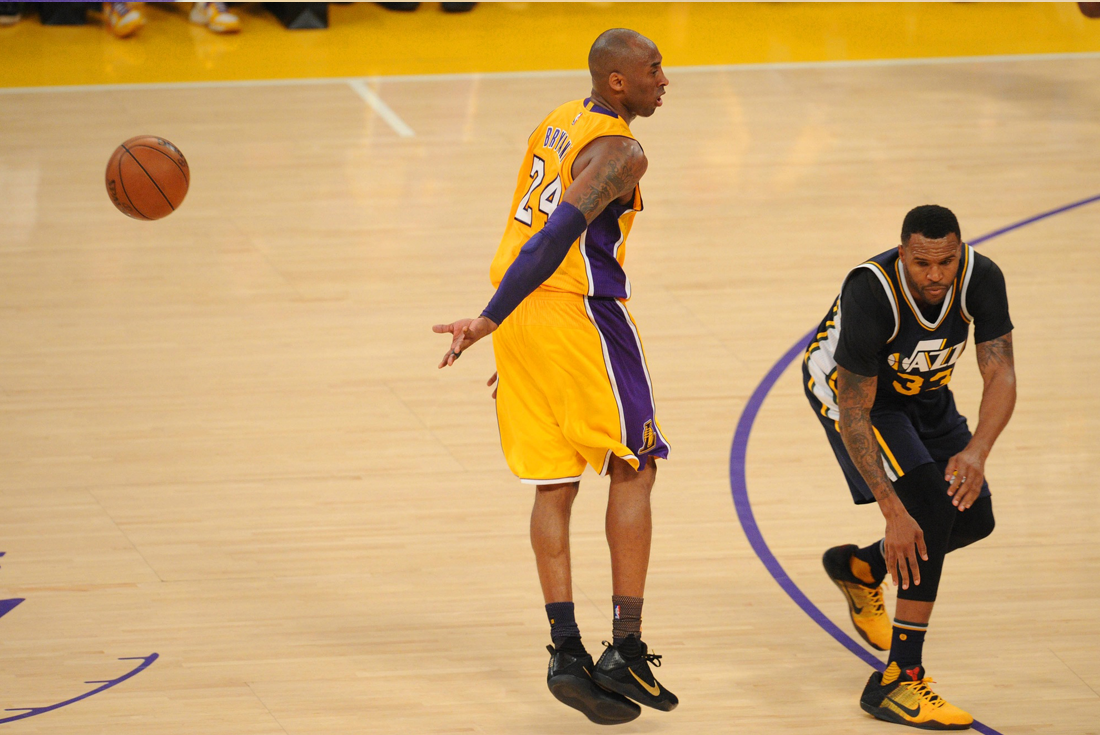 Third Quarter
April is the cruelest month, especially when you're playing hoops and hearing the footsteps of 40. You're invincible until you're not. Until your body and brain start operating on opposite wavelengths. Until an EDM "banger" blares over the Staples Center loudspeakers, and George Lopez and Jeremy Piven are paying you homage with the solemn reverence they usually reserve for shuttered nightclubs. Life comes at you fast. 
Kobe is the archetypal L.A. superstar because a love-hate relationship is the only rational engagement with a city like this. After a missed three, he gets a rebound that magnetically bounces back to him. The seas part as he drives in; he can barely get above the rim anymore, but it drops cleanly through. He's now 10-of-24 and no one on the Lakers even pretends to want to shoot. They slide it around the horn back to Kobe once more. Airball. 
There's six minutes left in the third, Kobe is shooting 35 percent and the Lakers are down 10. I could've written this sentence about the previous 81 games, and it would've inevitably been true. There are 18 minutes left in Kobe's career, and it's becoming readily apparent that he'll drop 40 and the Lakers will lose. Kobe apostles will tweet about his points total. Kobe cynics will note his usage rate and shot percentage, and we'll close the door on the last 20 years of our lives.
But then something bizarrely familiar starts to happen. Kobe drives to the hoop, expending what's left of his hang time and hits a floater. He spins right baseline, swish from 12. He hits a corner three over a goon named Joe Ingles, who sounds like the Latin Villain in a James Patterson potboiler. He nudges into the defender to create space, steps back, and hits it again. The crowd detonates and Kobe's limping, barely able to run—calves and ankle look like they're filled with scotch tape and silly string. 
It's unclear if the Jazz has replaced actual NBA players with lanky Mormon cadavers they discovered at the Salt Lake City YMCA, but Kobe has 37 as time runs out in the third. Jay Z seems impressed.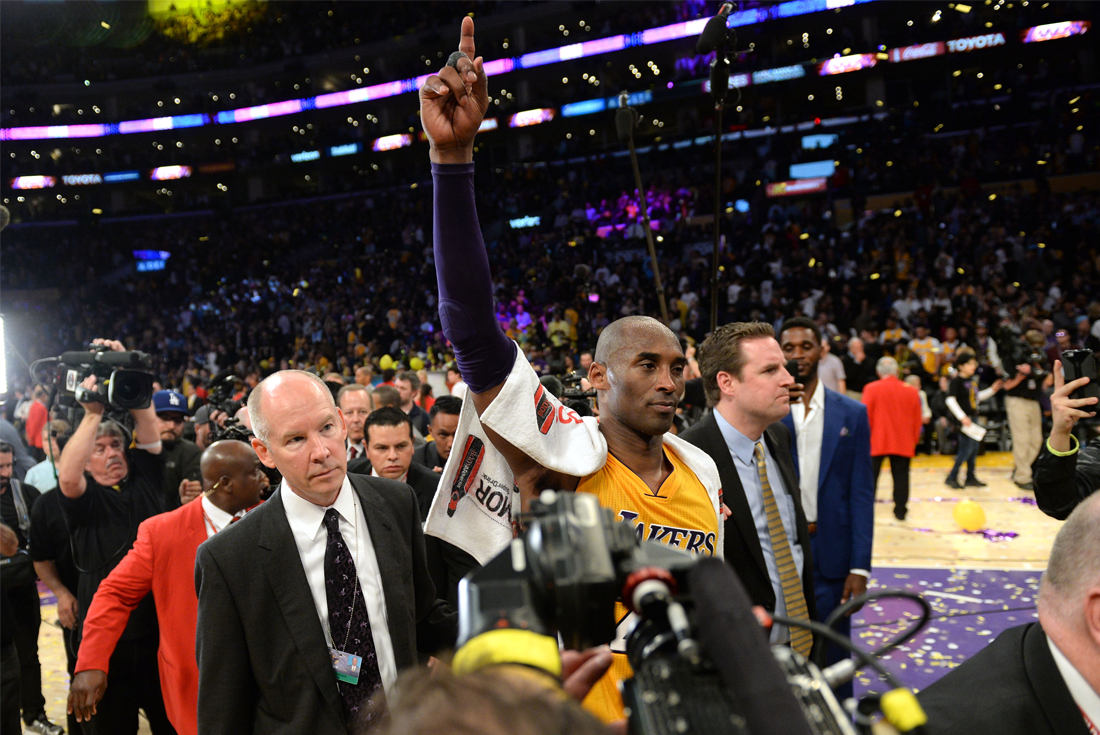 Fourth Quarter
You know what happened, right? I'm unsure if anyone has fully processed it. It might take years. If you're a baseball fan, you still hear mythical truths about Ted Williams hitting a home run in his final at-bat and then galloping out of Fenway forever.
This was what we wanted from Jordan. That illegal push-off of Bryon Russell to set up the miraculous game-winning jumper and seal an NBA championship. Six rings in six Finals—until he fucked it up by returning for those last sad years in Washington. We want perfect alignment in sports to counterbalance the disarray of our personal lives.

Unless you're one of the Frankincense and Myyrh-carrying Kobe fanatics, it seemed like a given that No. 24 had forgone his chance for the triumphant ending. He could've retired after his Achilles combusted and he hit those two final free throws, and somehow walked off the court on his own accord. But the madman refused. He suffered through three injury-plagued seasons, staggering around the court, demanding isolation post-ups as retro as a pair of size 40 Jnco jeans. He clogged up all the cap space, an immovable sacred cow that the Lakers couldn't gently push out of the road.

The fans didn't care. They came to see Kobe the same way that religious pilgrims still go to Lourdes. It doesn't matter if the miracles were long gone, they showed because this was the closest they'd ever get to the myth. They'd tell their children stories that mutated over the years until they became the stories we wanted to believe.

We have to believe that fourth quarter because we all saw it. It began with Kobe barely able to walk, limping around like a wounded horse, legs leaden, body language grim. He shanks a corner three and then Joe Ingles hit one. Jazz up 12.

The offense has devolved into simply dumping the ball to Kobe somewhere outside the three point line. He attempts a spin move into the lane, and gets stuffed by a tin can named Jeff Withey. Jeff Withey. 

It starts at the 9:31 mark. Kobe hits a wide-open three to bring them within nine and give him 40 for the night. With just under nine minutes, he sinks another three. It's now 85-78, they're playing Ludacris "Move Bitch," and Larry Nance throws down a one-handed lob to bring them within five.

Merely winning five trophies doesn't get you this. You have to capture the imagination, turn the collective unconsciousness into a Nike commercial.
Only a few minutes left and the arena is struck by a dizzying palpable hope that Kobe will come back once more. We all understand that it has to end, and like all deaths, we can't help but make it about ourselves. We want one final Kobe comeback because we want to believe that we can depart on our own terms. That even though something great has permanently ended, we can aspire to something better up ahead.
He knifes down the middle to get 45 points. He corkscrews and takes a shot so bad that even a coach's son would cringe. He blows a lay-up, making him 17-of-45 on the night, tying his record for shot attempts—and that was an overtime game. The Jazz are back up nine. A sickening pallor and despair grips the crowd.
Then it happens. I don't know how to explain it. Maybe it was the energy of the room, the emotion of the night, the latent genius lying in reserve for one last run. But there it was: the old Kobe, back for the last time. He blows past the defenders with speed we haven't seen in years. Jay Z rises to his feet clapping. The "Kobe" chants start up again and the arena gets louder than I've ever heard it. 
A Kobe pull up jumper from 12 feet. Swish. A Hayward brick and a Kobe three. Pandemonium. The Lakers are only down a point—96-95. He has 56 on 21-of-49 shots. Another Utah miss.

Everyone in the room knows exactly what's coming next, but it doesn't quite seem real. In slow motion, as has played out in practically every basketball player's dreams for the last 20 years, Kobe pulls up from 15 and fires over the defender. It's so absurd and storybook that you'd cringe if you saw it in a script. But he did it in front of the whole world. He beat his chest one more time, he clenched his jaw; he turned atheists into temporary believers. The Lakers win. Sixty points.
The media section is quiet as a tomb, but the rest are in hysterics. I turn to the right of me, to the bro who has been shouting "One More Year" and "Shoot Kobe, shoot" all game. He repeats over and over again, "that was a religious experience." He's a news anchor from Spokane, born in Pasadena, raised in Vegas, who bought tickets an hour after Kobe announced his retirement.
"I had to be here," he says. "Kobe was drafted when I was 6 years old. You know, it's weird to say, but I don't know a world without him."
Post-Game
"I can't believe how fast 20 years went by…this is crazy," Kobe tells the crowd, gripping a microphone at half-court, in as much disbelief as anyone. He offers platitudes about the value of teamwork, camaraderie, the Lakers organization, a profusion of thank yous for fans and haters.
"What more can I say?" he stares out, speechless, the man who had so carefully cultivated a self-mythology, getting that final impossible wish. "Mamba out."

But no one else wants to leave and they stumble around, half-drunk on adrenaline, slowly filing out of the doors, posing for as many selfies and snaps as they can. They can't vacate the scene because everyone knows this can't happen again. Balloons and confetti litter the floor. Kool and the Gang's "Celebration" plays. Sure, why not.

There's the last press conference. Kobe enters in his jersey. He doesn't want to take it off, he says. He knows what comes next. His latest obsession is storytelling. He was at the office this morning from 8 a.m. until 2 p.m. "I don't know if I'll be as good at it," he admits. "But I'll leave no stone unturned…just like my basketball career."
For the first time, he employs the past tense—which somehow imbues it a finality that it couldn't have possessed until 14 minutes prior. He waves one more time and exits the podium.
Outside in the warm spring night, the helicopters have ceased their invasion of the sky. Most of the fans have departed Staples Center, but a die-hard cluster of about 100 line the player's exit, phones ready to capture any last glimpse, any brief anonymous encounter. They ask me for my score sheet, my program, any bit of ephemera from the game. But I find myself not wanting to give up any of it. I still don't believe what I saw, so I need as many memories of it as possible.

Then a car comes out of the garage. It might be Kobe, but probably not. Nonetheless, the photos flash. The hope in their eyes is there for a little while longer. Kobe might know what he's going to do next, but they don't.