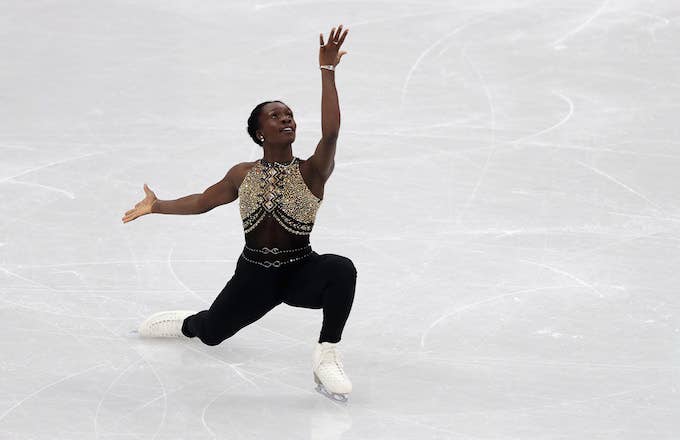 The internet is buzzing about French Olympic figure skater Maé-Bérénice Méité and her performance at the 2018 Winter Olympics. Why? Because she treated viewers to an icy show accompanied by two of some of Beyoncé's cherished tunes: "Run the World (Girls)" and "Halo."
This is the first Olympic games where figure skaters have been allowed to use accompanying music with lyrics. While some of Méité's competitors chose to stick with classical tunes from the likes of Chopin, her choice to add a little pizaz à la Queen Bey certainly made her stand out from the pack. "[Her music] is crazy, wild, and fun," Méité told Cosmopolitan minutes after her performance. "You can just dance to it, and that's how I am. She explained that the choice to rock out to a Beyonce song reflects her personality, adding, "I wanted to do something that was very me, something fun, something I would enjoy!"
While some technical hiccups including a fall landed her in ninth place, there's something to be said for the fact that the internet seems to be hooked on Méité's standout solo. Viewers applauded the Yoncé-inspired show, including Olympic medalists Johnny Weir (also one of the game's commentators) and Ashley Wagner.
You can view Méité's full performance here. It'll be the best decision you make all day.