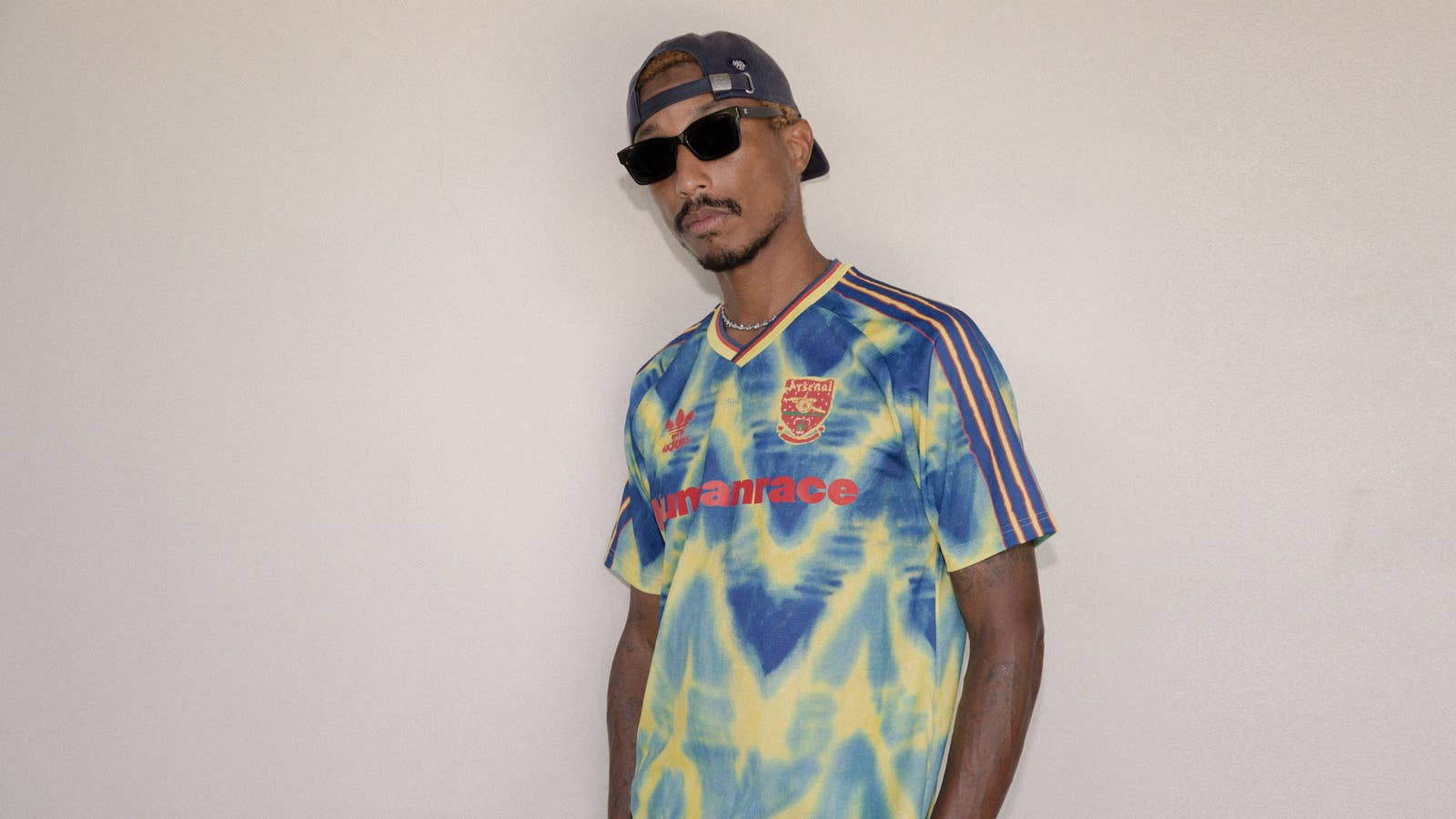 Hip-hop star and style icon Pharrell Williams has a reputation for building bridges between worlds that might once have seemed far apart. 
From ruling the airwaves with The Neptunes in the early 2000s, dominating the Billboard Hot 100 and selling out stadiums, to helping lay the foundations of 'streetwear' as we know it with the launch of Billionaire Boys Club with Nigo, Pharrell has become renowned for creating masterpieces on whichever canvas he decides to paint on. And that's without mentioning his collaborative projects with the likes of Chanel, Human Made, and adidas.
Pharrell's constant activity and output over the last two decades has seen him break down genre tags and stereotypes, bringing once-contrasting scenes and distant sub-genres together and creating a constant ripple effect that can be seen all across popular culture today. Now, at 47, Pharrell remains a blur of motion, invigorated by his endless stream of ideas and ever-evolving identity. 
Fittingly, we speak over the phone while he zips around the Miami while out on a bike ride with his wife, Helen. As you may have seen from the videos of him and Tyler, The Creator standing on top of their BMX's last year, Skateboard P also loves cycling. But despite hurtling about on a bike on the other side of the world, he glides through the conversation like a pebble gently skimming over a lake. Fresh off the serotonin hit that only a long bike ride outside can provide, Pharrell has a youthful vigour about him that resonates with his ageless appearance, and there's a reason for this. Despite the wealth of knowledge he can impart on pretty much every aspect of 'the culture', the subject we speak about today is one that he admits he's a beginner on: football.
"Advocating and aligning for something greater than ourselves is a beautiful thing, and that's what football has the ability to do."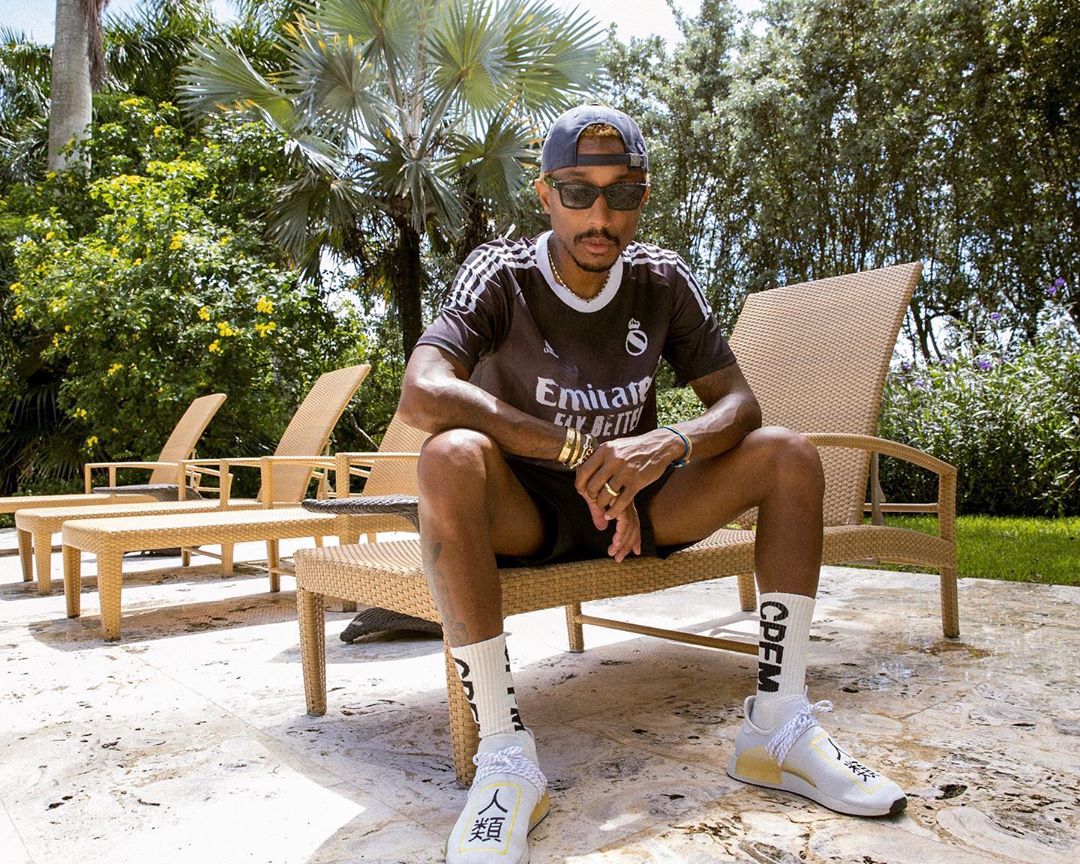 "I'm such a novice when it comes to the sport," he tells Complex. "When I was growing up, we were into skateboarding [and in it] there's the good, the bad, there's the intense things, the rivalries, the camaraderie—this is why people love sport so much and why it brings people together. Some of my friends I'd skate with would call it 'soccer' back in the day; they were into Umbro shorts and jerseys from some of the local teams." 
That early fixation with jerseys has now manifested into something a whole lot bigger. After travelling the world and being gripped by the "enthusiasm, excitement and energy" of the sport, Pharrell's latest creative project has seen him channel his penchant for design into a reimagining of some of the best kits ever produced from the hallowed archives of adidas' elite clubs. Pharrell has put his creative Midas touch on classic shirts out of the Arsenal, Bayern Munich, Juventus, Manchester United and Real Madrid's archives, and the results are nothing short of a masterstroke. 
It's only right for a collection of jerseys titled 'Human Race' to offer a personal touch, aesthetically. Featuring unique hand-painted graphics on some of the most iconic kits in the clubs' legacies, this was something Pharrell was keen to channel in the design. "Being a human means spirit and flesh," he says. "The jerseys were made by fingers; they were created with the human touch. Even when adidas presented this idea to me, I was like, 'Man, I don't feel qualified.' But even though I know I may not be as educated in the sport itself, I know energy— and I know creating a connection from the energy that I see around the players and the sport."
It actually makes a lot of sense that Pharrell has chosen his latest—and literal—creative brush stroke to be the canvas of the beautiful game. Despite huge political unrest, social uncertainty and lack of inter-connectivity, 2020 has continued to be a year where collaboration is king and cultural convergence between the worlds of music, football and fashion are at an all-time high.

"This is the first time these five clubs have united together in a shared design. We need associations to do more kinds of these types of things together. This collaboration is a hamster wheel of kinetic energy. We're better stronger, dude. We're better stronger."

Unifying people and fans as well as the respective clubs and their players was part of the main appeal of the project for Pharrell: "This is the first time where these five clubs have come together to unite over a shared kit design. We live in a world where our phones have made us all a lot more self-centred. When you bring a lot of people together, it's a big portal of energy. It's like anything—a big choir, or anything like that. We need associations to do more kinds of these types of things together. This collaboration is a hamster wheel of kinetic energy. We're better stronger, dude. We're better stronger."
France winning the World Cup in 2018 (and the resulting visuals of the celebratory parade at the Parc Des Princes, where Vegedream joined the 23-man squad on the pitch) symbolised this synergy perfectly. For Pharrell, the energy on the display that day is something he'll never forget. "The excitement watching those players celebrate, many of whom came from African descent, winning the World Cup with France, it was a beautiful thing, man. People love to see that—and to see the government get behind it too, that showed the spirit and the togetherness that the football industry has. It was beautiful to watch and to see them become the champions. It was empowering." 
The World Cup Final's standout leader on the field that day was Paul Pogba. Though Hugo Lloris captained Les Bleus, it was Pogba who grew into the role as a leader, inspiring his teammates to victory with his rousing speeches before kick-off. Pharrell and Pogba have collaborated on a set of Human Race Predator Mutator boots for the project, something that's been long in the works. "When we had dinner last year, we were just talking with each other and had this total, mutual admiration for what we each do," he explains. "We have a shared attitude to what we bring to our work—gratitude. Gratitude is the best attitude. For me, I just thought: 'Man, this guy is so good at what he does! I'd love to do something with him.' It's kind of crazy how it happened, but we just spoke things into existence and partnered on something he can actively create in, which is a pair of boots."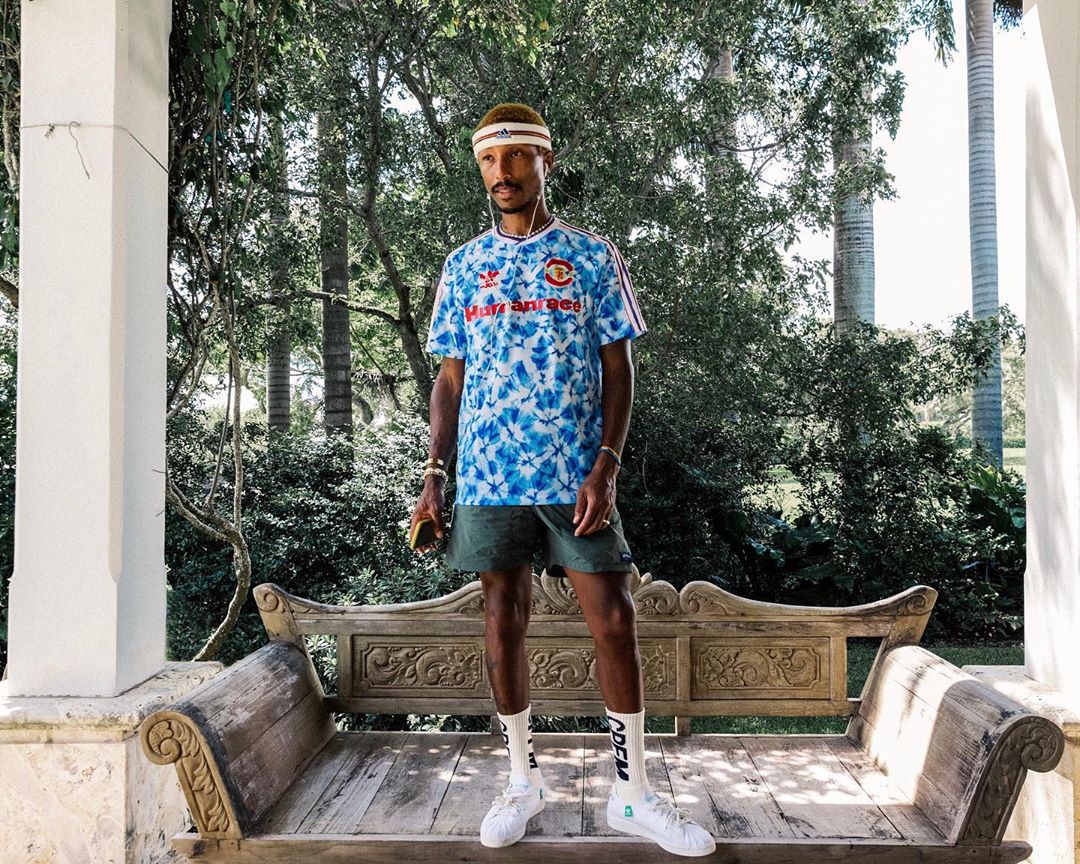 Just as football's influence is increasingly permeating through brand capsule collections and chart-topping rap lyrics, the game is simultaneously accepting the wider cultural lens it's being looked at through. The last three years have seen Jumpman logos on PSG shirts, a London skateboard imprint produce a jersey worn by Cristiano Ronaldo and Ligue 1 outfit Olympiques Marseille create their own major French Rap label. While skeptics would argue these moves are primarily money-driven, they are no longer unexpected—until this point in time.  
Pharrell is now adding another string to his bow with his move into football, a sport embracing and advocating newness, difference, and activism like never before. "Sport has the ability to change hearts and change lives, and unite people," he says. "So when I had the chance to be involved in this project, I was like, 'Yeah, count me in!' In a world full of contrived collaborations, this is a partnership that is not only personable but genuinely powerful.

"I think footballers using their platform is a beautiful thing. To see stars stand up, and use their powers, is incredible."

With an Instagram account that far surpasses the circulation of most newspapers, Pharrell has spent the last few years using his platform to draw attention to political and societal beliefs. But he's not the only one trying to spark change: in an era where actions of politicians are increasingly unreliable and distant from the lives of real people, players like Manchester United striker Marcus Rashford—who stars in the campaign—are busy making a mockery of the UK government's cluelessness. Rashford inspired thousands of businesses up and down the country to unite and provide free meals to the country's most vulnerable families after the UK government callously voted against extending the scheme. 
Pharrell himself was inspired by the recent activism we've seen in football. "I think footballers using their platform is a beautiful thing," he says. "To see stars stand up, and use their powers, is incredible. It's only negative when people stand up and try to politicise it, and try and go against it. But the beautiful thing is that so many people are standing up and trying to help other people acknowledge injustices. They're just being an ally for another human being."
Alongside his work with adidas' elite clubs, Pharrell also re-designed the shirts of London grass-toots women's team Romance FC – who he calls "a beautiful, talented group of women". The shirts, inspired by late 80's and early 90's classics out of the Three Stripes archive, look absolutely fire. Celebrating Romance FC and the grassroots game was a vital part of the project for Pharrell, who is adamant on wanting equality between the men and women's game. "We can't just pretend to support one gender of players and not get out there and make our voices heard for the others!" he declares.
He's also adamant that equal pay for women—like we've seen from the Australia and England national teams—should be the end goal and priority for every federation and club. "We've got to be there for all of our women," he says. "It's insane to me. The people who make these decisions, it's like they forgot how they came into this world. They came into this world, and their first view of this life was outside of the womb of a woman. They have to respect that." He pauses, and then chuckles. "I call that knowing where you came from."
In a year when football games are being played to empty stadiums, these shirts ultimately symbolise unity and togetherness, over everything else. "This is what football has the ability to do. With this collaboration, bringing five really amazing clubs together—ordinarily, they wouldn't do this. But the human race is beautiful. Mankind has looked in the water and seen itself for what feels like the first time in 2020. We know what we actually look like."
So what impact does Pharrell ultimately want to achieve from releasing these shirts on a planet more divided than ever? "This collaboration is a beautiful thing. It's humanity. Advocating and aligning for something greater than ourselves is a beautiful thing. And that is what football has the ability to do. With this collaboration, bringing Manchester United, Arsenal, Juventus, Real Madrid and Bayern Munich together—when they wouldn't do this usually—is incredible. They're rising to the occasion. The human race is beautiful, and that's what this is all about."
The adidas x Pharrell Human Race jersey's are available now from the adidas website.