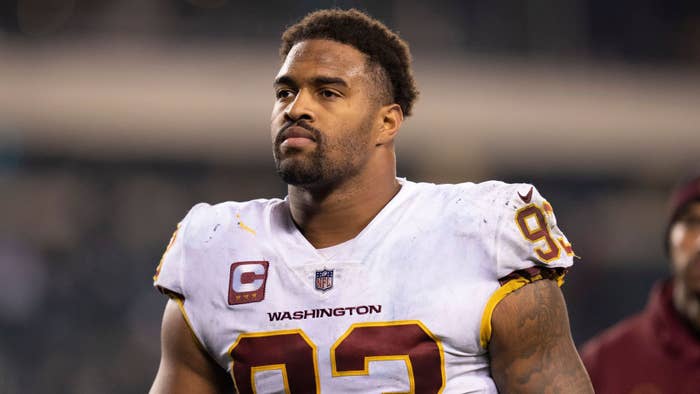 Washington Commanders player Jonathan Allen took to Twitter to apologize after answering a fan's question by saying he'd want to have dinner with Hitler, who he went on to dub a "military genius."
"Early I tweeted something that probably hurt people and I apologize about what I said," Allen wrote Wednesday afternoon. "I didn't express properly what I was trying to say and I realize it was dumb!"
The original outlandish answer came after Allen was asked which three people, dead or alive, he would have dinner with.
In the since-deleted tweets, the defensive tackle chose his grandfather, Adolf Hitler, and Michael Jackson.
This response prompted the obvious follow-up question: why Hitler? Allen said he'd like to pick the genocidal dictator's mind about military strategy, among other things.
"He's a military genius and I love military tactics but honestly I would want to pick his brain as to why he did what he did," Allen replied. "I'm also assuming that the people I've chosen have to answer all my questions honestly."
Allen's response spurred a reaction from social media, with many users pointing out that Hitler was not a "military genius" and that the NFL player's reply was ill-informed.
Check out what more people had to say about Jonathan Allen wanting to have dinner with Hitler, Michael Jackson, and his grandfather down below.