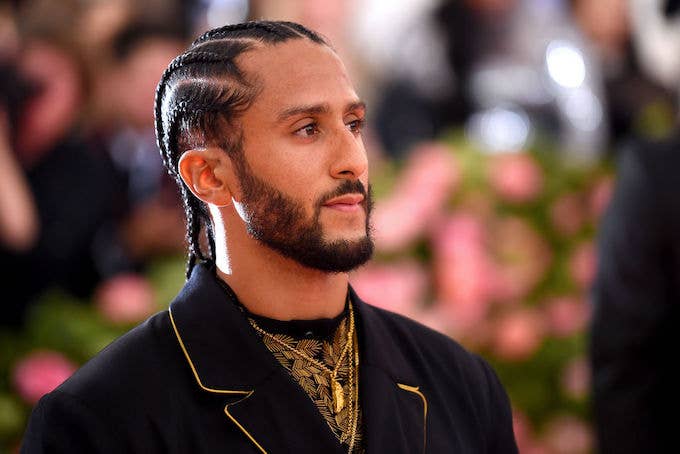 In a fundraising email sent out Wednesday by the National Republican Congressional Committee—which serves to get Republicans elected to the House—the GOP ran an attack on NFL star Colin Kaepernick. The fundraisers positioned him as an enemy to Republicans, implying that his kneeling during the National Anthem and opposition to the Betsy Ross flag is "anti-American." In addition to vilifying the NFL player for exercising his First Amendment right, the NRCC included visual cues for its base by allegedly editing a photo of Kaepernick and darkening his skin.  
According to Yahoo! News, the email included photos of Trump and Kaepernick with the text, "WHO DO YOU STAND WITH? DONALD TRUMP AND THE BETSY ROSS FLAG OR ANTI-AMERICAN FLAG COLIN KAEPERNICK?" The outlet also provided side-by-side comparisons with the original photo and the version that was allegedly edited. 
Democratic lawmakers and interest groups promptly took to Twitter to denounce the racist, unwarranted attack, and urge their Republican counterparts to address the alleged editing.
Rep. Ted Lieu (D-Calif.) called on House Minority Leader Kevin McCarthy (R-Calif.) to fire those responsible for the advertisement. "Dear @GOPLeader Kevin McCarthy: I served with you in the California legislature and now in Congress. I do not believe you are a racist," Lieu tweeted. "If the below is true, then I hope you will fire those who were responsible."
NRCC communications director Chris Pack told Yahoo! that "the photo was not darkened," yet, as Daily Kos points out, the banner covering Kaepernick's jersey may have been strategically placed to hide the bible verses the football player has tattooed on his arms. 
The group VoteVets took to Twitter with a message for the NRCC: If Kaepernick's skin was darkened, Republicans "ought to be forced to explain to America why they believe darker skin makes someone look worse, in their eyes."
Earlier this month, Nike was scheduled to drop an Independence Day-themed Air Max 1, which included embroidery of the Betsy Ross flag. Kaepernick, who has a sponsorship deal with Nike, then spoke to the company about rethinking the release, on account of the flag's connection to a period in American History when slavery still existed. 
The conservative tactic of vilifying people of color by darkening their skin is by no means a new campaign approach. In 2015, a report, which conducted a study of negative GOP ads against President Obama, found that his skin was often made to appear darker to appeal to racial prejudices. Without explicitly delivering a racist message, the attack ads often used visual cues and implicit remarks to win the support of racist voters.