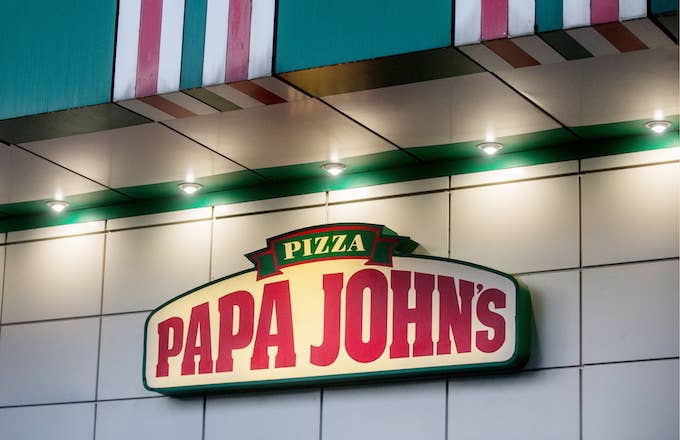 During a Papa John's earnings conference call that went down on Tuesday, CEO Steve Ritchie stated that the pizza company and the NFL came to the mutual decision to drop their all-important designation as the "official pizza of the NFL." By giving up that objectively bizarre title, they end their eight-year run as the league's go-to pizza. According to ESPN, Papa John's now holds the title of being "the first NFL sponsor to leave in the midst of its deal."
"The NFL and Papa John's have made a mutual decision to shift from their official league sponsorship to a focus on partnerships with 22 local NFL teams, presence in broadcast and digital media, and key personalities in the sport," the two companies said in a joint statement.
As for what this change might entail, Papa John's will no longer be a presence at the NFL's major events, including the Super Bowl and the draft. Instead a new pizza company will step up in their place. Who exactly that new company will be is currently unknown, but the league plans to have them in place prior to the 2018 season as we all wait with bated breath.
While Papa John's still-standing partnership with 22 local teams means this isn't a wrap on their relationship with the NFL, this revelation does appear to be a conclusion to a saga that began back in November, when the pizza chain's founder, John Schnatter, said business was hurt by players protesting during the national anthem. At the time, he also stated that "we are disappointed the NFL and its leadership did not resolve this." Less than two weeks later he apologized for those comments and, in December, he stepped down as the company's CEO.