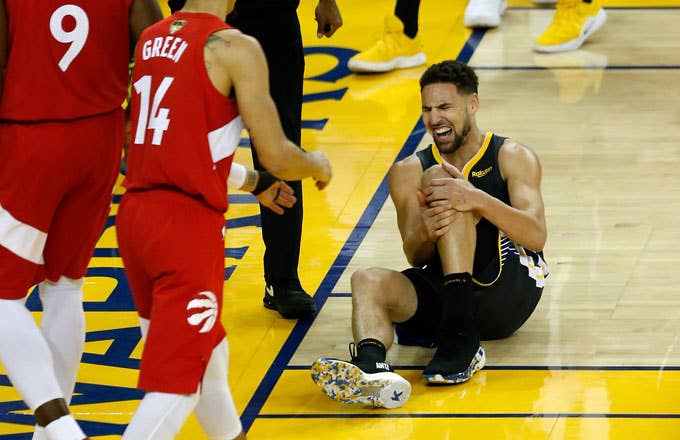 Like probably many people you've talked to with even a passing interest in the NBA, Klay Thompson thinks that the Warriors would've ended the 2019 Finals as champs if he didn't tear his ACL in Game 6.
Thompson's injury occurred after attempting a dunk with just over two minutes left in the third quarter of that ultimately doomed contest. The Raptors went on to win by a lean margin of 114-110. They clinched their first title...some things with Drake...Kawhi left...etc. You know what happened.
"In my mind, yes, we would've won if I didn't get hurt," Klay said in a piece published by The Athletic's Marcus Thompson. "But that's just the nature of sports, you know? What-ifs? It doesn't matter. It's if you do your deed or not. In my mind, I think we would've. But you never know. That's the hard part you've got to accept." 
In addition to not really focusing on the part where he humbly said "but you never know," frankly, the fact that he didn't say "Nah, they probably still would've beat us" isn't the most shocking thing in the world.
Klay ended up scoring 30 points during the 32 minutes he spent on the floor in Game 6. In that series he ended up playing in five of the six games (he missed another with a strained hamstring). He ended with an average of 26 points per night during that run, and also shot nearly 60 percent from three-point range.
During his talk with Marcus Thompson (that's why we're not using just last names here) he also talked about rehabbing his left knee and how it's shifted his outlook on injuries.
"I look at all the guys who had bad luck getting injured against us the last few years, and I've honestly become so much more sympathetic," Thompson. "Yeah. That's just the nature of the beast."
As for how his offseason's going, on the day he became eligible to do so, he agreed to a five-year/$190 million maximum contract to stay with Golden State. He also made it clear that he doesn't buy that the Warriors' dynasty run is over now that Kevin Durant's headed out to Brooklyn.
Again, that's kind of what you'd expect him to say.
If you have a subscription go read the whole thing over at The Athletic.