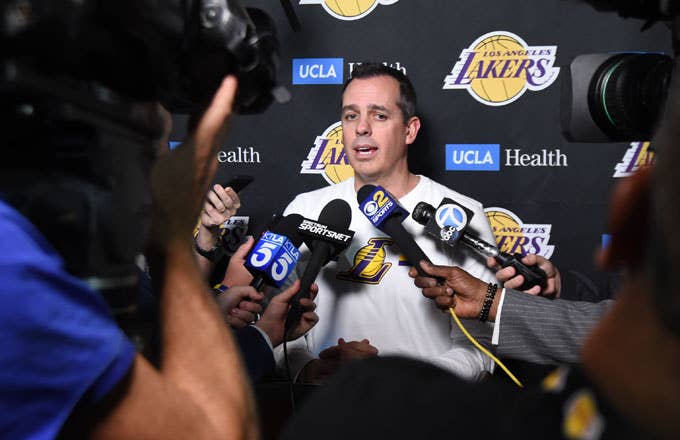 Usually when an athlete's ACL is torn you can count on it taking about a calendar year, before the ligament on said athlete's leg has healed to the point where they could play in games again. Maybe even add a little more time before playing effectively comes into the equation.
That's probably relevant to every pro team that's ever existed, but it's especially notable for Lakers fans, because DeMarcus Cousins signed a one-year deal with the team (this past July) and then tore his ACL shortly afterward during a workout (this past August). That looked to be it for his season, and potentially for his "run" with the Lakers. 
Still, if you're a Lakers fan wondering if there's any hope that Cousins could get on the floor at some point during the 2019-20 season, the answer is yes, there is some hope, though those italics are no accident. This is at least according to the team's coach, Frank Vogel, who stated that the organization hasn't shut the door on Cousins returning at some point before the NBA year wraps up.
Since the start of the 2017-18 NBA year, Cousins has played in just 86 games over the combined regular and postseasons. In 2018 he tore his Achilles. And he also tore his left quadriceps in the first-round of the most recent playoffs. As pointed out by Bleacher Report, Cousins' ripped quad had been expected to make him miss the entirety of this past postseason, but he was ultimately able to return for the NBA Finals.
This could be an example of his ability to come back quickly from injury, or it could also be an example of a small sample size that'd make steam shoot out of Nate Silver's ears. We guess now's yet another moment in your life to determine whether you're an optimist or not.