Warriors Beat Writer Claims Durant Accused Him of Trying to 'Rile Up' Steph Curry Fans in New Book (UPDATE)
A new book excerpt details the time Kevin Durant allegedly accused a longtime beat writer of trying to "rile up" Stephen Curry fans.
Getty
Image via Getty/Andrew D. Bernstein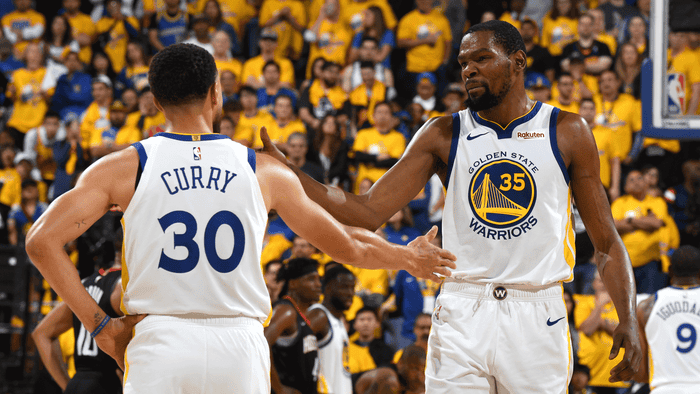 UPDATED 4/15, 2:10 p.m. ET: Stephen A. Smith chimed in on the situation Wednesday, saying that Kevin Durant likely didn't appreciate people acting like Steph Curry was better than him. Watch below. 
See original story below. 

Athletic writer Ethan Sherwood Strauss has a new book that came out on Tuesday, and you know what that means (I think?) there are book excerpts that have gotten out to help generate interest.
The book is titled The Victory Machine: The Making and Unmaking of the Warriors Dynasty, and the excerpt that's getting a lot of headlines is Strauss talking about a time in which Kevin Durant accused him of trying to work up Stephen Curry fans against him. This tense interaction reportedly occurred in January 2019, about halfway through Durant's final season in the Bay Area. And it demonstrates, once again, why it's so much harder to combine superstars in real-life rather than, say, on the 2K team you use in Franchise Mode.  
Specifically, Durant is said to have had an issue with something Strauss wrote for The Athletic that accused the writer of trying to "rile up Steph's fans" by talking about the team occasionally sacrificing offense to keep Durant happy as he headed into free agency. For background on the alleged incident, Strauss wrote:
In January 2019, I wrote about how the Warriors worked hard to make Kevin Durant happy, in terms of offensive approach. A mutual friend told me that Kevin was livid over the article, so I braced for conflict. Some stars can get mad over a headline. I'd been on the receiving end of that. A couple sentences into the dressing down and you realize it's all based on a tweet. You ask if they read the article and receive a, "I don't HAVE to read the fucking article to . . . " And so forth.
It was later in that same day that Durant made the alleged accusation that Strauss was trying to work up Curry fans, which he believed to be a theme during his time on Golden State. That line is said to have been aired in the locker room.
As Strauss continued:
(...) I tried to make a few points, saying I didn't begrudge him for having leverage with his contract, and insisted that I had good reason to write what I wrote. KD wasn't impressed and accused me of trying to "rile up Steph's fans." He expressed that this was a constant theme in the Bay. All of us local guys just wanted to kiss Steph's ass at his expense. This was KD's consistent lament. He would frequently squabble in direct-message conversations with the Warriors fans of Twitter, frequently accusing them of favoring Steph at his expense. In one such exchange that foreshadowed things to come, he was asked by the WarriorsWorld account whether two-time MVP Steph Curry or Kyrie Irving was the better player. "I gotta really sit down and analyze it," Durant demurred.
NBC Sports talked about the exchange, which happened on January 5, 2019. To add further context they report that, two days prior, the Warriors gave up a 20-point lead and lost to the Rockets in OT after a difficult three was drained by James Harden with just a few seconds left. 
In the third quarter of said contest, Durant went almost seven minutes between shots. However, he adjusted and became "extremely aggressive" in the closing minutes of the fourth. Strauss wrote a postgame article that day (which you'll need a subscription to read in full) under the headline Can the Warriors win and keep Kevin Durant happy at the same time?
That article contained the following line(s):
"It often appears that many of these plays are called to make Durant happier, much as nobody with the Warriors would admit that Durant must be made happy at the occasional cost of efficient play.
Durant's three seasons as a Warrior have spawned numerous anecdotes about how he felt about his role, and how he let media coverage/fans get into his head. This newest excerpt provides, perhaps, the most detailed example of that thus far. You can read the full excerpt here, at Hoops Hype. And you can buy the book, if interested, here.