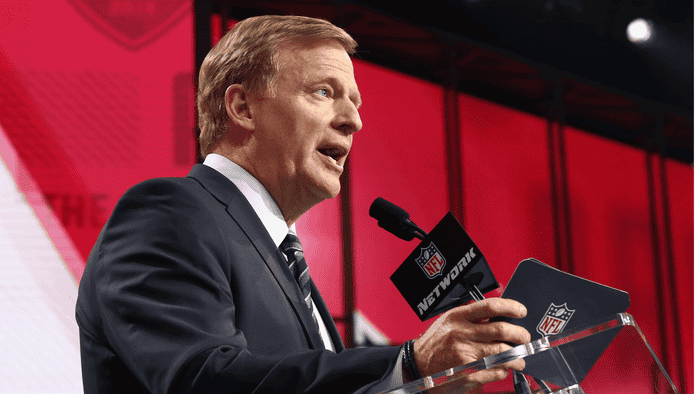 While it might be interesting to take in the novelty of NFL front offices drafting from their own homes, there doesn't seem to be a whole lot else to look forward to when the virtual NFL Draft goes down at the end of this week. At least in comparison to past drafts, where the reactions of the rowdy yahoos in attendance add a needed dramatic element to an event that is sometimes brilliant, but mostly pretty dull.
Let this also serve as a preview for what sports without fans will look like. 
Obviously that means that the blue(ish) collar diehards who attend these things in order to shout their gut reactions to prospects they may or may not have just heard of won't be able to viciously boo Roger Goodell every time he approaches the podium to read a name off a card in the first round. 
To fill this need to direct anger at the commissioner, Bud Light has come up with a promotion to #BooTheCommish. It won't be as fulfilling as screaming at Goodell in person, but in a pandemic-stricken world it will have to do.
In order to do this, the beer maker is asking people to @ them with the aforementioned hashtag. The company says it will then deliver those boos to the Draft and make a donation of $1 for each submission, up to $500,000. Even if this isn't up your alley, picture Roger Goodell sitting in an office bigger than your house pressing the play button on about four clips before asking himself, "Wait. Why am I doing this?" Then shutting off his computer to go play golf while smoking cigars lit by hundred dollar bills. 
For summed up rules, check below:
And here's some early entries. Commish is definitely going to be hurting: