Houston Astros Players Reportedly Given Immunity by MLB for Cheating Scheme Testimony
According to a 'Wall Street Journal' report, Houston Astros players skirted punishments by cooperating with MLB's investigation into accusations of cheating.
Getty
Image via Getty/Alex Trautwig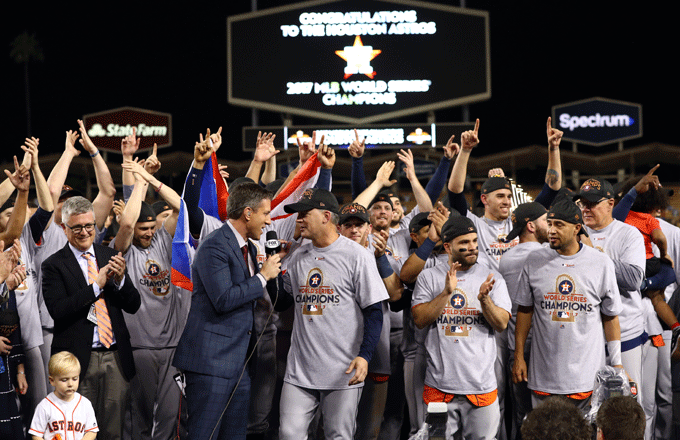 If you're a baseball fan who was left wondering why no Houston Astros players were punished following MLB's investigation into accusations that they used technology to steal signs, then A.) You're not alone, and B.) The Wall Street Journalput out a report on Wednesday morning that may answer your questions. 
Though MLB's own commissioner, Rob Manfred, called the scheme "player-driven," the league is said to have struck an agreement with the MLB Players Association early on during the investigation to give immunity to players if they gave "honest testimony." That info came "according to several people familiar with the matter," per WSJ. 
As a result of the investigation, Astros GM Jeff Luhnow and manager A.J. Hinch were suspended for the 2020 season. They were later fired, and those axings also preceded Alex Cora's (the Astros' bench coach turned Red Sox manager) and Carlos Beltran's (the Astros player turned Mets manager) loss of their jobs.
Still, no active players were called out by name. 
When the results of the investigation were laid out, Manfred said that punishing players would be "difficult and impractical" given the scale of the operation, and the presumption that just about everyone in uniform in the Astros' locker room from 2017 to 2019 probably knew about it. 
This deal to give players a pass for testimony was said to be motivated by MLB's belief that they couldn't win ensuing grievances by players it would've levied punishments against, according to the aforementioned sources. The deal would also appear to represent an expedient end to a lingering scandal dragging down the sport.
This promise of no punishment allowed MLB to interview 23 current and ex-Astros over the course of two months. The decision not to punish players resulted in public criticism of baseball's response, which undoubtedly would've happened no matter what route they went.  
A person familiar with the matter said that MLB determined quickly that it didn't intend to pursue suspensions for active players. One reason for that, this person said, was MLB's belief that it would be inappropriate to punish teams who have since acquired players who played on the 2017 Astros. For example, the Minnesota Twins had nothing to do with what the Astros did, so why should their championship aspirations potentially be derailed because they signed Marwin González last winter?
The Astros' method of sign-stealing was publicized in a story published on The Athletic on November 12, 2019. After that information came out, a formal inquiry was launched. Though the league's pact with the players' union over this issue traces back to September 2017, when Manfred said he fined the Red Sox for transmitting signs from the replay room to players in the dugout. 
At that time, the commissioner sent out a memo saying that using technology for this purpose was a major violation and that future transgressions would result in harsh punishments. He even went so far as to state that GMs and managers would be the ones held accountable. 
Manfred says that Luhnow never sent that memo to players or staff, and therefore the league believes the MLBPA would've filed grievances over suspensions of their members. The Wall Street Journal says that this deterred MLB because they thought grievances would further hinder their investigation. 
Oh. Also there was the thorny issue of the accusations being more than two years old, meaning that many players from that championship roster had moved onto other teams. As WSJ wrote:
They go on to state that immunity was "essentially [on the table] from the outset." They say that the same rules will govern MLB's investigation into the 2018 Red Sox, who have also been accused of stealing signs (remember, Alex Cora was their manager). 
All this is likely to further piss off the Dodgers and their fans. For the uninitiated, that franchise lost the World Series to the Astros and Red Sox in consecutive years.