Vegas Odds Favor Kyrie Irving Going to the Nets
The Knicks trail only the Nets as Kyrie Irving's next landing spot.
Getty
Image via Getty/Brian Babineau/NBAE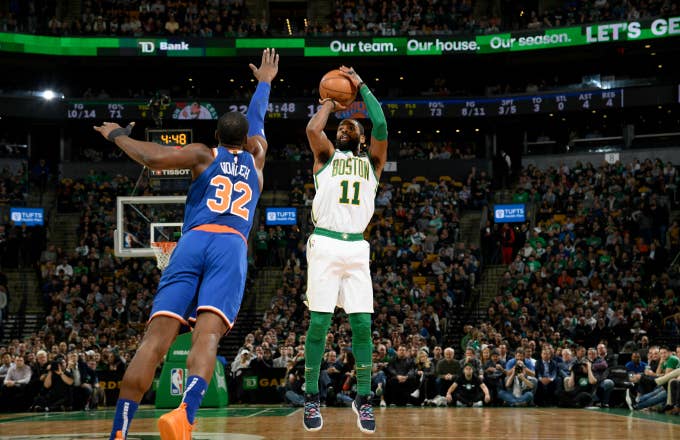 This summer's free agency is inching closer with every final buzzer of the playoffs. As a result, NBA fans are anxious to see where some of the league's biggest names will land. This has led Las Vegas bookkeepers to put together the odds of where the NBA's free agents will end up with the New York City leading the pack as Kyrie Irving's new home.
According to Vegas' SuperBooks, the Brooklyn Nets (+250) are the favorites to land Irving with the Knicks following closely behind with +300 odds. But, they also feel that Irving could possibly continue his tenure with Boston as the Celtics come in third with +350. Following Boston, the gap starts to grow. The possibility the Irving will switch coasts and sign with the Lakers or Clippers is at +750 and +1000 odds respectively.
In addition to getting Irving, the Knicks are also considered one of the leaders in the race for Kevin Durant. If KD and Irving combine powers with the Knicks' pending lottery pick, SuperBooks predicts that New York has a 12/1 shot at the 2020 NBA title. This puts them behind only Giannis and the Bucks for next year's favorites.
"I could see the [Knicks] at 12-1 [with Durant and Irving]," SuperBook's vice president of risk Jeff Sherman explained to ESPN. "All we're doing is making these odds based on today's perception on where people think these guys might have a legitimate chance of going."
Without Durant or Irving, the Knicks are still the sixth likely team to raise a championship banner. They currently sit at 16/1 odds trailing the Warriors (7/1), the Celtics (7/4), Milwaukee (9/2), and Houston/Philly (10/2).