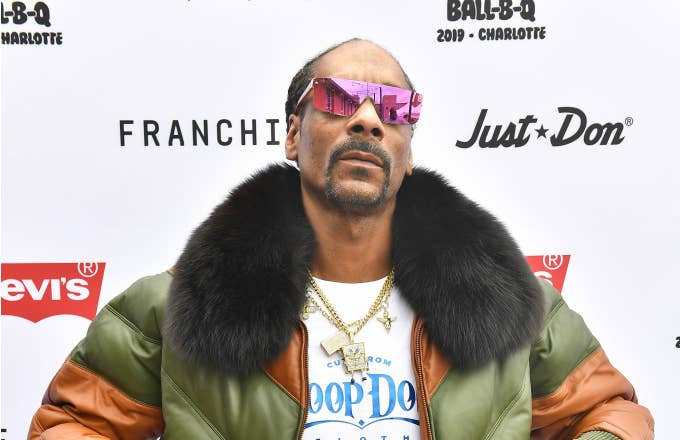 UPDATED Mar. 4, 3:08 p.m. ET: It looks like Snoop Dogg might get his wish. According to the New York Times' Marc Stein, the Lakers are planning to fire head coach Luke Walton at the end of the season. "The prevailing assumption in league coaching circles remains that Walton will almost certainly be dismissed after the season," Stein reported. 
See the original story below. 
It has been a disappointing season for Lakers fans, to say the least. And with their playoff hopes slipping by the minute, one Lakers fan in particular has decided to step in and urge the franchise to make some changes. 
In a fiery screed posted on social media over the weekend, Snoop Dogg called for a total upheaval of his beloved team. "It's f**king terrible watching my Lakers play," Snoop vented. "Somebody gotta go. Matter of fact, a lot of n****s gotta go. Starting with the coach. This sh*t ain't gonna work. This is not the L.A. way."
Lakers coach Luke Walton has been in the hot seat for a while. It has been rumored that LeBron's camp wants Walton out, while the team's president, Magic Johnson, has been admonishing Walton since the Lakers' poor start to the season. Despite this, reports surfaced claiming that Johnson wouldn't fire Walton unless "something drastic" happens. But, if you ask Snoop, enough is enough. The team's lack of success and chemistry puts Johnson in a position where he has to do something drastic to win back L.A.'s fan base or potentially risk losing them completely.
But no matter what Magic does, it seems he's already lost Snoop for good, after the rapper offered to sell his box for a mere $5. "These sorry motherf**kers ain't gone do sh*t," Snoop said. "Get LeBron some f**king help because these goofball ain't gonna do sh*t... I'm selling my f**king booth right now. I got a booth for the next two years, three years. This year, y'all can have it. $5 for the booth to the motherf**king Lakers game."
Like most Lakers fans, Snoop's sentiment is a far cry from the excitement he felt when LeBron signed to the Lakers.
Now, he's hoping that Magic makes the appropriate moves to restore the franchise back to its former glory.