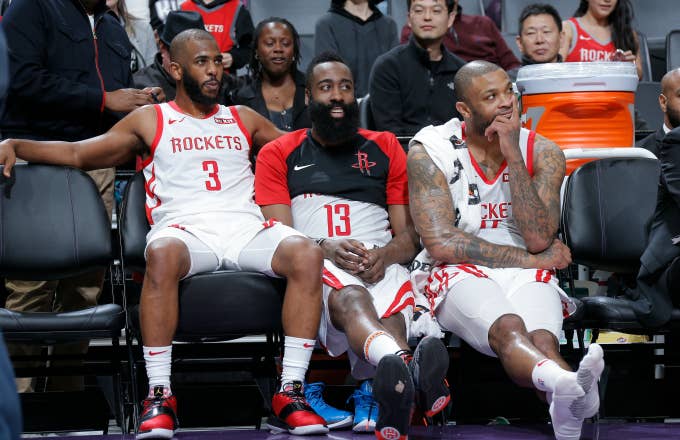 The reported tensions between Rockets stars James Harden and Chris Paul have been some of the biggest headlines this offseason. Several conflicting stories have surfaced, saying Harden and Paul's troubled relationship is now at its breaking point. Those within the organization claim this couldn't be further from the truth. 
During an interview withThe Athletic's Sam Amick, Houston veteran P.J. Tucker ripped into the media for projecting what he describes as "fake news."
"I'm sick of the fake news, man. It's fake," Tucker said. The forward then went on to admit Paul and Harden did have an argument after they lost the series to the Golden State Warriors. But he insists that this is not exclusive to Harden and Paul's dynamic. 
"Everybody—I argue with Chris and James more than Chris and James argue," Tucker stated. "It was what it was. Everybody's mad. Everybody's pissed. I argue with Chris and James more than Chris and James argue with each other. Like, I'm the center, focal [point] of the argument because I'm always yelling at somebody and they're yelling at me. ... You don't think Kobe and Shaq argued?"
Speaking of Kobe and Shaq, Tucker feels the remedy for this problem is clear. If the Rockets are able to come together and take control of the West next season, what goes on in their locker room won't be an issue. 
"If we win a championship together and we fucking hate each other, then guess what? Who cares? [Laughs] Nobody," Tucker told Amick. "Right, so that's all that matters. At the end of the day, that's all that matters. Winning a championship. Everything else is failure."