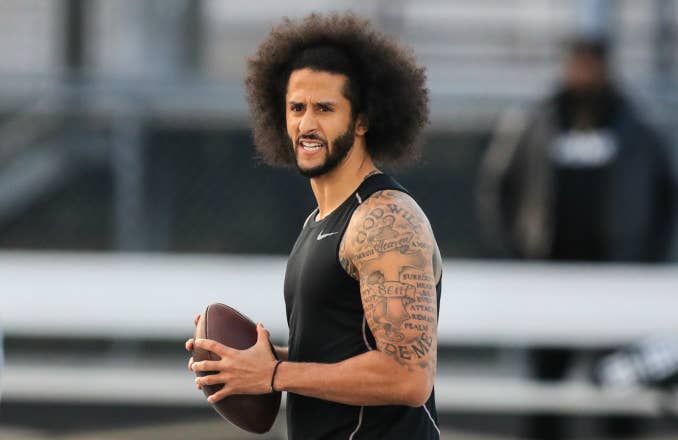 It has been a week since Colin Kaepernick showcased his skills and NFL teams have yet to reach out to the quarterback. 
As of Sunday, Kaepernick is still looking for a roster spot. According to the ESPN's Adam Schefter, Kaepernick's team sent out footage of his work out to the 25 franchises that weren't present for his session at Charles R. Drew High School in Riverdale, Georgia. The teams haven't extended any offers.
Following his workout, sources claimed that teams were interested in moving forward with Kaepernick. Initially, insiders speculated that it could take weeks for him to anchor a contract. Now, it's rumored that nothing is expected to be presented to the quarterback.
Kaepernick decided to forgo the NFL orchestrated workout in exchange for the session that was held in Riverdale. When it was first presented to the public, Kaepernick was scheduled to work out in front of 25 NFL teams at the Falcons' practice facility in Flowery Branch, Georgia. The NFL also promised to send footage of his workout to the other franchises that weren't in attendance. But Kaepernick cited issues with a liability waiver and media availability as the motive for him to move the session to a venue that was nearly an hour away.
The NFL released a statement following Kaepernick's decision that claimed it was informed of the move at the same time as the media and it was "disappointed that Colin did not appear for his workout."
The venue change had a polarizing response NFL fans and analysts. ESPN's Stephen A. Smith and the Panthers' Eric Reid went back-and-forth about the topic after Smith stated that Kaepernick's motive was to merely "control the narrative."