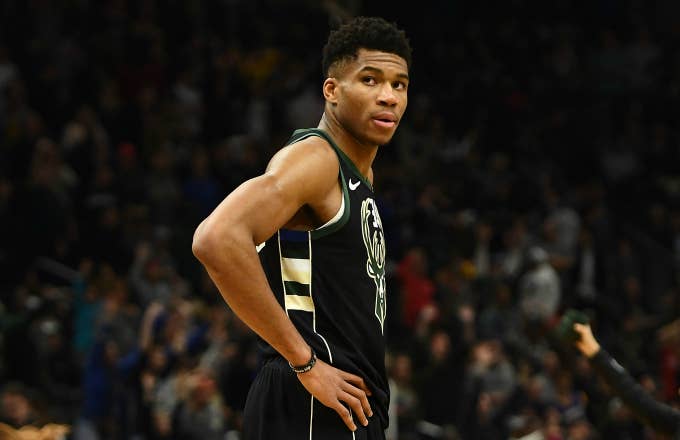 If he decides to hit the free agency market, league MVP Giannis Antetokounmpo will be the biggest name to hit the board in 2021. According to NBA insiders, the Warriors could look to fill the void left by Kevin Durant's departure by coaxing the Greek Freak to join Golden State.
"The Warriors have always been a big threat to go after Giannis," ESPN's Ramona Shelburne said on Tuesday. "One, he's friends with Steph Curry. He has that same agency...  It would be a difficult construction to make happen, but that is that one looming threat. And it comes down to what kind of guy is Giannis. What does he want his legacy to be."
The potential of Antetokounmpo becoming a Warrior has been bubbling for a while. In Feb., the New York Times' Marc Stein reported that Golden State has "internally mused" adding Giannis to their roster. He also agreed with Shelburne's point that if Giannis were to leave the Bucks, it would be to play with Curry, as they have fostered a friendship through the Octagon Sports Agency. 
Although it could be a dream pairing for Warriors fans and 2K lovers, it would take a lot of convincing and maneuvering for it to happen. This summer, the Warriors signed Klay Thompson to the full five-year, $190 million maximum contract. Draymond Green also agreed to a four-year, $100 million contract extension. This, combined with $45 million they will have to pay Curry heading into the season, gives the Warriors little room to add another max free agent and build a sustainable team. Also, Giannis has gone on record professing his love for Milwaukee. As displayed by his decision to decline a role in Space Jam 2, Antetokounmpo is not interested in the spotlight that would come with playing on a super team. It looks like the Warriors would have to do a lot more than send a caravan to the Hamptons to get Giannis to the Bay.