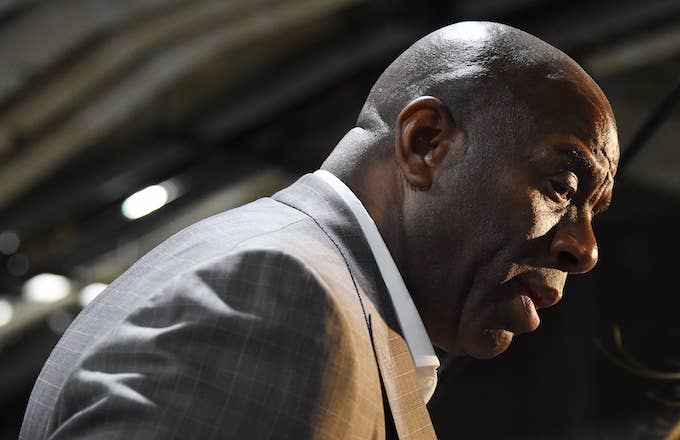 The Lakers' season will be remembered for the underwhelming on-court performances and the front office drama. The latter led to Magic Johnson abruptly resigning as the team's president of basketball operations. Johnson hasn't said much about the decision, but that changed Monday when he sat down on ESPN's First Take.
Magic revealed that one of the major points of contention during his tenure was his desire to fire coach Luke Walton. As the team's president, Magic wanted to exercise his authority and move away from Walton's coaching style. This did not sit well with owner Jeanie Buss, whose hesitance hindered Magic from doing his job.
"The straw that broke the camel's back was I wanted to fire Luke Walton," Johnson explained. "And we had...three meetings. And I showed her the things he did well and the things he didn't do well. I said, 'Listen, we got to get a better coach.'"
Although Johnson claims he told Buss and team executives that he would not allow his position to impose on other business ventures, questions started to be raised about Magic's dedication to the organization. Still, Johnson said GM Rob Pelinka chose to "backstab" him by whispering behind his back despite his loyalty.
"People around the Laker office were telling me that Rob [Pelinka] was saying things, and I didn't like those things being said behind my back," Johnson said. He then went on to explain that Pelinka's chatter spilled outside of the front office. Friends outside of the organization contacted him to confirm or deny these rumors. The effect Buss had on his ability to make in-house decisions and Pelinka's backstabbing prompted Johnson to relinquish his role with the franchise.
Johnson also touched on the effect his departure had on LeBron James, who he's been credited for bringing to Los Angeles. James spoke about how the abrupt nature of his resignation rubbed him the wrong way on The Shop. Johnson stood by his decision when he was asked about the star's reaction.
"I respect LeBron for what he just said," Johnson began. "Sometimes as a man you have to make decisions based on your well-being and I made that decision based on me and my own happiness. I could've done it a different way. Yes, he's right. But, I did it my way.... I'm not a regretful guy."
Monday afternoon, Rob Pelinka was asked about Magic's accusations during a press conference to introduce new Lakers coach Frank Vogel, which you can view below:
"Truly it's saddening and disheartening to think he believes things that are a misperception," Pelinka said. "I think all of us in life have probably been through things where maybe there's third-party whispers or he-said, she-said things that aren't true." Pelinka added he looks forward to talking out his issues with Magic in the future.