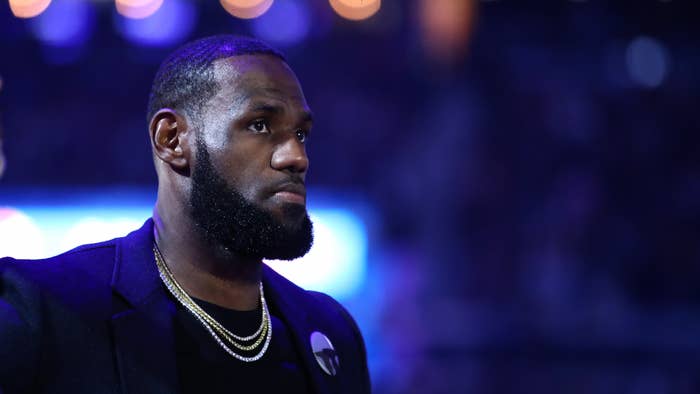 UPDATED 3/10, 2:50 p.m. ET: LeBron James has revised his position on not playing if arenas are empty because of the coronavirus outbreak. 
During a Wednesday presser, James said he will follow the advice of experts, and discussed the new locker room guidelines.
See original story below.

There's no doubt that LeBron James loves the game of basketball, but he's not interested in playing games that the fans aren't able to attend and enjoy. 
On Friday, the NBA told reportedly told teams to start preparing to play games without any fans in attendance. The NBA appears to be following the lead of other sports leagues who have suspended games in front of crowds to prevent the spread of the coronavirus. Per HuffPost, the league's biggest star is not keen on the idea of shutting fans out of the game.
"Play games without the fans?" LeBron told reporters following the Lakers' victory over the Bucks. "No. That's impossible. I ain't playing."
'Bron went on to explain that his job as an athlete is to entertain. Showing up to an empty arena to play a game would take away some of the motivation he has to play at a high level. 
"I ain't got the fans in the crowd. That's who I play for," LeBron continued. "I play for my teammates. I play for the fans. That's what it's all about. If I show up to an arena and there are no fans in there, I ain't playing. They can do what they want to do."
While LeBron is more concerned with putting on a show for the fans and being a good teammate, coronavirus fears have affected other NBA players. Last week, the coronavirus hit the Northwest. The State of Washington has at least 12 reported cases and two deaths. It's also crept into Oregon. The news has forced Portland guard, CJ McCollum to issue a statement explaining that he's "taking a break" from interacting with fans to avoid contracting the illness. 
"The Corona Virus has officially hit Oregon. More specifically Lake Oswego," McCollum tweeted. "Make sure y'all washing y'all hands with soap for 20 or more seconds & covering ya mouths when you cough. I am officially taking a break from signing autographs until further notice."