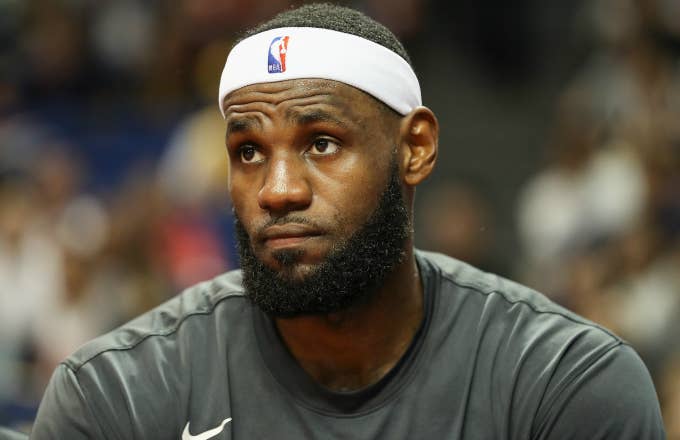 "My team and this league just went through a difficult week," James wrote. "I think people need to understand what a tweet or statement can do to others. And I believe nobody stopped and considered what would happen. Could have waited a week to send it."
Despite James' efforts, some in the NBA world still took him to task for seemingly siding with China over Morey, in what they perceived as an attempt to preserve his own personal brand.
First Take's Max Kellerman was especially hard on James. 
The Wall Street Journal's Jason Gay called on others in the NBA to speak up about the China situation. 
James' comments are not only making headlines in the United States. Protestors in Hong Kong have demonstrated their displeasure with James by burning replicas f the superstar's jersey, the Associated Press reports. The protestors held up signs thanking Morey for speaking out against the Chinese government, and also shot basketballs off an image of Jame's face that was displayed on a backboard.
Muhammad Ali's ex-wife meanwhile, also condemned James. Khalilah Ali told TMZ that her ex-husband would have handled the situation differently. "They would not take Muhammad Ali's shorts and burn them anywhere, it would never happen," she told the outlet. She also explained what James has to do to match her husband's enormous legacy. "I love LeBron James. I think he's the greatest. But, when it comes to people and society and companies, we have to put that aside," she said. "Respect it, but you have to stay the course when it comes to human respect and human fight, human liberty."
At Tuesday's practice, James said he won't be disussing the issue anymore. 
He also talked about the "tough" situation that the league currently finds itself in. "I mean obviously it's a tough situation that we're all in right now, as an association," he said on Tuesday. "Us as athletes, owners, GMs, whatever, so forth. I think when the issue comes up, if you feel passionate about it or you feel like it's something that you want to talk about, then so be it."