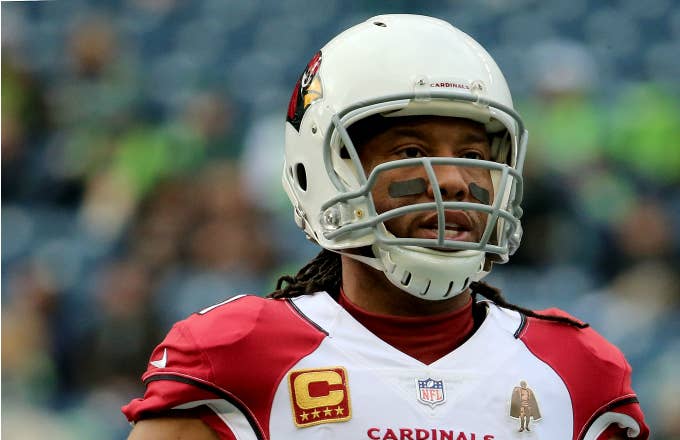 The drama between Antonio Brown and the Pittsburgh Steelers has become one of the biggest headlines in sports. Everyone from tenured players to budding NFL stars have shared their opinions on the situation. But one of the greatest players of all time, Larry Fitzgerald, has stepped in to caution AB of the burden he might have to carry if he's traded to a team without a franchise quarterback.
On Saturday, March 2, while attending the MIT Sloan Sports Analytics Conference, Larry Fitzgerald fielded questions regarding the Steelers and their disgruntled wide receiver. 
"I love AB. Mr. Big Chest is a good friend of mine, but I don't think he's going about it the right way, personally," the Arizona Cardinals wide-out explained. "To be able to play with an all-time quarterback like he's able to play with, I don't think he understands how good he has it. It can get tough out there."
Fitzgerald knows all too well how a revolving door at the quarterback position can impact one's career. Although he's the NFL's active leader in career receiving yards and touchdowns, throughout Fitzgerald's 15 years in the league has seen 19 different quarterbacks. Despite Fitzgerald's consistency, Arizona has only made four playoff appearances since he was drafted in 2004. The last time Arizona had a consistent quarterback would be the 2008-2009 season when a waning Kurt Warner saw Super Bowl loss against the Pittsburgh Steelers. 
Also, while Fitzgerald's concern seems sincere, an argument was sparked by Saints defensive end Cameron Jordan who challenged Big Ben's status as an "all-time quarterback."
"Really, in this era? You put [Roethlisberger] as at a top three in this era?" Jordan asked after a reporter suggested that Ben Roethlisberger was a Hall of Fame quarterback. Jordan then went on to list multiple quarterbacks with numbers that are more "impressive" than Big Ben's.
"Drew [Brees], Tom [Brady], Aaron [Rodgers]," Jordan continued. "Peyton [Manning]... You're saying [Roethlisberger] is better than Phillip Rivers, right now?"
Antonio Brown echoed the notion that Ben Roethlisberger is overrated during his appearance on HBO's The Shop. When explaining the Steelers' locker room issues, AB described a time when a blown play by Roethlisberger ended up being twisted into the receiver's fault instead of Ben's. Brown alludes to the fact that Big Ben's close relationship with Steelers' front office lifts him to an elite status where his teammates can't question him.
"Bro, you threw the shit to the D-lineman! What the f*ck? I'm over here wide open. You need to give me a better ball," AB said. "But it's like in the league, you're going to have a guy from the team that'll be like, boy, you can't say nothing. I need you to get out there like, but it's like why I got to be acting?"
The questions surrounding Ben's impact in addition to Brown insisting he has nothing left to prove, gives the impression that AB is not concerned with maintaining numbers. Instead, he is focused on controlling his future on his terms.