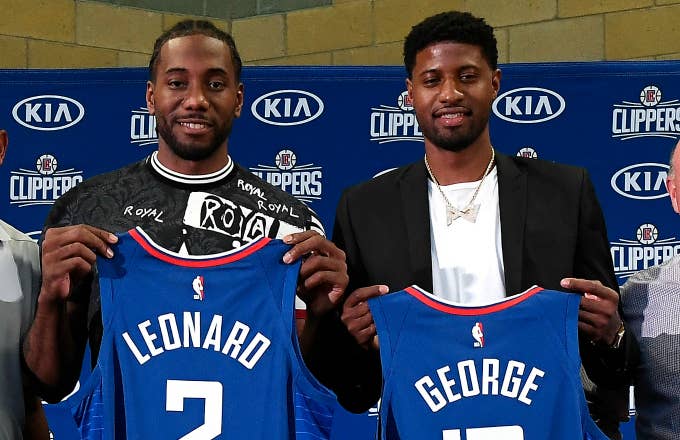 Los Angeles Clippers fans have been beside themselves ever since it was announced that their team not only won the Kawhi Leonard sweepstakes, but also acquired former MVP candidate Paul George. But now fans can say that Leonard and George are officially members of their franchise, after they were formally introduced to the media on Wednesday.
Leonard started off his time at the podium by thanking the city of Toronto and their fanbase for embracing him in the most Kawhi way possible.
It's exactly that reserved personality that led Kawhi to keep the details of his free agency process out of the press. 
He then went on to directly address the simmering rivalry between the Clippers and the Lakers. When asked how the team will escape from the Lakers' imposing shadow, The Fun Guy gave a pretty on-brand answer. 
"In the last few years, from the basketball standpoint, the Clippers have been better," Kawhi said. "If we go to the championship and win and we don't get no coverage, that's fine with me."
While fans are probably excited to hear that Kawhi is focused on winning his third ring, no one is more thrilled about the new acquisitions than Clippers chairman Steve Ballmer. While Paul and Kawhi were the main attractions heading into the event, Ballmer momentarily stole the show when he couldn't contain his excitement at the podium.
"I had these notes but I got to say I'm just fired up to be here today!" Ballmer exclaimed. "Pretty cool! Pretty damn cool!" 
Meanwhile, George discussed that teaming up with Leonard feels like a self-fulfilling prophecy. Remember, Leonard was drafted in 2011 by the Indiana Pacers but was traded on draft night to the San Antonio Spurs. A year prior, Indiana had selected Paul George. During his time at the mic, George reminded the Pacers that they could've been the Clippers if they didn't make so many abrupt moves. 
"I remember when I was Indy and we drafted Kawhi," Paul began. "I was confused by it because I was the 2 guard there and Kawhi played my positon. I was a bit nervous for that competition. But, when we fast forward that... I wish we would've kept that pick and we could've developed together. We could've did some special thing in Indiana."
Following the press conference, the front office unveiled a mural of Leonard and George, cementing their place in the Los Angeles basketball zeitgeist.