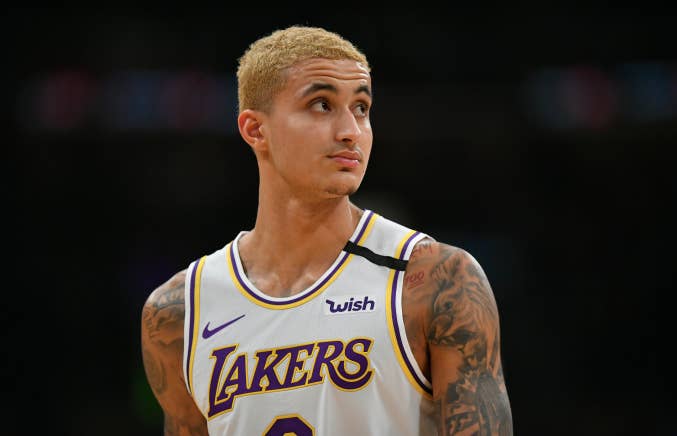 People are starting to think that Kyle Kuzma's time in LA will expire soon. 
During an appearance on Yahoo Sports' The Bounce, former Lakers assistant coach, Brian Shaw, added fuel to the trade rumors surrounding Kuzma. Shaw said he believes that Kuzma will get the boot after his trainer said that James doesn't work as hard as Kawhi Leonard. He also noted that Kuzma did not sign with James' agent Chris Paul, which could also lead to his departure from the Lakers.
"I'll tell any other young Lakers out there, don't make the mistake Kyle Kuzma's team did and have your trainer say anything about gm LeBron James," Shaw said. "I know Rich Paul was trying to sign him when he left his agent last year and he didn't sign with Rich Paul. So when you don't sign with Rich Paul and your trainer comes out and says Kawhi was giving it to LeBron, you're going to be out of there."
Kyle Kuzma is the last one standing after the Lakers dumped almost all of their young core players on the Pelicans to get Anthony Davis. Although the deal didn't get done until the summer, the Lakers had been constructing trade packages for AD up until the deadline expired last season. As the team's assistant head coach at the time, Shaw had a front-row seat to watch LeBron, Klutch Sports, and the front office work their magic. 
On top of his trainer speaking out against James, Kuzma has been having trouble fitting into the Lakers' new rotation. As expected with the addition of a superstar like AD, Kuzma's touches have been limited, leading to less offensive production. It's no wonder teams are playing close attention to the Kuzma situation.
"As our Shams Charania reported Friday, teams are monitoring his situation and wondering whether he can be had before the Feb. 6 trade deadline," The Athletic reported. "What's more, sources now say the Lakers have shown a recent willingness to listen to pitches for Kuzma."
It's possible that the Lakers are willing to cut their losses and move on from the 24-year-old Kuzma in exchange for either a younger, a more moldable player or an established bench scorer.