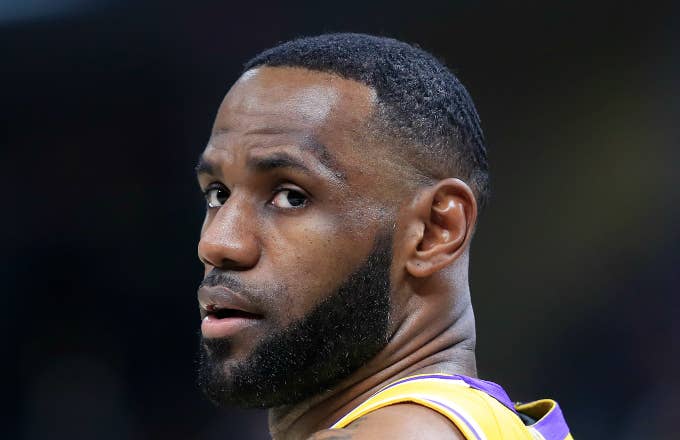 Almost everyone had something to say about the Lakers' Christmas Day loss to the Clippers, including Kyle Kuzma's trainer. When asked about the trainer's comments, LeBron James made it clear he was unbothered.
James told reporters at the team shootaround that Kuzma told him about his trainer Clint Parks' comment. James felt like adding his name into the discussion was a cheap move by Parks to gain "notoriety."
"Kuz came to me yesterday at practice and told me what was going on," LeBron said. "I really don't care for someone's trainer or whoever they may be. Everyone can have their own opinion. Anytime someone wants to get some notoriety they can throw my name in it and people are going to pick it up.... I've never met the guy. I don't know the guy. I could care less about the guy."
In his Instagram story, Parks claimed that the Clippers and Kawhi Leonard shined against the Lakers because Kawhi has been training harder than James. 
"Watching Kawhi [Leonard] highlights from yesterday. NOBODY wants to speak on how sharp his skill set is compared to LeBron's. It's clear who's really in the lab and who isn't. Let me hear the excuses I'm on vacation I got nothing but time," he wrote. "Turn the film on somebody was dodging SMOKE yesterday and it wasn't Kawhi."
Kuzma got caught up in the controversy because, of course, that's his trainer. A lot of fans felt like he was agreeing with Parks when Kuzma tweeted, "Call a spade a spade.' Kuzma has since said that the tweet had no relation to Parks' take.
Kuzma said his tweet on Dec. 27th had nothing to do with Parks' IG post. "If you follow me, you see I tweet random things all the time. It had nothing (to do with it). No correlation. I didn't even see what he said at first. ... Why would I even do that? It makes no sense."