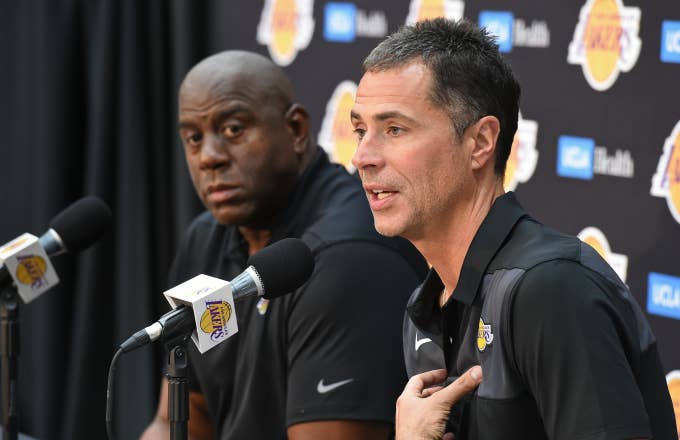 The Lakers' drama-filled season came to a head with Magic Johnson's impromptu resignation, after the team once again missed the playoffs. While it has become evident that the organization is in disarray, on Tuesday, ESPN's Baxter Holmes dropped a bombshell report, revealing that things are actually worse than previously thought.
According to Holmes, LeBron James' agent, Rich Paul, was a huge source of the dysfunction. Per Holmes, Paul did not think Luke Walton was the right coach for the job, and reportedly let NBA commissioner Adam Silver know it. In November of last year, James' business partner and best friend, Maverick Carter, had lunch with NBA commissioner Adam Silver. Holmes reports that Paul was sitting at a nearby table and approached Silver to suggest that the Lakers replace Walton with James' former coach Ty Lue. Others in the organization believed that Paul was pushing to have key players traded, which is why it didn't sit well with them when Paul caught a ride on the team's charter. "And some players also believed, according to coaching staff members and those players' agents, that Klutch Sports was working to trade them away for a superstar," Homes writes. "Given those perceptions, one former Lakers player described Paul's presence on the team charter as a 'culture killer.'"
But Paul isn't the only one who the piece paints in a negative light. Johnson is described as a bully who "berated staffers, including (Luke) Walton and created an in-house culture that many current and former longtime staffers said marginalized their colleagues, inspired fear and led to feelings of anxiety severe enough that at least two staffers suffered panic attacks." One staffer said that if Johnson was questioned on anything, "his response was always a threatening tone," and he "used intimidation and bullying as a way of showing authority." On one occasion, Johnson left a female staffer in tears after a tense exchange.
One of the strangest stories in the piece involves GM Rob Pelinka, who served as Kobe Bryant's agent for the majority of Bryant's career and used that relationship to leverage his position in the organization. In the piece, Holmes describes a speech Pelinka gave to the team in which he details a factually incorrect story involving Bryant and Heath Ledger. 
"There was one time when Kobe, who I worked with for 18 years, was going back to play in Madison Square Garden, and he had just seen 'The Dark Knight,'" Pelinka said. "Obviously, you guys saw that movie, and he's like, 'Hey, hook me up with dinner with Heath Ledger, because he got so locked into that role. I want to know how he mentally went there.' So, he had dinner with Heath, and he talked about how he locks in for a role. And Kobe used some of that in his game against the Knicks." But as Holmes points out, The Dark Knight was released in July 2008, six months after Ledger died. Holmes writes that "a source with direct knowledge said no such arrangement was made and no dinner ever took place." Video of the speech emerged online.
The aftermath of this piece set social media ablaze. Fans, critics, and players were giving their two cents on the mess depicted Holmes described. Similar to Kobe, the Hawks' Omari Spellman and Laker Josh Hart were inadvertently hit with a stray bullet while Holmes was attempting to explain the team's front office dysfunction. According to Holmes' sources, the Lakers were planning on taking Omari Spellman with the 25th pick in the 2018 draft. But, Pelinka made the decision to forgo on top prospect left on the board after his former-Villanova teammate Josh Hart alluded to "concerns" with Spellman.
Of course, Spellman was not pleased to read this and he took to Twitter to express these sentiments. 
"[Josh Hart] let's just hope this ain't true," Spellman said in a tweet containing an excerpt of the article. "Cuz man oh man if it is that's wild but ima just chalk it up to gods plan."
Rather than turn this into another social media squabble, Hart reached out to his college teammate leading Spellman to later tweet: "Nevermind we spoke... Misunderstanding.. Unfortunate but still a misunderstanding.." Hart then quoted Spellman's post to further solidify his innocence.
"There's a lot of snakes in the industry but I ain't one of them," Hart said. "It's all love on the side and has always been Brodie. Keep doing your thing."
For more on just how much of a mess the Lakers have become, Read the rest of Holmes' explosive story here.