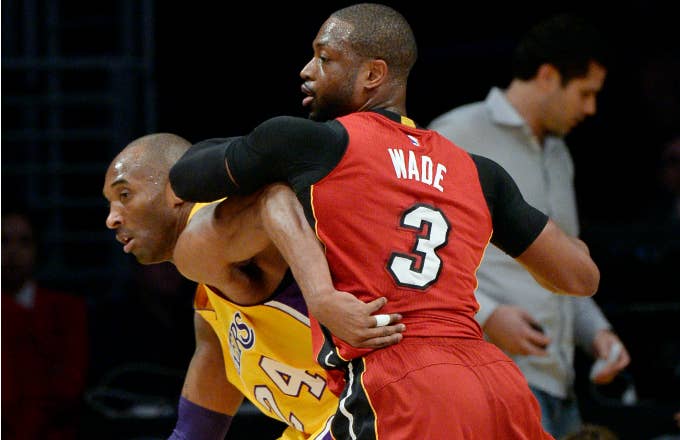 Amid all the fanfare surrounding D-Wade's farewell tour, the NBA icon stopped by TNT's Players Only program where he details his basketball career, including his dynamic relationship with Kobe Bryant.
Dwyane Wade and Kobe Bryant are arguably two of the best two-guards in NBA history. Although they have a great friendship, many times they have engaged in on-court scuffles and tense contests. But it was at an All-Star game where Wade and Bryant had one of their most legendary moments. 
"Me and Kobe, we got into a little tussle in the All-Star game an I ended up hitting him the wrong way and broke his nose," Wade told Kevin Garnett. "So after the All-Star game, we got the Lakers about three games after the break... I call him and I say 'Aye yo Kobe—' and he says 'Hey, yo bro, I love it.' I'm like, 'You what?' He's like 'I love it. I'll see you in a couple of days.' I'm like 'Oh, snap.' and he gave it to me too, boy."
Along with his relationship with Kobe, Wade also told Garnett about his friendship with Byrant's former teammate Shaquille O'Neal and how he hated his nickname "Flash" when Shaq first gave it to him. 
"Everybody wanted a glimpse of Shaq and then Shaq gave me a nickname 'Flash' and then people wanted a little glimpse of Flash. I became a whole 'nother beast," Wade described. "When he gave it to me, I ain't like it at first but then he told the media and then it started catching on. And I started to see what he say because I was like 'Man, I am fast...'"
Although Wade is still producing in the league, averaging 14 points per game, he has made a "definitive decision" to retire from the NBA after his 16th year in the league. As a result, he will be playing in his last All-Star game as a "special team roster addition" on Feb. 17.