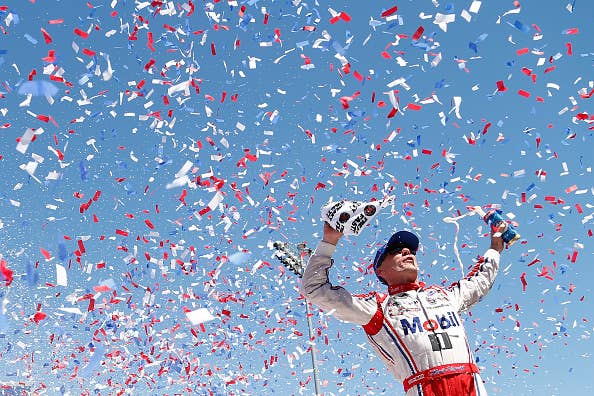 If you're like me, your NASCAR knowledge is three items deep—Jeff Gordon, Dale Earnhardt, and Danica Patrick. (I guess that's four, since there are two Dale Earnhardts.) Because I was curious but tragically uninitiated, I jumped at the chance to head to the NASCAR Cup Series event at Sonoma Raceway to experience my first race. I was invited by Kelley Blue Book, who was sponsoring Hendrick Motorsports phenom Chase Elliott. Racing, Wine Country, access to the Rookie of the Year? Nothing to lose.
But I was nervous too. I do my research, and according to data from Nielsen, 2 percent of NASCAR viewers are black and 2 percent are Latino. To put it mildly, this country is not having a kumbaya moment. But then I thought, We're in Wine Country; this will be the classiest of crowds.
Exhibit A: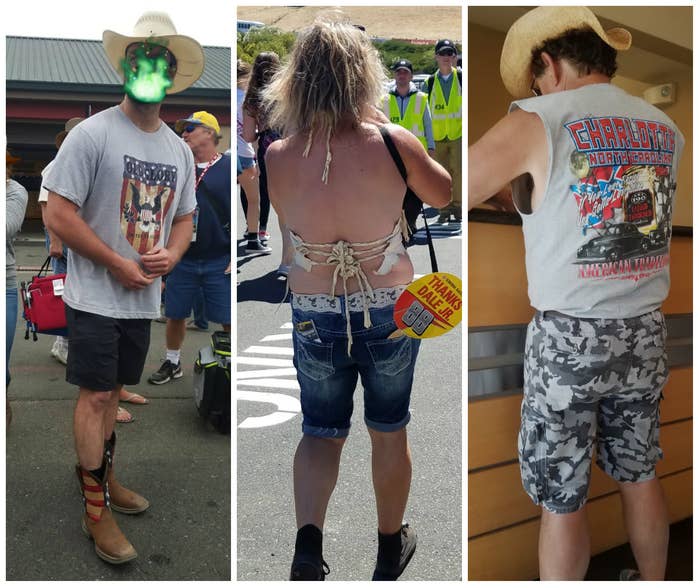 And I still had questions. Mainly, what makes this a "sport?" What's athletic about driving in a circle for hours? And more important, would I have to sit and watch cars whiz by in a circle...for hours?
What I failed to remember, my friends, is that there's a short distance between action and danger. On the day I got to California, two days before Sunday's race, Chase smashed his car (the No. 24 formerly driven by Jeff Gordon) in practice. He was OK, but the car was not. From a tour guide I learned the Sonoma Raceway was challenging because "they only turn right twice a year: here and Watkins Glen." So now the scenario is a young driver in a backup car on an unfamiliar course. Drama! Now I'm all in 'cause I wanna see what the kid's gonna do.
The next day, we got to talk to Chase, who was about as matter of fact as one could be: "They don't really allow you to practice too much, so when you get here you have to figure it out, and if you don't, sorry for ya." There's that.
Sunday morning was an early start for us all, as we headed to the track at 7 a.m. for a tour of the garage and pit. There I could see countless people working on every nook and cranny of the cars for all 38 drivers competing that day. I'm seeing people looking at computer screens and poring over data, and it began to register that maybe NASCAR was more complicated than I'd given it credit for.
A conversation with No. 24 Team Interior Mechanic Jordan Allen gave things some context. Allen, who's been in NASCAR for 13 years—with 12 trips to Victory Lane—said he's responsible for every physical aspect inside the car, making sure Chase is hydrated throughout the race, and is the last person Chase talks to as he's climbing into the car. Think of a really handy cornerman/cutman.
So what do you say to hype up a 21-year-old about to race for his life for the next few hours inside a 100-degree car? "Sometimes I can come up with some fun shit, sometimes I come up with some stupid shit. It depends on my mood and his mood," Allen said.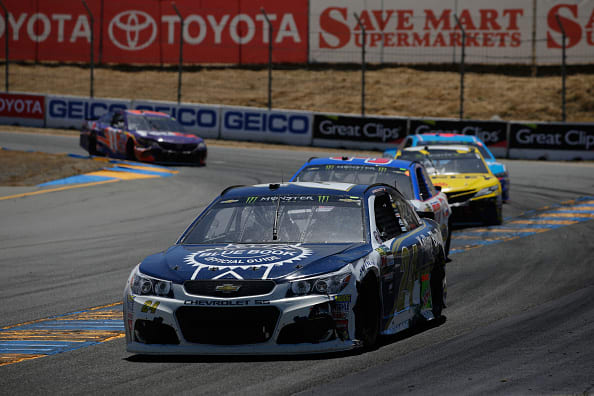 But then he broke down how much effort it takes to get a driver ready for race day. First off, the season is grueling, going 38 weekends a year from February to November. Monday is their only day off, then they're right back at the shop getting ready for next Sunday. Between road guys, engineers, pit crew, and people working on the car throughout the week, it can take 75 people to get one person out there on the track.
It's also an expensive sport: Tires are $500 each, and they can go through nine to 14 sets each race. If the car is $575K and the engine $150K, the car could inch near a cost of $1 million each week. Then there are meticulous regulations: There are four inspections to pass throughout race weekend, and if you fail one, you start all over.
So I asked Allen what would possess a guy to be in the crew and on the road away from his family for most of the year. "A lot of people joke that racing's in your blood. Racing wasn't in my blood, but the competition was," he said. "This is also an opportunity to see everything I put my heart and soul into day in and day out, week in and week out, see it perform."
After this I took a spin in a pace car for one lap. Just one lap. And thought I was gonna die. We might have hit 90 mph, not even sure if we did 100. But with all the turns and the speed it was enough to inform me I would never, ever make it as driver.
Here's another thing I didn't know: There is a ton of pre-race pomp and circumstance. There's a public drivers' meeting with a red carpet and photos with Monster Energy girls. Someone reads a litany of rules and makes you clap for a bunch of guests; that weekend they included actor Miles Teller and Pixar exec John Lasseter. And because NASCAR is mad patriotic and down with Jesus, they say a prayer, sing every single song with America in the title, and then fire three canons—unannounced—that scared the shit out of me.
Here is where I mention that I was #blessed. I got to head over to the pit, with the No. 24 team, and put on a headset that allowed me to hear everything the drivers and their crew were saying to each other during the race. Being able to eavesdrop on the strategy of a 110-lap, three-hour race was incredibly cool. Chase's team gave directions like, "Nice and fluid, man, just keep looking ahead, doin' your thing. Twenty-two [laps] to go." Or, "You got a time advantage on everyone in front of you. Just keep pickin' em off one by one, nice and easy. Three behind with 30 to go." I kept thinking, If people knew how complex this really is, NASCAR could really be poppin.'
In the end, there were enough ridiculously fast pit stops, dicey crashes, and spinouts to more than hold my interest. Chase started in 8th and finished in 8th, so his team was happy to have a top 10 finish. And being the competitor he is, before the car was off the track, Chase was already talking about how to improve for the next race.
Allen, the mechanic, put it in perspective quite nicely: "You know, we might not win every weekend, we might not run well every weekend, but damnit, if nothing falls off, then it's still a little bit of an accomplishment. If he crashes and he walks away, I'm patting myself on the back, popping open a beer on the way home."
And then you do it all again next Sunday.