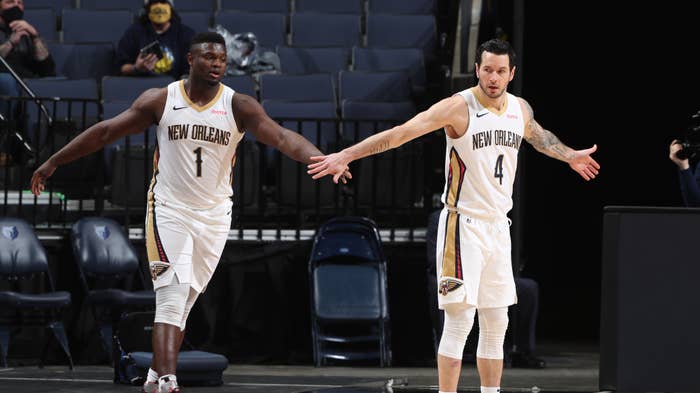 UPDATED 2/22, 4:35 p.m. ET: CJ McCollum says Zion Williamson has since reached out to him, per ESPN's Malika Andrews.
See original story below.
JJ Redick ripped Zion Williamson for not reaching out to his new teammate CJ McCollum.
"This just shows a complete lack of investment in your team, in the organization, in the city," Redick said on Tuesday's First Take. "I get that [Williamson's] hurt and away from the team, but you just traded for one of the 50 best players in the league. A guy that's supposed to be paired with you. Reach out and say hello."
Days after McCollum was traded to the New Orleans Pelicans at the NBA trade deadline, the former Portland Trail Blazer said he had not yet heard from Williamson, who is currently injured and has been rehabbing his right foot.
"This is a pattern of behavior with Zion that we are seeing again and again. And look, I was his teammate. I can describe him as a detached teammate," Redick, who used to play for the Pelicans, added. "That is an accurate statement. This is basic level of humanity being a teammate. Send a text to a guy when he gets traded to your team. That is just normal behavior. That is bar minimum that you have to do."
He also said that the Pelicans sent out an email to season tickets holders and Zion's name wasn't mentioned. "Guess whose name wasn't on the email?" Redick asked. "Zion's. Like what the heck is going on in New Orleans."
While it's tradition for new teammates to reach out to a player following a trade, especially when that player is the face of your franchise, McCollum admitted that he had yet to hear from the former first overall draft pick. "I haven't had conversations w/ him directly," McCollum said during TNT's pregame show before All-Star Saturday.
"I've spoken with some people close to him and look forward to sitting down with him sooner than later," he added. "I know about as much as you do right now but I'm gonna get to the bottom of it."