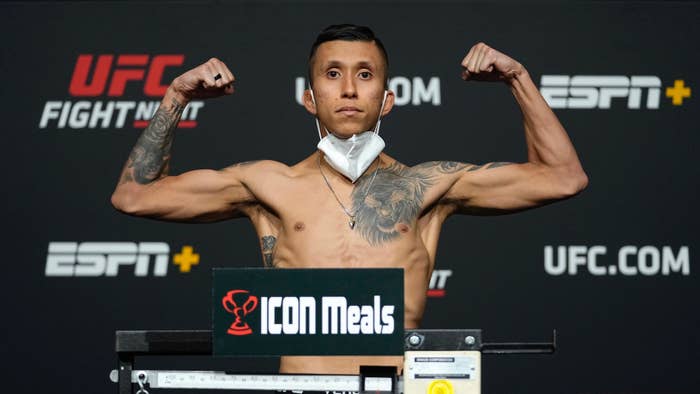 UFC flyweight Jeff Molina has publicly come out as bisexual.
The 25-year-old fighter made the announcement via Twitter on Friday, shortly after a video of him was released online where he was performing oral sex on another man. Molina said he didn't plan on sharing the news at this stage of his career, as he wanted to be known for his athletic skills rather than his sexuality. According to TMZ Sports, Molina is believed to be the first male UFC fighter to come out as non-heterosexual.
"TLDR: im bi," Molina wrote in a lengthy message. "Not the way I wanted to do this but the chance to do it when I was ready was taken from me. I've tried to keep my dating life private from social media."
Molina said he's dated girls throughout whole life and tried to suppress his attraction to other males. He said he was primarily concerned that people in his life—such as friends, teammates, and those he looked up to—would start viewing him differently if he had come out and started living his truth.
"In a sport like this, where a majority of the fans being the homophobic cocksuckers they are, I didn't see myself doing this during this part of my career," he wrote. "I wanted to be known for my skills and what I've dedicated the last 11 years of my life to and not the 'bi UFC fighter' that I'm sure would just be translated to 'gay UFC fighter.'"
He then called out the "disturbed person" who decided to post the aforementioned video online, telling them, "I hope it was worth it."
"At the end of the day I know my character, morals, and who I am as a person," he concluded. "As much as I'm getting hated on. I'm getting an equal amount of support."
You can read Molina's full statement below.
Molina, who joined the UFC in 2020, created a stir last June when he donned a pair of rainbow fight shorts in celebration of Pride Month. He addressed the backlash after earning a split decision win over Zhalgas Zhumagulov.
"I was honestly shocked," he told reporters during a press conference. "I picked the colors because I thought it looked cool and then also it supports a good cause. But I will support anything of a community that's been oppressed and ostracized for some time now for something they can't help. I'll get behind any of that.
"I just thought in 2022 people will be a little more like open-minded and not pieces of shit. But, I guess I was wrong."