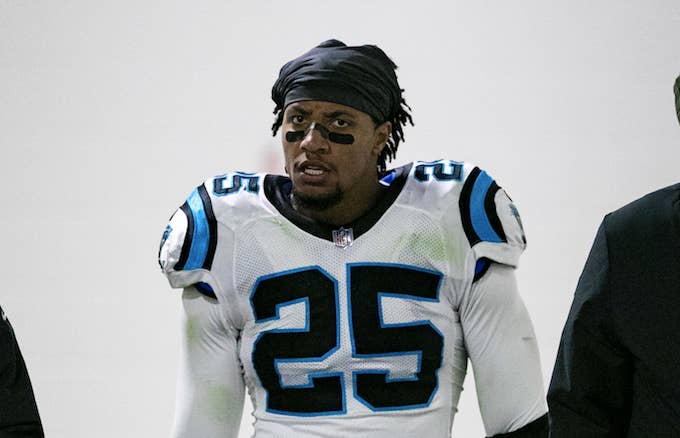 Eric Reid is adding more evidence to his ongoing collusion case against the NFL.
On Friday, the Carolina Panthers safety claimed the league had slapped him with a $20,054 fine for a questionable hit in Monday's game against the New Orleans Saints. The play occurred near the end of the second quarter when Reid made contact with Saints wide receiver Michael Thomas on his way out of bounds. Reid shared footage of the sideline tackle on Twitter, noting that the "legal play" hadn't drawn a flag.
"Adding to the file..." he wrote. 
The reported penalty underscores Reid's contentious relationship with the league, as it marks his second fine of the month and his fourth since joining the Panthers this year. It's worth noting that Reid has been "randomly" drug tested seven times within the last three months, furthering strengthening in his claims that the NFL is targeting him.
Panthers coach Ron Rivera responded to Reid's frequent drug tests earlier this week:
"I guess there was something about some mathematician saying it's highly improbable, but definitely possible," Rivera told ESPN. "But I'll say this: If my name came up that many times, I'd buy a lottery ticket."
Reid claims that the league is targeting him because of his on-field protests against police brutality—a movement that was started by his former teammate Colin Kaepernick. Back in May, the NFLPA filed a grievance on Reid's behalf, alleging that the team owners had colluded to keep him out of the league.