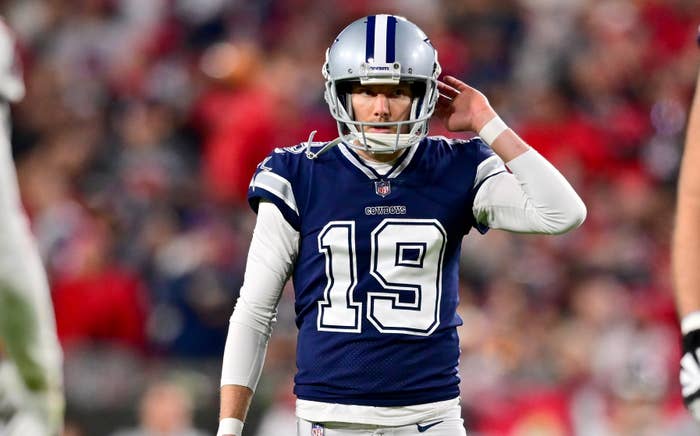 Just one week after missing a record four extra points during his team's playoff game against the Tampa Bay Buccaneers, Dallas Cowboys kicker Brett Maher once again failed to come through in the clutch when his extra point kick was blocked in the first half of Sunday's game against the San Francisco 49ers. 
After Maher's disastrous Sunday last week, the Cowboys kicker was widely mocked online, and many wondered if he'd be able to handle the pressure this week. It's notable that despite his blunders, Maher's team was quick to defend him, with Cowboys QB Dak Prescott saying he was "Money Maher's biggest fan" after the team's win last Sunday. 
Prior to their game against the 49ers, Cowboys owner Jerry Jones was seen talking to Maher on the field after his warmups, which could best be described as shaky. And while the kick was blocked, which theoretically is better than missing altogether, it did look like it was going wide left, which only added to people on Twitter once again clowning Maher for his apparent incompetence. 
But before we show you a sampling of some of the better reactions online, we should point out that Maher did make two field goals, so there's that.