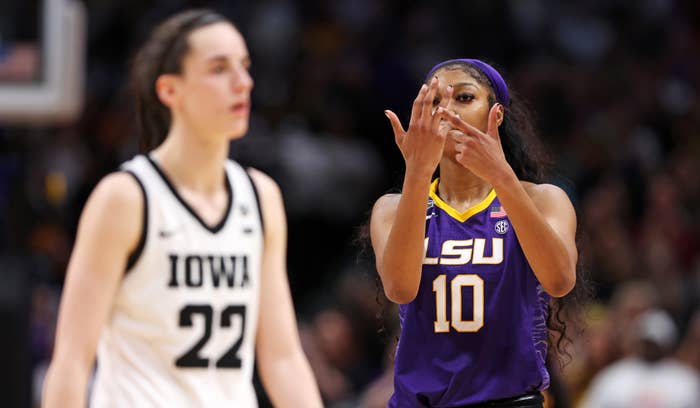 LSU won the 2023 NCAA women's basketball tournament national championship on Sunday, but all anyone could talk about was a moment that occurred between Tigers star forward Angel Reese and Hawkeyes superstar Cailtin Clark.

With LSU up big late in the fourth quarter, Reese hit Clark with the "you can't see me" hand motion, which had become Clark's unofficial signature taunt earlier in the tournament.
Reese took another jab at Clark by pointing to her ring finger just moments before her team would go on to win it all.

Reese was quickly vilified online for her taunts, prompting some prominent figures to call out the hypocrisy inherent in the way Clark was previously let off the hook for doing the exact same thing.
Some people, including Jalen Rose, pointed to University of South Carolina's head coach Dawn Staley's recent comments about criticism of her team's physical style of play after a reporter compared her team to "bullies."
"We're not bar fighters. We're not thugs. We're not monkeys. We're not street fighters," Staley said. "This team exemplifies how you need to approach basketball on the court and off the court. And I do think that that's sometimes brought into the game, and it hurts."
Rose tweeted that how Reese being vilified by people highlighted exactly what Staley was "talking about."
After the game, Reese herself addressed her actions, hinting towards the hypocrisy that was building online.
"I'm too hood, I'm too ghetto. Y'all told me that all year. But when other people do it, y'all don't say nothing. So this is for the girls that look like me," she said.
Reese and Rose weren't alone in pointing the double standard that inherently exists in criticzing Reese for her actions while at the same time letting Clark off the hook. Check out some of the more notable reactions below.