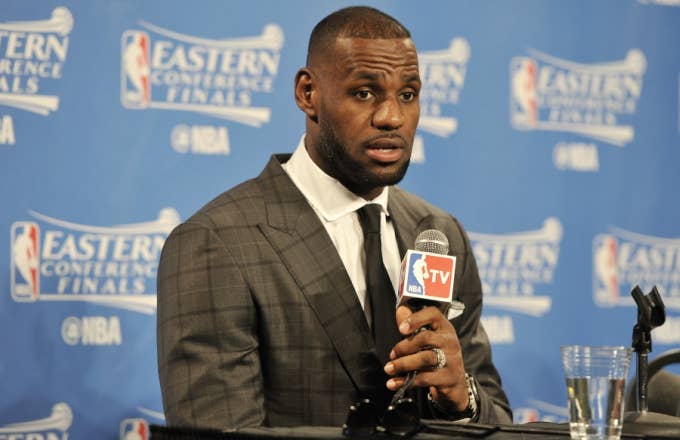 In the months leading up to the 2016 U.S. presidential election, LeBron James did just about everything in his power to try to prevent Donald Trump from becoming president. While he stopped short of going door-to-door to campaign on behalf of Trump's opponent Hillary Clinton, LeBron used his name, his social media presence, and—maybe most importantly—his valuable time in an effort to convince people both inside and outside of his home state of Ohio to vote for Clinton.
Despite LeBron's best efforts, his ringing endorsement of Clinton didn't pay off. Trump was, as we all know, elected President on Nov. 8, 2016—and LeBron, like many other Americans, was shattered by the outcome of the election. He did his best to uplift those who were feeling the same way he was when he woke up the next morning, but he also acknowledged that many Americans—and minorities and women, in particular—would face certain challenges and obstacles with Trump in the Oval Office.
That last comment led Fox News host Laura Ingraham to suggest LeBron should "shut up and dribble" rather than continue to take shots at Trump.
But those who have followed LeBron's story over the course of the last 15 years know that "shut up and dribble" has never been part of his vocabulary. LeBron has time and time again used his voice to speak up on behalf of the injustices he sees in the world—and he's been doing it since long before Trump took office.
In March 2012, while LeBron was playing with the Miami Heat, he and his teammates got together to take team photos while wearing hoodies in support of Trayvon Martin, the black teen who was gunned down in February 2012 while wearing a hoodie. 
But one of the things that often gets lost in the shuffle with LeBron's activism—and one of the things that, frankly, makes LeBron's activism even more impressive when you really think about it—is that NBA players weren't always allowed to be this vocal about important issues without dealing with serious consequences.
Take former Chicago Bulls guard Craig Hodges, for example. Hodges won two NBA titles back in 1991 and 1992 while playing alongside Michael Jordan and Scottie Pippen. He also became one of only two players to win back-to-back-to-back NBA 3-Point Contests at NBA All-Star Weekend (the other was Larry Bird) when he took trophies home in 1990, 1991, and 1992.
But despite his skills on the court, Hodges' NBA career ended unceremoniously in 1992 at the age of just 31. And while some might argue that it was because he was little more than an end-of-the-bench guy by that point in his career—he played less than 10 minutes per game during the 1991-92 season and averaged just 4.3 points per contest—Hodges has long maintained that it was his political beliefs that kept him out of the league.
After the Bulls won the title in June 1992, they visited then-President George H.W. Bush at the White House. Hodges showed up for the visit dressed in a dashiki and handed Bush a letter that detailed his feelings on the Bush administration's treatment of minorities. At around the same time, Hodges publicly criticized Michael Jordan for "bailing out" when he was asked about the Los Angeles riots, and he ripped MJ for not serving as more of a social activist. Hodges was waived by the Bulls that July, and although this was never confirmed in any official capacity, Hodges and his supporters have long believed he was blackballed from the league specifically because he criticized MJ and gave Bush his letter. He never played in the NBA again, and he felt so strongly in his blackballing theory that he sued the NBA and the 29 teams in it for $40 million in 1996.
Mahmoud Abdul-Rauf didn't get blackballed from the NBA for trying to use his position as an NBA player to stand up for something he believed in. But he very well could have found himself sitting on the sidelines indefinitely if he hadn't worked out a compromise with the league in March 1996 after he decided to launch one of the most infamous national anthems protests in sports history. Long before Colin Kaepernick decided to take a knee prior to a preseason NFL game in August 2016, Abdul-Rauf refused to stand for "The Star-Spangled Banner" before several NBA games. He did it because he said he felt the U.S. flag was a symbol of oppression.
It didn't take long for NBA fans to take notice, and when they did, Abdul-Rauf was subjected to the same kind of vile backlash Kaepernick would be subjected to two decades later. In an interview with The New York Times, Abdul-Rauf said the backlash, which included death threats, didn't bother him at all. He actually referred to the entire situation as a "beautiful struggle." But obviously, the NBA didn't see things that way. They suspended Abdul-Rauf for refusing to stand during the anthem, at a cost of more than $30,000 per game to him.
Just days later, Abdul-Rauf met with league officials and was able to work out a deal with them. He agreed to start standing during the national anthem before games again, however, he said that, while standing, he was going to keep his head down and his eyes closed. The league accepted his offer and allowed him to return to the court. But there's a chance—a good chance even—that Abdul-Rauf might not have played another three seasons in the NBA if he hadn't agreed to stand during the anthem. Despite the fact he averaged career bests in points (19.2), assists (6.8), and steals (1.1) during the 1995-96 season, Abdul-Rauf's protest could have cost him his career.
Unlike Abdul-Rauf, Kareem Abdul-Jabbar and Bill Russell were never in any danger of losing their NBA careers over their various acts of social activism, but it's important to note that even they were subjected to a ridiculous amount of backlash throughout their respective careers when they decided to take a stand on something.
After spending the first part of his career playing under his birth name Lew Alcindor, Abdul-Jabbar converted to Islam in 1971 and changed his name to Kareem Abdul-Jabbar, which means "the noble one, servant of the Almighty." At the same time, he denounced the name Alcindor and pointed out that it was rooted in slavery. Years later, in his book Becoming Kareem, Abdul-Jabbar touched on the backlash he faced as a result of his decision.
"Because of my fame as a professional basketball player and because so few Americans knew anything about Islam back in the '70s, there was a lot of angry backlash," Abdul-Jabbar wrote. "People did not want me messing with their idea of who I was or what I represented to them. To many, by changing my religion and name, I was no longer the typical American kid playing a typical American sport, embodying typical American values."
Despite the backlash, Abdul-Jabbar said he never considered changing his name again. "I had no intention of going back," he wrote.
Russell, meanwhile, was forced to deal with a different kind of backlash during his time with the Boston Celtics in the 1950s and 1960s. After spending his early years growing up in the segregated town of West Monroe, Louisiana and being exposed to racism at an early age, Russell spent much of his time with the Celtics—which spanned from 1956 through 1969 and included 11 NBA titles—fighting back against bigotry. He participated in the March on Washington in 1963, maintained a connection with the Black Power movement, and refused to engage with many Celtics fans and his own neighbors (especially after an incident in which someone broke into his home and spray-painted racist graffiti on the walls). He was once even quoted as calling Boston a "flea market of racism."
This led to Russell being characterized as a certain type of person by the Boston media, one who was hostile with Celtics fans and reporters and unappreciative of the support he received from the franchise and its followers. It created a rift between Russell and the city of Boston for many years, and it wasn't until the late 1990s that Russell felt welcome enough in the city to attend a jersey re-retirement ceremony that was held at the FleetCenter (now the TD Garden), nearly 30 years after he decided to skip out on his original jersey retirement ceremony due, at least in part, to the racism he faced in Boston over the years.
LeBron himself has not been immune to the backlash that has plagued many NBA players in the past when they've spoken up on important societal issues. There were no doubt LeBron fans who weren't on board with his decision to endorse Clinton and denounce Trump during the last presidential election. If you check out the comments below any of the LeBron tweets featured here, you will also no doubt find LeBron detractors who have all kinds of awful things to say about him online. And most notably, as the Cleveland Cavaliers were preparing to play the Golden State Warriors in the 2017 NBA Finals last May, a home LeBron owns in Los Angeles was vandalized with a racial slur. According to reports, the N-word was spray-painted on a gate outside of the home.
But LeBron hasn't wavered. Other athletes might have backed down when the backlash started to hit that close to home, both figuratively and literally. They might have kept their opinions about racism, Trump, or the latest police-involved shooting to themselves. They might have chosen to, well, shut up and dribble.
Not LeBron. He has continued to use his position of power to try to make a difference with his words, and he has transformed himself into arguably the most important NBA activist not just of his generation but of all time simply by keeping the conversations surrounding race and other important issues on the tip of his tongue at all times. So when he was asked about what someone spray-painted outside his home shortly after it happened, he kept talking—not just for himself but for every other NBA player who came before him who, for whatever reason, couldn't say some of the things he seems to say on a regular basis these days.
"No matter how much money you have, no matter how famous you are, no matter how many people admire you, being black in America is tough," LeBron said after his home was vandalized. "And we've got a long way to go for us as a society, and for us as African-Americans, until we feel equal in America."
Until that time comes, let's hope LeBron—and those who come after him—continue to speak up, no matter what kind of backlash it might bring. They owe it to all those who got the ball rolling before them to keep the fight going.