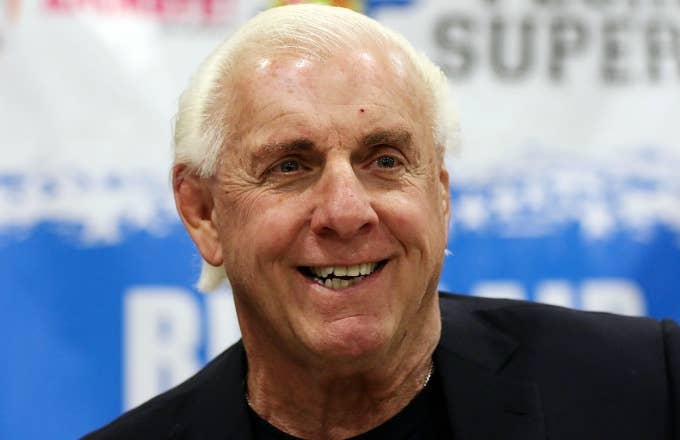 Even if you're not the biggest pro wrestling fan in the world, there's a good chance that you're at least vaguely familiar with Ric Flair. You likely know that Flair is widely considered to be one of the best wrestlers of all time and that he's been in the WWE Hall of Fame for almost a decade now. You also know that Flair spent the majority of his 40-year career going by the name "Nature Boy" and carefully crafting one of the greatest personas in pro wrestling history. You know that Flair influenced an entire generation of rappers with his legendary "limousine-riding, jet-flying, kiss-stealing, wheeling, dealing" segments. And if nothing else, you know that if someone mentions Flair in your presence, there's really only one suitable response.
But there are also plenty of things that you probably don't know about the 68-year-old Flair. On Tuesday night, ESPN is going to change that by premiering the long-awaited 30 for 30 documentary, Nature Boy, which will detail Flair's rise to the top, his long stint as one of the most popular pro wrestlers in the world, and the health problems he has endured in recent years due to the hard-partying lifestyle he adopted throughout the course of his career. The doc is already getting rave reviews and looks like it'll be well worth your time, regardless of whether you're a diehard WWE fan or just a casual follower of Flair.
To prepare you for Nature Boy—and to fill in some of the gaps that might not get covered in the doc—we decided to throw together a list full of little-known Flair facts. Here are 10 things you didn't know about Ric Flair.
1. He doesn't know his real name because he was adopted on the black market.
Ric Flair has one of the most recognizable names in pro wrestling history. But the irony is that Flair isn't 100 percent sure what his real name is. He was adopted shortly after he was born in February 1949 in Memphis, Tennessee, and his adoption was arranged by the Tennessee Children's Home Society, an orphanage that was involved in kidnapping babies and offering them up to those looking to adopt. As a result, there is uncertainty surrounding what Flair's birth name was. It's believed to be Fred Phillips, but it may also have been Fred Demaree or Fred Stewart.
2. He tried to quit pro wrestling after just two days.
Flair's pro wrestling career almost came to a screeching halt before it ever really got started. He spent his early days training under pro wrestler Verne Gagne inside of a barn near Minneapolis. And while Flair was initially excited about getting the chance to train with Gagne and several other prospective wrestlers, including The Iron Sheik, he quickly discovered how much work went into it. He was forced to run two miles and then do 500 free squats, 200 push-ups, and 200 sit-ups on his first day, which almost caused him to quit.
"I must have been at camp for two days when I quit," he wrote in his 2004 book, To Be the Man. "I called up [Gagne's son] Greg and said, 'I'm done.' I was dead. Mentally, I couldn't take it."
Gagne showed up at Flair's house a short time later, grabbed him by the shirt, threw him on the front lawn, and told him he wasn't letting him get off that easy.
3. He survived an airplane crash in 1975.
After surviving Gagne's training camp, Flair started to pick up regular wrestling gigs. He started locally in the American Wrestling Association before taking his talents overseas and wrestling in Japan. And in 1974, he made the move to the National Wrestling Alliance. But Flair's career—and frankly, his life—almost came to an end in October 1975 when he was involved in a plane crash in North Carolina that killed the plane's pilot. He broke his back and was told that he would never be able to wrestle again. Flair did have to switch up his wrestling technique as a result of the crash, but he was able to return to the ring just eight months after the accident.
4. He also survived a lightning strike.
While the lightning strike wasn't as well publicized as the plane crash, Flair claims that it happened in the late 1970s and that it was just as scary as what took place on the plane. During an appearance on Dan LeBatard's ESPN Radio show in 2016, he spoke about it.
"I was getting off a plane in Richmond, Virginia. They didn't have the jetways back then, back in the late '70s, and I was late for a match," he said. "I was world champion then. I was wrestling [Ricky] Steamboat at the Richmond Coliseum. Finally…they let us all get off the plane. I got off, I was walking, and I didn't go 10, maybe 15 feet, and all of a sudden, I felt this pressure boom, and man, my umbrella shot 50 feet in the air. I thought, 'What the hell?' Lightning hit the top of my umbrella, bounced off, and hit a guy in the eye five feet behind me and killed him. Right there. I just stood there looking at the guy and froze. It scared me to death."
5. He isn't the original "Nature Boy."
At this point, Flair is the Nature Boy. The moniker has become such a big part of him that ESPN named his 30 for 30 after it. But he's not the OG Nature Boy. That distinction belonged to "Nature Boy" Buddy Rogers, who took part in a feud with Flair back in 1978 that led to Flair essentially swiping his name and a lot of his persona. Flair obviously went on to make the "Nature Boy" character his own, but it's interesting to think that he might not have taken it on if not for Rogers.
6. He spent upwards of $10,000 on the robes he wore out to the ring.
In his most recent book, Second Nature: The Legacy of Ric Flair and the Rise of Charlotte, which he co-authored with his daughter, Flair admitted that he got caught up in living up to the persona he created when he assumed the role of "Nature Boy." He wrote about how he spent money he didn't necessarily have on non-essential items, like the $10,000 robes he had customized. Many of them weighed up to 50 pounds, and if those same robes were made today, Flair estimates they would cost more than $30,000 each.
7. He once borrowed $800,000 from Vince McMahon and used a WrestleMania check to pay him back.
Speaking of spending money he didn't have, Flair bought more than just robes at the height of his fame. He also bought limousines, houses, and whatever else would give people the impression that he was richer than he actually was. That led to him having to ask Vince McMahon for a gigantic loan that McMahon said he wouldn't have given to almost anyone else. "I wouldn't let my kids borrow this amount of money from me," McMahon told him.
Flair was eventually able to pay McMahon back with a single WrestleMania check, which should give you some idea of how much Flair was raking in back then. But still, he admitted that he was often way in over his head when it came to dealing with his finances.
8. He estimates he was throwing back 20 drinks every day at the height of his career.
Flair had to be put into a medical coma over the summer due to organ failure, and he nearly died due to his condition. During an interview on The Dan LeBatard Show in September, he talked about how his struggles with alcoholism over the years played a big role in his declining health.
"I just drank too much," he said. "Between 3,700 and 4,000 calories worth of booze… in my body every day. Like 20 drinks a day."
9. He claims to have slept with more than 10,000 women in his life… One of the things Flair does discuss in Nature Boy is all of the women he slept with over the years. He recently revealed that he regrets talking about that aspect of his life in the doc since his kids and grandkids are going to see it. But he estimated that he slept with about 10,000 women. Many people don't believe that, but Flair is standing behind it, even though he's not necessarily proud of it.
"What I said was the truth, but I feel bad now that I said some of it," he said. "Ten thousand women. I wish I hadn't said that because of my grandkids."
10. …and he once claimed Halle Berry was one of them. On an October 2016 episode of The Ric Flair Show podcast, Flair was asked if any celebrities had ever taken a ride on "Space Mountain," which is—talk about a fun fact!—the nickname Flair gave to his penis. He responded by saying that "several dozen" had. He also said that Halle Berry was one of them.
"She was in Atlanta," he said, "and she had just gotten divorced from David Justice."
Berry responded by denying Flair's claims and by going as far as to say that she had never heard of him. "There is no truth to this," a rep for Berry said at the time. "Halle has literally never even heard of him, let alone met him!"