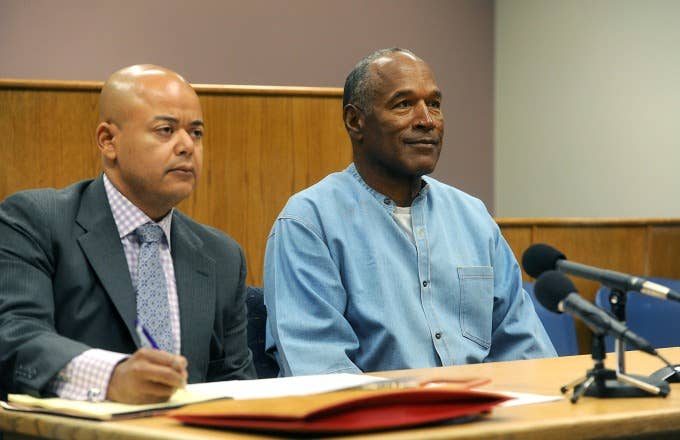 O.J. Simpson was granted parole during a hearing that took place in Nevada on Thursday. He is now likely to be released from prison as early as October. Simpson served nine years at Lovelock Correctional Center in Nevada after being found guilty on kidnapping and robbery charges stemming from an incident at a Las Vegas hotel in September 2007 involving memorabilia.
Simpson's hearing started at approximately 10 a.m. local time shortly after Simpson and his lawyer Malcolm LaVergne made their way into a hearing room at Lovelock:
The four state parole commissioners who took part in the hearing and were ultimately responsible for granting or denying Simpson parole were located in Carson City, Nevada, where they spoke with Simpson and asked him questions via video conference. And of course, there were quite a few memorable moments throughout the course of the hearing.
At the beginning of the hearing, parole board member Connie Brisbee incorrectly identified Simpson as being 90 years old. Simpson and those in attendance at the hearing laughed before Brisbee corrected herself and identified Simpson as being 70:
From there, one of the other parole board members asked Simpson what he was thinking when he decided to make his way into a Las Vegas hotel room in 2008 in order to try and retrieve memorabilia that he said belonged to him along with several men who were armed. Simpson responded by saying that he would "try to be brief," but he then spent the next few minutes running through everything that happened on the day in question. Simpson talked for so long that many people watching the hearing at home wondered why he wouldn't stop talking:
A short time later, Simpson was asked why he decided not to enroll in Alcoholics Anonymous classes while behind bars after one of the commissioners pointed out that alcohol had reportedly played a role in the crime that was committed in 2008. Simpson admitted to drinking on the day of the crime, but he said he has "never had an alcohol problem." At one point, he also mentioned that his role as commissioner of a softball league in prison prevented him from enrolling in AA, which caught some people watching at home by surprise:
During his hearing, people were also surprised by a couple of other comments that Simpson made. At one point, in an effort to try and show the parole board that he didn't know guns were going to be used during the 2008 robbery, he claimed that he had never been accused of pulling a weapon on anyone in his life:
He also claimed to have lived a "conflict-free life" before going away to jail almost a decade ago, which also got a big reaction on social media:
Towards the end of his questioning, Simpson talked about how he believes he would be more of an asset to society out in the world as opposed to behind bars. He talked how he plans to spend more time with his family, and in particular, his four kids, whenever he gets out of prison. But by that point, there was a lot of conversation on social media about the tie that one parole board member chose to wear. He wore a Kansas City Chiefs tie to the hearing, which caused "Kansas City Chiefs" to trend on Twitter for the second half of it:
Towards the end of the hearing, Simpson had several people speak up on his behalf. His oldest child Arnette talked about him and referred to him as her "best friend" and a "perfect inmate":
Simpson's lawyer LaVergne also spoke up for him and read a letter that Simpson wrote to a Nevada representative advocating for more educational funding for those in prison:
And at the very end of the hearing, Simpson spoke on his own behalf again and said he is "sorry things turned out the way they did." He also said he told the warden at Lovelock that he would be on his best behavior when he first walked into the prison nine years ago—and he said that he believes he kept that promise:
Additionally, Simpson and his lawyer closed things out by calling on Bruce Fromong—who was the victim in the robbery case—and he talked about how he has forgiven Simpson for what he did. He also said it was another man, not Simpson, who pointed a gun at him during the 2008 incident. He said he wants to remain friends with Simpson moving forward:
That ended the hearing, and after about 30 minutes worth of deliberating, the parole board members decided Simpson would be granted parole. It ended what turned out to be a strange day for just about everyone involved.